Krispin Joseph Px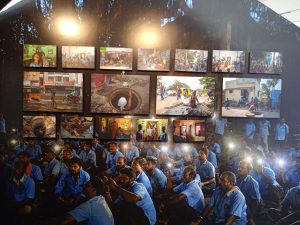 Kochi Muziris Biennale brings artists and art projects from marginalised communities. That representation is less than they want and the same as what they get in other regions of social visibility. Many underrepresented subjects are exhibited in this Biennale, and doubtful about who represents these subjects. Elite-class people and artists representing the underrepresented subjects are the significant problems Biennale is confronting.
If we look into the show, 'Communities of Choice' in TKM Warehouse, which brings many underrepresented subjects and classes in a visual format. One of the significant works by Tamil Nadu- based visual artists and documentary filmmaker-photographer Palani Kumar's 'Out of Breath' gives some idea about how the Indian caste system treats a community as a scavenging community from generation to generation. Palani Kumar is a visual artist from Tamil Nadu, following this topic for more than eight years to document the life of a community.
In 2013, the Central government banned Manual scavenging in India, and these things are going on without hesitation of our authority and system. More than 800+ deaths were reported all over India in 20 states from 1993-2019 because of Manual scavenging. We ignore what is happening to these people's lives and settle in our hypocritic civilised social life.
'Out of Breath is an ongoing in-depth documentation on the issue of manual scavenging and discrimination faced by the families involved in this work. This project focuses mainly on the deaths caused in the process and also sheds light on the children's lives in these households, as written in the concept note. Our social system is so much casteist, and caste constructs our system layer by layer. Palani Kumar's camera documents unrepresented identities and the life who worked for a 'hygienic society'. In this show, we uncovered the shocking Indian saga of brutal practices that followed for many years and continue to be contemporary social routines.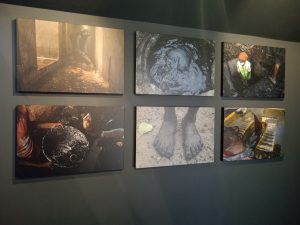 Our urban life uses a marginalised community for clean streets, toilets and sewage. Social realities are reflected in this project, and it loudly speaks about the social inequality prevailing in India. Manual scavenging is banned in India according to "The Prohibition of Employment as Manual Scavengers and their Rehabilitation Act, 2013". 'An Act to provide for the prohibition of employment as manual scavengers, rehabilitation of manual scavengers and their families, and for matters connected therewith or incidental thereto' writes in that act.
In that act, the government intends to implement many things to ensure the dignity of the individual and citizens' fraternity. Act assured the fundamental rights of life with dignity to everyone, and the State shall protect the weaker sections, particularly the Scheduled Castes and the Scheduled Tribes, from social injustice and all forms of exploitation. Nothing has been implemented yet for this community anywhere in India.
Arundhati Roy writes about the caste-based job in her book 'the doctor and the saint. Arundhati Roy addresses this issue with the Ambedkar-Gandhi conflict regarding caste. She brings data from the different job sectors, bureaucracy, politics, and private sector to prove her arguments on the caste-based job. Arundhati Roy brings Ambedkar's argument on Brahmins occupying the majority (37%) of gazetted posts and 43% of the non-gazetted posts in government jobs while they are only 3% of the total population. Another data from Khushwant Singh in 1990 reveals the permanent status of this job market in India: Brahmins hold 70% of government jobs while they are only 3.5% of the population, from civil service to deputy posts, chief secretaries to Governors and Lt. Governors, Supreme Court Judge to Judges of High courts, ambassadors to IAS officer. In Lok Sabha, out of 508, 190 were Brahmins; in Rajya Sabha, out of 244, 89 were Brahmins. 3.5 per cent of the Brahmin community holds between 36 per cent to 63 per cent of jobs in the country.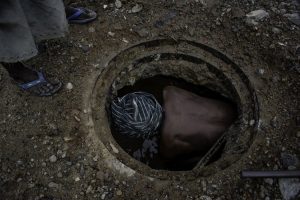 In other parts of this data, Arundhati Roy gives an idea about the Dalit job sector in India. 'Almost 90% of those designated as sweepers-clean streets, go down manholes and service the sewage system, clean toilets and do menial jobs- and employed by the Government of India are Dalit', write Arundhati Roy. 'Though it is against the law, the Indian Railways is one of the biggest employers of manual scavengers. Its 14,300 trains transport twenty-five million passengers across 65,000 kilometres every day. Their shit is funnelled straight onto the railway tracks through 172,000 open-discharge toilets,' write Arundhati Roy. These data tell us about this issue's actual situation and what's happening in the Indian Job sector.
Why are lower-paid and inhumane jobs assigned to lower-class people, and why doesn't the system manage this practice? Political-bureaucratic-state system didn't give little or no opportunity for other jobs and forced them to do these jobs to survive. Governments never take the responsibility to provide better jobs and livelihoods to these people, and such practices raise many questions about their integrity. The reservation system doesn't work correctly, and the policy-makers and bureaucrats have mostly been those of the higher caste, making it easier to let these inhuman activities continue even to date or go unnoticed and unquestioned.
When we go through the images of Palani Kumar, we understand the situation these people manage in the 'Manhole', and they don't even give their faces to the frame because they are ashamed. There are many layers in this social situation, but three significant layers artists bring in this project. One is the funeral function of one who died in the manhole and how that affects his family and community and how they respond to it. The second layer is the workplace of these people; the roadside in the cityscape, canals, and under the flyovers.
The Communities of Choice show displays a few photographs of Palani Kumar, and more images are available on project websites. Palani Kumar followed this project in 2013 after purchasing the first camera to document lower-caste people's lives. He studied B.E., E&I in sports quota and has been practicing photography since 2013. He worked as a cinematographer in a critically acclaimed documentary titled Kakoos. That is an early project on the same subject; after that, Palani opened his first photography exhibition in the city, featuring photographs taken by the children of manual scavengers who were trained through Palani's workshops.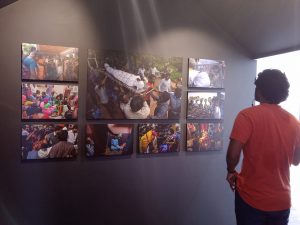 Social realism is the primary element of Palani Kumars works. Millions of lowercase people in India face more or less the same problem. Palani Kumar's images are directly connected; there is no complexity or obscurity. The main agenda of this documentation is how those live, what the situations are, and how horrible they are. Social truths may hurt us a lot that haunt us until our death. This photo project reminds Marathi Dalit Literature of biographical stories like Laxman Gaikwad, Sharan Kumar Limbale, and Kishor Shantabai Kale's life stories.
Is the audience of this work a problematic question? Who sees, enjoys and encourages this work? And why? Does the audience also come from the elite class, and the real cause of this situation is continuing? The people who don't do anything to change this life, make any sense to come to the Biennale and see this work? The audience returns to their everyday lives, and these people do the same.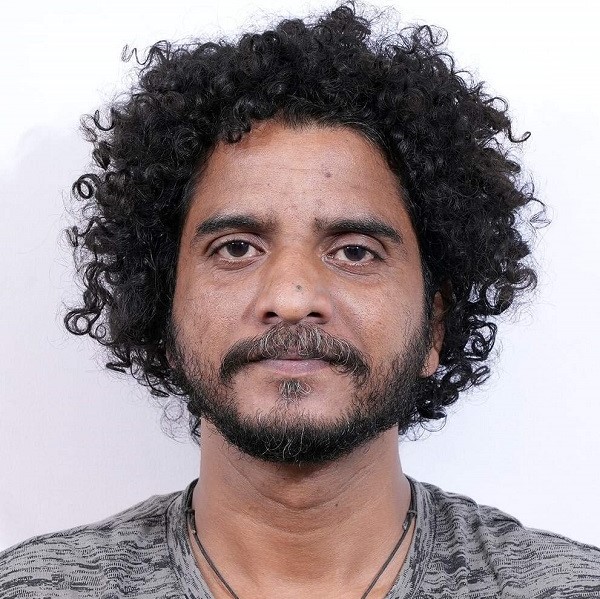 Krispin Joseph PX, a poet and journalist, completed an MFA in art history and visual studies at the University of Hyderabad.