Rajesh Kumar
Jithinlal N R's paintings, drawings and illustrations engage with the difficulties of representing complexity visually, often focusing on the representation of oppressed and marginalised communities in India. He is from Kerala and is now based in Vadodara, India. Through material investigation, he engages with his direct surroundings, examining how societal structures impact upon ideas, identities and aesthetics.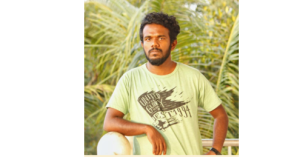 Currently he's a part of fifth Kochi-Muziris Biennale. The artist explores the discourse on identity with sketches and mirrors that uses references from movements and folk songs and poetry that concerns the Dalit community. It is the idea of self-representation, which continues to be a crucial part of the resistance movement of the community that forms the core of Jithinlal's drawings.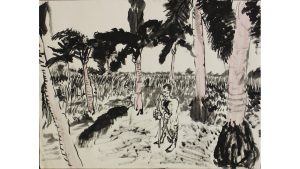 In an interview with India Today, Jithinlal says, "There's nothing such as Dalit Art. But there are Artists and Art from Daliit. If you look at the term 'Dalit' from the perspective of the resistance it is something different. I work in the framework of Dalit consciousness."
For his large drawings in 'Nose Snatcher and Other Curious Tales', he adopted the subversive language of comic books to create a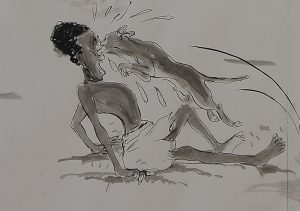 narrative framework for himself and other Dalit community members. His interventions in the historiography and representation of Dalits and indigenous people present a strong counter narrative to that spread by images made by colonial administrators which falsely portrayed these people as 'backward' or 'primitive'.
Coming out of Dalit community, from the servitude and extended slavery, Jithin's emancipation of the Dalit identity was never a concern. Instead, his marginal existence lacked tribalism. As a blank canvas is often confused and seeks paints to unfurl its potentials, Jithin's confused identity started to find an expression in Art. He moved to Baroda, where he began sharing studios and sharing the Dalit identity. He realised that the discourse of Dalit identity varies across India. It took him to come out of Kerala to find the same. To him, today Art is about how he sees the world. In his own words, as an artist, "I would say, I like to do some sensible work that would move people." Adding to that he acknowledges "this can be an 'overrated' statement", especially in the "present condition of the art world and the time that we are living in."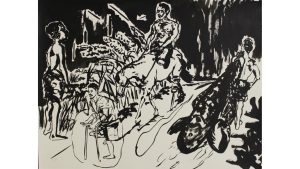 Jithinlal N R did MVA from MSU Baroda, specialized in painting; he worked as a comic artist for a web based educational website (learnapt.com) for two years; worked in a community studio 'blue print 12'. He also is a freelance designer and illustrator, currently working as junior lecturer (painting) in RLV College of music and fine arts in Kochi, Kerala.
The fifth edition of Kochi-Muziris Biennale opened on 12thDecember, 2022 and will be on view till 10thApril, 2023.