Rajesh Kumar
Glass may be fragile, yet its silicate origin as sand grains persist and undergo transformation across geological durations that are vastly longer than those of our human made world. Glass is the ideal poetic interface between metaphoric world since it is both solid and light-permeable. Glass has already made its presence felt in the space of contemporary art and design as well, with a few individuals and studios leading the way.
In a hope to bring together artists, writers and collectors in a bid to create more awareness and market for glass art, The Glass Maker's Club is presenting an exhibition at Bikaner House; New Delhi titled 'The Glass Menagerie, Contemporary Practices in Glass'. The club is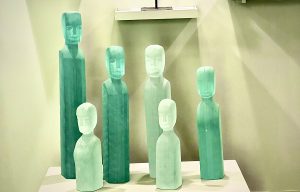 an initiative of Ashwini Pai Bahadur from Artspeaks India. The dynamic vision that Indian artists are developing today and using to build global resonances in this new medium is in the focus of this exhibition. With an aim to spark interest in glass art, the week-long exhibition of 20 artists features award winning artists like Hemi Bawa to upcoming ones like Nehmat Mongia.
The artists of the exhibition, work on different formats of glass work, may be using furnaces or glass blowing process, they present various experiments with all different materials. Looking back to the history, this is for the first time a show has been exhibited with glass as the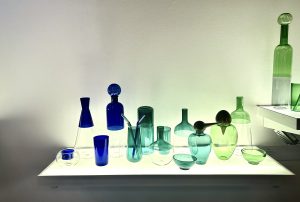 primary medium. "We are encouraging cross mediums with glass because it's very complementary to it, "says Ashwini Pai Bahadur, the director of Artspeaks India.
Abir Pothi in conversation with the glass artist Reshmi Dey got to know about her journey of how he fell in love with the glass art and currently pursuing it. "My first learning into the glass art is under glass maestro from Czech, Petr Novotny. There I got introduced to glass art and went to England for my formal education". Glass has a very special quality of being able to transmit light is sort of like a divine light," says curator Kristine Michael. There the exhibition showcases Reshmi's interpretation of Bodhi Tree, the sacred tree of India. It's a 7ft by 4ft glass art, with 75 glass tubes represented as the branches and 300 glass pieces represented as leaf of the tree.
Hemi Bawa's books talks about the spiritualism in glass, but not having any specific language. It's an extremely secular work. The texts inscribed are all gibberish. "With the group of these glass artists we will be able to do annual shows, educate people more about glass", says Kristine.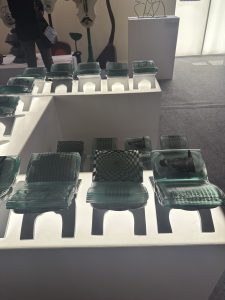 "We kind of felt that we need to give glass makers and glass artist a forum and a more private space of their own where they are recognised for their own glass practices within the country. This gave birth to the Glass Makers Club virtually in the pandemic," says Ashwini Pai Bahadur.