Smriti Malhotra
Raja Ravi Varma, was born on 29 April 1848  to an aristocratic family in Kilimanoor, Kerala and was a self-taught artist who was commissioned often to make portraits of Indian Royalty. He is known for his work portraits and depiction of Indian women and depiction of particularly poignant scenes from Indian mythology. He also worked towards making art that was accessible to the common man and eventually built the Raja Varma Press and printed lithographs for all Indians to purchase.
Considered as one of the greatest Indian painters in Indian Art history, we shall be delving into the 11 iconic paintings of the great artist on his birth day:
1. A sketch of women and children by Raja Ravi Varma in DAG's collection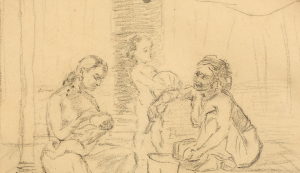 What is unknown to many though is that he often also depicted domestic life and captured scenes of the ordinary in simple sketches. This sketch is one such example of a glance within a common man's home.
2. Kadambari (1890). Courtesy: Wikimedia Commons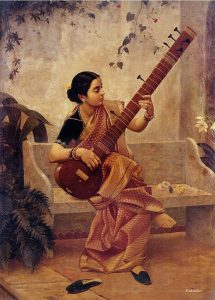 She is seen here playing the Sitar. In a quintessential painting by Raja Ravi Varma. It is the last painting by the artist. It is foliage at the background with the artist's keen eye for detail and subdued yet beautiful rendition of the musical instrument and the woman playing it. The drapes of the rich silk saree are falling precisely while she plays the sitar sitting on a bench.
3. Sita Bhumi Parvesh in the collection of Maharaja Fateh Singh Museum. Courtesy: Wikimedia Commons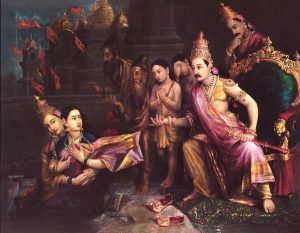 It depicts the powerlessness of Lord Ram as he witnesses Sita being taken away by Mother Earth, the Mother Goddess. Everyone around them sees in bewilderment and he raises his hand in a wilful 'why?' as it seems and Sita looks at him as she leaves the land of the earth. There is architecture, expression, finesse of the jewellery and textiles all in one frame, captured and made beautifully by Raja Ravi Varma
4. There Comes Papa by Raja Ravi Varma, a portrait of his daughter Mahaprabha with her son (1893). Courtesy: Wikimedia Commons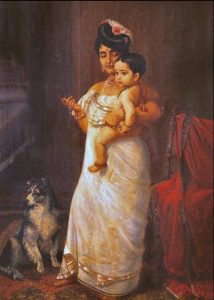 This painting was one of the paintings that went into the exposition held at Chicago called World's Columbian Exposition in 1893 to celebrate the 400th anniversary of Christopher Columbus arrival in the new world in 1492. The ideals of domesticity, female form and some European elements are thrown into the painting such as the dog as a pet, we also see some exuberant drapery and a bed in the background.
5. The Gypsies of South India, 1893 in the Sri Chitra Art Gallery, Trivandrum, Kerala. Courtesy: Wikimedia Commons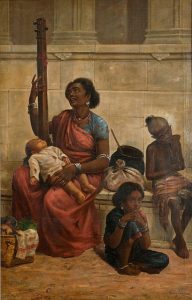 The Gypsies of South India depicts another moment in time of the state of affairs in the region, a tribal Nomadic woman with her Tanpura singing, while a young girl sits at the bottom wistfully dreaming or lost in thought and a boy who is busy scratching an itch. It perfectly encapsulates simply a candid moment with the essential Raja Ravi Varma tropes of musical instruments, longing expresses, female form and the subdued by striking colour palette suggestive of despair.
6. Ammakovil Thampuran by Raja Ravi Varma in the Sri Chitra Art Gallery, Trivandrum, Kerala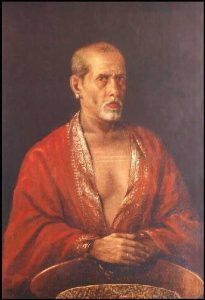 It is believed he is Raja Ravi Varma's first tutor and mentor and makes an entry in the initial portraits of Raja Ravi Varma from his family.
7. Shakuntala removing a thorn from her feet, while actually waiting for her lover Dushyant. (1870) Courtesy: Wikimedia commons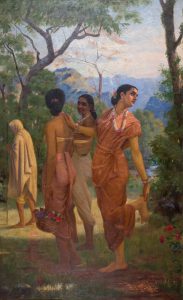 A scene from Kalidas's famous poem, the painting reflects the soft innocence of Shakuntala of her waiting for her lover King Dushyant and killing time. The memory and moment is poignantly captured by the artist, there is longing and romance in her eyes, and you can sense her thinking about how her life has changed.
8. Sita in Ashok Vatika,  1894. Courtesy: Google Arts and Culture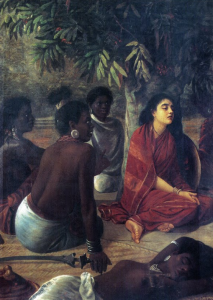 One can sense the absolute despair on Sita's face in this painting which is in striking contrast to the joy and glee depicted on the faces of the demonesses guarding her. It depicts her plight while being caged by Ravana in Lanka. Raja Ravi Varma as we have seen in some of his other works shown above was a master painter when it came to depicting expressions of longing, despair. An expression master depicted his women beautifully in melancholy.
9.Naik woman with a mirror in the collection of National Art Gallery, Government Museum, Chennai, Tamilnadu.Courtesy: Wikimedia Commons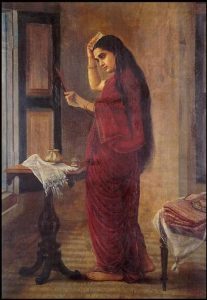 This is a simple glimpse into the women's quarters and lives as we had not seen before. A woman is standing with a mirror engaging in a mundane activity, not looking at the viewer but is busy within herself. It is an active painting of the woman doing something possibly before the arrival of her lover. It offers the audience a novel moment into the life of a woman.
10. On the Top, Goddess Laxami printed by the Raja Varma Press, is the Promotional calendar for Vinolia soap. (1920-40) This print is in the collection of Museum of Art and Photography (MAP) Bangalore. Courtesy: Wikimedia Commons. On the bottom, Goddess Saraswati. Courtesy: Wikimedia Commons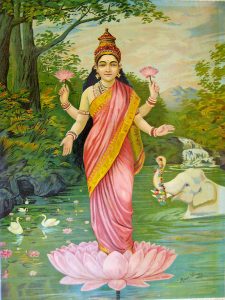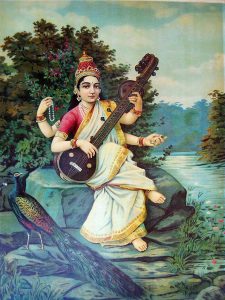 Goddess Saraswati and Goddess Lakshmi are two popular characters that Raja Ravi Varma often printed and they were mass produced and he was most famously known for these images. These prints were often bought by the common man and framed and put in temples or were temples within themselves. These prints marked the access to Raja Ravi Varma's iconic Gods and Goddess for the general public. This was the era of his calendar art!
11. Krishna Leela, a print from Ravi Varma Press derived from the painter's painting. (1910). In the collection of The Ganesh Shivaswamy Foundation, Bengaluru. Courtesy: Google Arts and Culture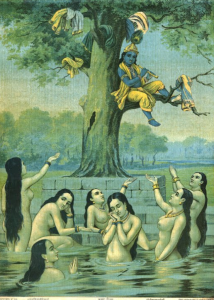 The painting is based on the popular story of Krishna, the playful God who has stolen the clothes of gopis taking a bath in the Kalindi river. He then proceeds to climb up a tree and play his flute, while the Gopis urge and beg him to return their clothes. The print not only depicts the mischief of the God but also the female body is sensuously depicted with different expressions given to each woman.