Knowledge can be gained at any age. After having a detailed study on topics there are things unknown to us. So, we at Abirpothi present before you the lesser-known facts about artists around the world.
Henri Matisse
"What I dream of is an art of balance, of purity and serenity, devoid of troubling or depressing subject matter, an art which could be for every mental worker, for the businessman as well as the man of letters, for example, a soothing, calming influence on the mind, something like a good armchair which provides relaxation from physical fatigue."

Henri Matisse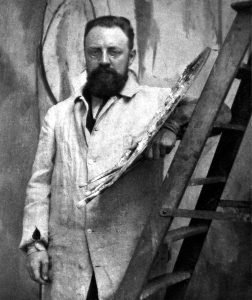 Henri Emile Benoit Matisse was a French visual artist, known for both his use of colour and his fluid and original draughtsmanship. He was a draughtsman, printmaker, and sculptor, but is known primarily as a painter. A key pioneer in contemporary art, Matisse became known for his mastery of the expressive language of colour and drawing, which was demonstrated in a body of work spanning more than 50 years. Matisse, who is renowned for his use of colour and his fluid, distinctive drawing style, became interested in painting relatively late in life and established himself as the main figurehead of Fauvism, the first avant-garde movement at the start of the 20th century. Later, he created massive ornamental art that was groundbreaking in how it depicted the human form and how it used colour to convey ideas. His extensive body of work culminated in a highly innovative series of paper cut-out paintings that established him alongside Picasso as one of the foremost 20th-century artists.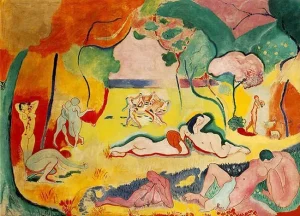 Henri Matisse was born on 31st December 1869. He was trained as a lawyer but changed his major to painting due to illness. He studied at the Academie Julian in Paris in 1891 under the guidance of Gustave Moreau and William-Adolphe Bouguereau. In the early years of his work, Matisse concentrated on painting traditional still lifes and landscapes. Matisse's style evolved once he met the Australian artist John Peter Russell. He began to create art that was influenced by the Impressionist movement and also showed admiration for Cezanne's creations. With the development of his technique, Matisse started utilising bold colours and lost some of the realistic elements of Impressionism.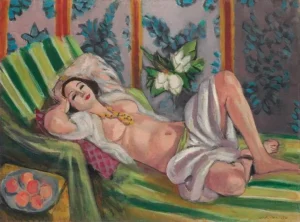 Due to advancing age and illness, he stopped painting as Matisse realised that he could create colourful art just by cutting his paper into various shapes. . His work played a significant role in supporting the importance of ornament in modern art. The use of colour and pattern in his work is frequently purposefully disorienting and uncomfortable, despite the fact that he is widely considered a painter who is committed to joy and contentment.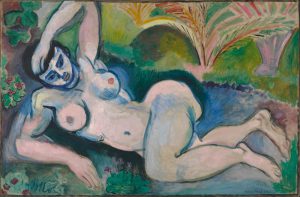 11 lesser-known facts about Henri Matisse
Henri Matisse became the leader of Fauvism on the back of an art critic's comment calling Henri Matisses and other artists "Fauves" or wild beasts in French.
He was the first painter to create large-scale cut paper collages, which he termed as "Painting with Scissors".
He also had a small Art School in Paris which he ran for about three years.

Woman With A Hat, 1905 by Henri Matisse

He published a book on September 30, 1947, named "Jazz", containing prints of his colorful cut paper collages, accompanied by written thoughts. This was after his surgery which left him wheelchair-bound.
He wanted to become a lawyer, and also passed his bar examination. However, later at the age of 21, when down with appendicitis and having nothing to do, he discovered the painter within himself.

A sculptor by Henri Matisse

While living in Vence, France, at the Villa Le Reve in the 1940s, Matisse had three cats Minouche, Coussi, and La Puce whom he fed pieces of brioche every morning.
Between 1906 and 1917, Matisse lived and worked at the Hotel Biron, an 18th-century mansion in Paris that had been subdivided into apartments.

PONT DE SEINE

Other than being excellent at painting, Matisse was also a gifted sculptor. He often worked in sequences. He would manipulate the form and simplify it over the years. Matisse worked on three-dimensional mediums that allowed him to twist his figure. He had a total of 82 sculptures and they were made of bronze.
Even though Matisse is known for his artistic mastery, he was originally set on becoming a lawyer. He studied law, passed the bar, and worked as a clerk for a law office.

Example of the content of Jazz by Matisse

The last work that Matisse completed before his death in 1954 was La Rosace, a circular stained-glass window.
As Matisse's reputation for wildly innovative painting grew, Amelie became her artistic muse, model, and business manager.

The Moroccans