Abhishek Kumar
Knowledge can be gained at any age. After having a detailed study on topics there are things unknown to us. So, we at Abirpothi present before you the lesser-known facts about artists around the world.
Jean-Auguste-Dominique Ingres
To draw does not simply mean to reproduce contours; the drawing does not simply consist in the idea: the drawing is even the expression, the interior form, the plan, the model. Look what remains after that! The drawing is three-fourths and a half of what constitutes painting. If I had to put a sign over my door to the atelier, I would write: School of drawing, and I'm certain that I would create painters.

Jean-Auguste-Dominique Ingres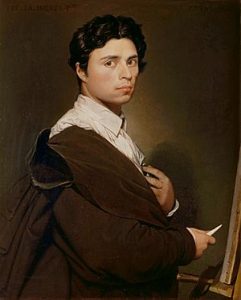 Jean Auguste Dominique Ingres was a French Neoclassical painter, considered to be one of the greatest artists of the 19th century. He was a master of draftsmanship and colour. Throughout his career, he created works of art that showcased his deep knowledge of the classical tradition and his skill as a draftsman. Ingres is renowned for his highly finished portraits of famous figures, his religious and mythological scenes, and his classical compositions. He is also one of the founders of the Neo-Grec school. He was a firm advocate of academic painting and rejected Romanticism, although his style was influenced by both. He was considered to be the last great representative of the Old French School of painting, which was characterized by its idealization of the human form, its deep respect for the masters of the past, and its technical perfection.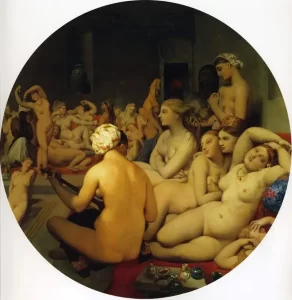 Ingres was born in Montauban, France. Ingres began his artistic studies at the Academy of Toulouse, where he studied under Jacques-Louis David and François-Andre Vincent. He then moved to Paris, where he studied at the École des Beaux-Arts. He initially pursued a career as a portraitist, but later shifted his focus to history painting and religious scenes. He was strongly influenced by the works of Raphael and Caravaggio, and he was an admirer of the classical tradition. He was a master of both line and colour, and his works often featured a meticulous attention to detail. His most famous works include La Grande Odalisque (1814), The Valpinçon Bather (1808), Apotheosis of Homer (1827), and The Turkish Bath (1863). He also created a number of portraits of prominent figures, including Napoleon, Pope Pius VII, Louis-Philippe, and the Duke of Orleans. In addition to his painting, Ingres was a highly accomplished draftsman and printmaker. He also taught painting and drawing at the Ecole des Beaux-Arts for many years.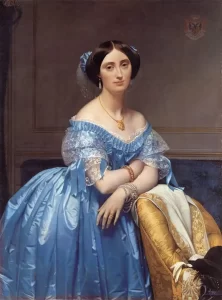 Ingres was a passionate advocate of the Neoclassical ideal, and his work often sought to revive the classical spirit. He was also associated with the Romantic movement, although his works were more restrained and subdued than those of his contemporaries. His works remain highly sought-after and can be found in collections throughout the world. He is remembered as one of the most influential French painters of the 19th century, and his legacy continues to inspire and influence generations of artists.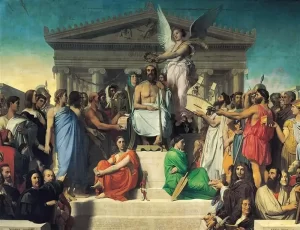 11 lesser-known facts about Jean Auguste Dominique Ingres
In 1834, Ingres was appointed as the director of the French Academy in Rome.
Ingres was a prolific draftsman and created over 14,000 drawings throughout his lifetime.
Ingres was a member of the Académie des Beaux-Arts and was awarded the Légion d'Honneur in 1841.

Portrait of the painter Charles Thevenin, director of the Academy of France in Rome, 1816.

Ingres was one of the first painters to make use of the camera lucida, an optical device used to trace images.
Ingres was a talented musician and an accomplished violinist, playing in the orchestra of the Paris Opera.
Jean-Auguste-Dominique Ingres was the first French painter to be made a Chevalier of the Legion of Honour.

Odalisque with Slave, 1842

Ingres was one of the few artists of his time who abstained from exhibiting his work in the annual Salons.
Ingres was an avid collector of art and antiques, with a particular interest in ancient Egyptian artifacts.
Ingres was one of the founders of the French Academy of Fine Arts.

The Dream of Ossian, 1813

Ingres was a close friend of the composer Hector Berlioz, who dedicated his "Harold in Italy" symphony to him.
Ingres was the first artist to be awarded a French national pension by the government in 1841.

Ingres' debut piece, and the one which projected him into the limelight of French art. Ambassadors Sent by Agamemnon to Urge Achilles to Fight, 1801