Knowledge can be gained at any age. After having a detailed study on topics there are things unknown to us. So, we at Abirpothi present before you the lesser-known facts about artists around the world.
Joan Miro
When I stand in front of a canvas, I never know what I'm going to do – and nobody is more surprised than I at what comes out. The spectacle of the sky overwhelms me. I am overwhelmed when I see a crescent moon or the sun in an immense sky. In my paintings there are often tiny forms in vast empty spaces. Empty spaces, empty horizons, empty plains – everything that has been stripped bare has always made a strong impression on me.

Joan Miro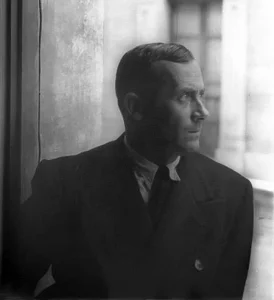 Joan Miro was a Spanish Catalan artist famous for combining abstract art with surrealism. He works across several media. In addition to paintings and sketches, he also created sculptures, murals, tapestries, and collages. The conflict between his imaginative poetic urge and his perception of the ugliness of everyday existence led to the development of his mature style. In 1924, Miró decided to team up with those who supported the Surrealist movement. He developed a distinctive aesthetic that was influenced by children's art, Catalan folk art, and the unconscious. He threw up the visual conventions of traditional painting by doing so. Despite frequently being labelled as a Surrealist, Joan Miro believed his work to be devoid of all "isms." He experimented feverishly throughout his career with different media—painting, pastel, printmaking, sculpture, ceramics, collage, muralism, and tapestry—and unconventional materials as a way of making.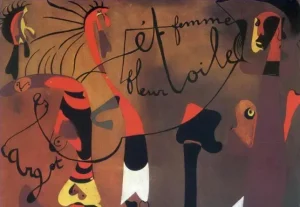 Joan Miro I Ferra was born on 20 April 1893 in Barcelona. He completed his business studies in 1910 when he was seventeen years old and began working for a hardware and chemical company, even though he had made multiple drawings in account books. He frequently fought with his family over the idea that he should give up painting in favour of an office job. Miro experienced a brief nervous breakdown during this time, which was followed by a case of typhoid disease. His father was convinced as a result that he was not suited for an office job. Miro dedicated his entire life to art, and in 1912 he enrolled at Barcelona's Gali Art Academy.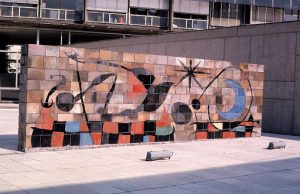 Every moment of Joan Miro's life was spent in motion. He switched between different mediums, movements, and nations. He did not limit himself to a single endeavour, as he says: "What is crucial is not to finish a job, but to acquire a glimpse that one day, it will allow you to start something." His artistic development from figurative minimalism to abstract expressionism is evidence of this. They are so lyrically infused and filled with constellations, women, comets, and birds that it is difficult to know where to look.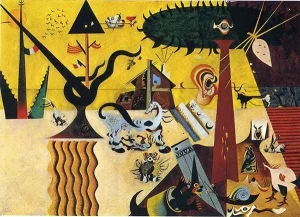 11 lesser-known facts about Joan Miro
In 1926, Ballets Russes founder Sergei Diaghilev orchestrated a surrealistic production of Romeo and Juliet, engaging Miró and Max Ernst as designers.
The World Trade Center had a tapestry produced by Miro in 1974. During the 11 September terrorist attack, this important and valuable tapestry was destroyed.

World Trade Center Tapestry

In 1981, the Fundació Pilar I Joan Miró was created in Palma de Mallorca. It is called the adoptive city of Joan Miro.

PARC JOAN MIRO, IN BARCELONA.

After the outbreak of the Second World War in 1939, he moved with his family to Varengeville. On May 20, when the German forces advanced, he managed to get on the last train to Paris with his family and from Paris they miraculously found room on the last train to Spain.
His painting May 1968 was inspired by the protests in France against capitalism, consumerism and traditional institutions.

Still Life with Old Shoe

The first solo exhibition of Joan Miro was held in 1918 at the Dalmau Gallery in Barcelona, Spain. However, his work was ridiculed by critics and the public alike. Some even went to the extent of damaging it.

May 1968

Miro's initial works were inspired by Vincent van Gogh and Paul Cezanne, which were followed by works in Magic Realism.
Miro burnt his canvases in one of his "Burnt Canvases" series. These paintings involved a complicated process of multiple stages of cutting, puncturing, burning, treading on the canvases, and painting and repainting.

Burnt Canvas 4

The Tilled Field, 1924 marked the turning point in Miro's art toward a personal style. The change in his art was furthered by his encounter with the works of Paul Klee and Wassily Kandinsky.
Many of the sculptures are made with items he found along the beach.
The shade of blue was Miro's favorite color- he said it was the color of his dreams.