Abhishek Kumar
Knowledge can be gained at any age. After having a detailed study on topics there are things unknown to us. So, we at Abirpothi present before you the lesser-known facts about artists around the world.
Rembrandt van Rijn
Try to put well in practice what you already know; and in so doing, you will in good time, discover the hidden things you now inquire about. Practice what you know, and it will help to make clear what now you do not know.

Rembrandt van Rijn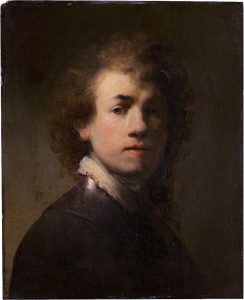 Rembrandt van Rijn was a Dutch painter and etcher who is generally considered one of the greatest painters and printmakers in European art history and the most important in Dutch history. His work is noted for its emotionality and realism, and he is regarded as one of the greatest visual artists of the Dutch Golden Age. Rembrandt was born in Leiden, Netherlands in 1606. His father was a miller, and his mother was a baker's daughter. Rembrandt began his career as a painter in 1625 and quickly became one of the most successful painters of his time. His early paintings and prints were mostly of biblical subject matter, and he later gained fame for his portraits of contemporaries. His self-portraits are considered to be among the most important in art history. Rembrandt was a master of light and shade, and his use of oil paint and etching techniques allowed him to create works of great depth and detail. He was also a skilled draftsman, able to create highly detailed drawings.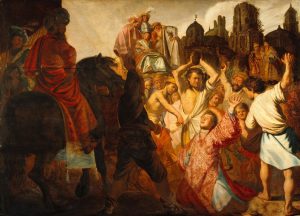 Rembrandt was a master of chiaroscuro, the use of light and shadow to create depth and dimension in a painting. He was also skilled at creating the illusion of movement and emotion in his subjects. He was especially known for his portraits and self-portraits, which often included dramatic lighting and rich colours. He also created religious and mythological scenes, and was an important figure in the development of landscape painting. Rembrandt's etchings were highly sought after by collectors and he became one of the most successful printmakers in the Netherlands. Many of his etchings were made using the dry-point technique, which involves drawing directly onto a copper plate with a sharp tool, creating a rough, expressive line. His etchings were often dark and moody, and he created over 300 prints. He also incorporated a variety of techniques, including drypoint, soft-ground etching, and aquatint. Rembrandt was also a prolific draftsman and produced thousands of drawings, including landscapes, figure studies, and religious and mythological scenes. Many of his drawings are considered to be some of the most important works of the Dutch Golden Age.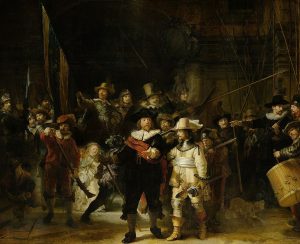 Rembrandt's most famous painting, "The Night Watch," is actually a misnomer. The painting was originally titled "The Company of Captain Frans Banning Cocq and Lieutenant Willem van Ruytenburch Preparing to March Out," and the name "The Night Watch" was given to it after it was moved to a new location and the painting was damaged, causing the details in the dark areas to become obscured. Rembrandt is considered to be one of the most important figures in the development of Western art. His influence can be seen in the works of many later painters, including Édouard Manet, Vincent van Gogh, and Pablo Picasso.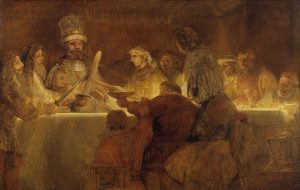 11 lesser-known facts about Rembrandt van Rijn
Rembrandt never travelled outside the Netherlands, then known as the Dutch Republic.
In 2016, ING and Microsoft collaborated to produce "The Next Rembrandt," a 3D printed object that closely resembles a Rembrandt painting. The machine-learning algorithms used specific data points like color, geometry and texture to mimic an authentic Rembrandt painting.
His full name was Rembrant Harmenszoon van Rijn which means Rembrant, son of Harmen, from the Rhine.

Rembrandt's only known seascape, The Storm on the Sea of Galilee, 1633. The painting is still missing after the robbery from the Isabella Stewart Gardner Museum in 1990.

Rembrandt was known to use secret codes in his artwork. He was very fond of embedding secret codes and messages into his work. Some of his paintings contain ciphers and visual riddles. For example, The Alchemist painting has a secret code that reads God in Hebrew.
Vincent van Gogh held a high regard for Rembrandt and once he commented, "Rembrandt goes so deep into the mysterious that he says things for which there are no words in any language. It is with justice that they call Rembrandt ' a magician' – that's no easy occupation."
Rembrandt was also an avid collector of art and other objects, and his collection included paintings by his contemporaries as well as ancient Greek and Roman sculptures.

A child being taught to walk

Despite his success as an artist, Rembrandt struggled financially and was declared bankrupt in 1656.
He was a frequent visitor to the printing house of Hendrick Hondius and was involved in the publication of his own prints.
Rembrandt was a member of the guild of Saint Luke, the major art society of the time.

The Artist's Mother Head only, Full Face (1628), etching print on paper.

Rembrandt's last painting was The Syndics of the Cloth Guild, which he completed in 1662.
In 1656, Rembrandt's mistress Hendrickje Stoffels was arrested and charged with "having a child out of wedlock," and Rembrandt was forced to publicly confess to being the father.

Portrait of Johannes Wtenbogaert (1633) by Rembrandt.