Abhishek Kumar
Knowledge can be gained at any age. After having a detailed study on topics there are things unknown to us. So, we at Abirpothi present before you the lesser-known facts about artists around the world.
Willard Wigan
People find it very, very difficult to believe what I've done. Scientists have seen my work and they can't explain it. Even nano-scientists have seen it and been totally shocked. But if any man on Earth wants to challenge me, I'm ready. Bring it on.

Willard Wigan
Willard Wigan is an English sculptor, micro-artist, and philanthropist. He is best known for his intricate, microscopic sculptures, many of which are smaller than a grain of sand. He is the first living artist to have a solo exhibition at the National Gallery in London, and his work has been featured in galleries around the world. Wigan was born in Birmingham, England in 1957. He was raised in a deprived environment and was expelled from school at the tender age of seven due to his dyslexia. At the age of twelve, he was inspired to pursue art when he saw an artist sculpt a model out of clay. Wigan's sculptures are created using a range of materials, including gold, platinum, and diamond dust. He uses a variety of tools, including tweezers, needles and scalpels, to create his incredibly detailed pieces.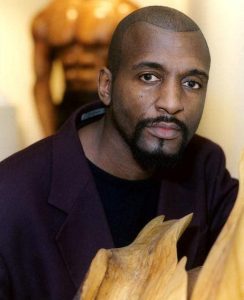 His artwork often features miniatures of famous people, such as Nelson Mandela and the Queen of England, and often takes the form of tiny buildings or monuments. In addition to his art, Wigan is also a philanthropist. He has established an education fund to help young people in his home city of Birmingham, and he has provided financial assistance to underprivileged children around the world. He has also worked with the United Nations to improve access to clean water in rural areas. Willard Wigan is an inspirational figure who has used his talent and platform to help improve the lives of those in need. His incredible sculptures are a testament to his skill, creativity, and dedication.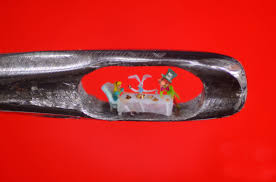 11 lesser-known facts about Willard Wigan

Wigan uses a variety of tools to create his sculptures, such as a pin, a razor blade, a laser, and tweezers.
Wigan's sculptures are so small that he has to hold his breath while working in order to keep the vibrations of his breathing from moving the sculpture out of place.
In 2015, Wigan was awarded an MBE (Member of the Order of the British Empire) for his services to art.
His sculptures are so small that most of them can only be seen through a microscope.
Willard Wigan once created a sculpture of the Great Wall of China that fit inside a human hair.

An artwork by Willard Wigan

He has been commissioned to create sculptures for the Queen of England, the Crown Prince of Saudi Arabia, and the Emperor of Japan.
In 2014, Wigan created a microscopic sculpture of the famous painting, The Last Supper, which measures less than 0.2 millimetres in length.
In 2016, Wigan made a tiny sculpture of a red dragonfly that fits into the eye of a needle.
He has been featured in several documentaries and television shows, including National Geographic Explorer, Ripley's Believe It or Not! and The Oprah Winfrey Show.
He is the author of several books, including "My Life in Miniature", "The Incredible Art of Willard Wigan", and "The Secrets of the Invisible World".
He is the first artist to be awarded a Doctor of Science (DSc) in Fine Art.