Knowledge can be gained at any age. After having a detailed study on topics there are things unknown to us. So, we at Abirpothi present before you the lesser-known facts about artists around the world.
Yayoi Kusama
"With just one polka dot, nothing can be achieved. In the universe, there is the sun, the moon, the earth, and hundreds of millions of stars. All of us live in the unfathomable mystery and infinitude of the universe. Pursuing philosophy of the universe through art under such circumstances has led me to what I call stereotypical repetition."

Yayoi Kusama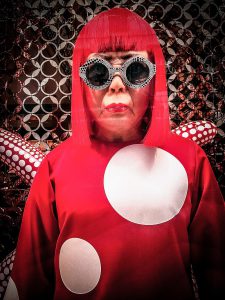 Yayoi Kusama is a well-known Japanese artist who has made significant contributions to the Pop Art and Minimalism art styles. Throughout her career, Kusama has created a variety of artworks, including sculptures, paintings, videos, and installations. She is best recognized for her widespread use of polka dots in her work and her immersive infinity installations. Japanese artist Yayoi Kusama was born in 1929 in Matsumoto, Nagano. As a child, She created artwork based on her vivid dreams and hallucinations, which often took the appearance of blooming flowers, crowded fields of dots, orbs, and auras. In 1948, she enrolled in a painting course at the Kyoto Municipal School of Arts and Crafts.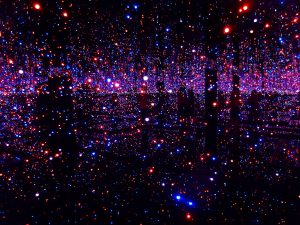 When artists draw from their most intimate personal experiences to create emotionally honest artwork, audiences are more likely to connect with them, and Kusama is as realistic as they come. She is a fantastic artist who frequently incorporates dots, mirrors, and pumpkins into her works of art. The "Infinity Mirror Room" art installation was created by her. The millions of marks Kusama made over her "infinite net" paintings' vast canvases, disregarding the canvas's edge, added to the works' illusion of unending infinity. Her works incorporated and explored the physical and psychological boundaries of paintings with the obsessive and repetitive nature of the artwork creating a hypnotic experience for the viewer as well as the artist.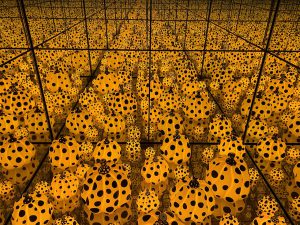 She has always been quite open about her mental health, and she sees art as a means of expressing herself and communicating with younger generations. Yayoi Kusama is currently regarded as one of the most significant and influential modern artists in the world. Her identity is frequently viewed as distinctive and different due to the fact that she is a female artist in a field and culture where men predominate. She stands out and became more well-known as a modern artist since she is also an Asian person of Japanese origin in the Western art world.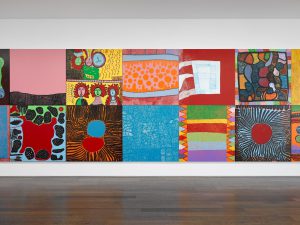 11 lesser-known facts about Yayoi Kusama
Yayoi Kusama's iconic polka dots are inspired by a hallucination she experienced while looking at a tablecloth as a child.
Louis Vuitton is not the only fashion house she worked with. In the 1960s, Kusama created the Kusama Fashion Company Ltd. She also created lip gloss tube designs for Lancome and collaborated with Japanese designers on tote bags and clothes.

Tulips by Yayoi Kusama

While many would associate her art to pop art, modernist art and art brut, she refuses to categorize herself under any category. She simply calls her art Kusama art.
Assemblage artist and filmmaker, Joseph Cornell and Kusama had an intimate friendship that prompted his mother to dump a bucket of water on them once when she caught them kissing.

'Anatomic Explosion', 1968 by Yayoi Kusama

A firm believer in love forever, Kusama performed a gay marriage way before gay marriage was legal.
As a child she rebelliously decorated her clothes with dots. When she launched her own fashion company in the 1960s, clothes featured not dots but holes, strategically placed for the breasts or buttocks.
Yayoi Kusama was an active participant in the hippie movement in the 1960-s and held 'Happenings' in the antiwar spirit of the times, many of them involving mass nudity in public places.
Yayoi Kusama has been living in a psychiatric hospital in Tokyo for 40 years.
Kusama continues to be the most expensive living female artist for almost a decade. The record for her work was set at a 2014 Christie's New York for the White No. 28, (1960), sold for $7,109,000.

White No 28

Being the youngest child in the family, Kusama was often sent by her mother to spy on her father, who was involved in extra-marital affairs.
She's a published author, and even created an erotic newspaper called Kusama's Orgy. She has published eight novels and several books of poetry in her lifetime.

Cover image of the book Orgy