Smriti Malhotra
Think pink, think Barbie, think Barbiecore!
Barbie was a style icon in the 50s, the fashion dolls were released in 1959 by the American Toy Company Mattel which took the world by storm. 92% of American girls within the age range of 3 to 12 years had a Barbie. They were initially meant to be white, blond and have a "proportionate body shape" that was critiqued for years. Barbie dolls have ever since evolved and become famous pop-cultural icons. Just last year, Mattel even announced a range of new inclusive and diverse Barbie dolls including a Barbie with a hearing aid and a Ken doll with vitiligo. Barbies brought pink in fashion back and eventually inspired the Barbiecore aesthetic which became synonymous with ultra femininity. Barbiecore is a fashion trend and aesthetic that has taken over the fashion world in recent times. Many cultural moments have made this aesthetic so popular now. Let's look at 11 things you need to know about Barbiecore: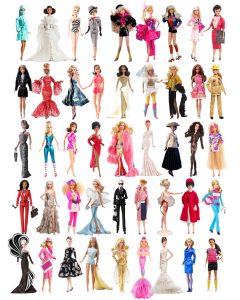 Barbies over the years. Courtesy: Harper's Bazaar Arabia Magazine
Catalysts for this trend and aesthetic is the upcoming Barbie movie directed by Greta Gerwig and stars Margot Robbie as Barbie and Ryan Gosling as Ken. The iconic pairing and the movie could be a major plausible reason for this trend and aesthetic taking over popular culture and impacting the generation. When Warner Bros (Production company) dropped stills of the actors in the iconic roles, it created a lot of buzz for memes as well as initiated the craze for Barbiecore. Another catalyst could be the Valentino (Luxury fashion atelier house) Pink collection 2022-23 which also reminded us of Barbie.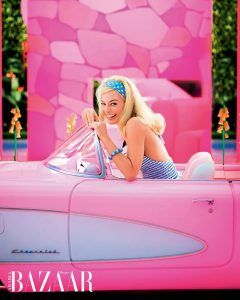 Margot Robbie as Barbie in the upcoming movie by Greta Gerwig. Courtesy: Harper's Bazaar Arabia Magazine
With the rise of electric pink dresses and coloured sets in our wardrobes. Barbiecore is referred to as "dopamine dressing" by fashion psychologist Dawnn Karen, she states that dressing in bright pink hues can act as a mood booster and clothing can impact our attitude and make us feel good. Barbiecore with its bright pink hues and use of pastels has the power to uplift our mood instantaneously.
The Barbiecore aesthetic has caught on drastically this year with many influencers on social media platforms such as Instagram, TikTok and Youtube having perpetuated the use of neon colours, bold pink hues and matching sets and bubbly feminine dresses this summer. The hashtag #barbiecore has taken over the internet with many combinations of the trend that can be found in tandem with your aesthetic. TikTok has over 15.4 million views on Barbiecore-related content. Many A-list celebrities and models are seen following the fashion trend in recent times wearing pink ensembles, platform heels, mini skirts, bold but adorable accessories, having feminine and soft hairdos and make-up.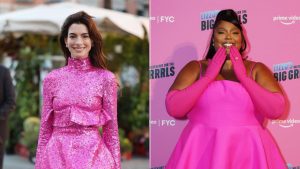 Actress Anne Hathaway and Singer Lizzo channelling the Barbiecore aesthetic. Courtesy: Getty Images
Barbiecore is a feminist statement. The rise of Barbiecore aesthetic is an empowering trend for women and people of other genders alike, it pushes them to wear whatever they want, dress according to their moods and is helping people embrace their feminine side without judgement. It is breaking the stereotypical and heteronormative ideas of how one "should" or "shouldn't" dress. Barbiecore urges people to find playfulness in their styling regardless of their gender, race, sexuality, etc.
The Barbiecore trend is heavily influenced by the 90s and the early 2000s, sparking nostalgia in many of the people who now try the aesthetic. It is largely now prompted by Generation Z. Certain characteristics which are popular within Barbiecore are: flip flops, denim jackets, bejewelled clothing, flip phones, wired earphones, beaded jewellery and hairstyles of that time period,etc.
It is not the first time, we are being inhabited by the Barbiecore aesthetic, the trend has had its waves and the millennials have seen it growing up with Danish-Norwegian group Aqua who dropped her single 'Barbie Girl' in 1997. While this was a parody, it had taken over the world around that time with its pink aesthetic and beats. Barbiecore also had its moment with the iconic character of Elle Woods in Legally Blonde. She was labelled as 'Malibu Barbie' and has been a fierce feminist icon since the movie was first released.
Barbiecore as an aesthetic has also impacted the design market with interior designers and furniture designers making pink-coloured bold designs taking over. Designers are making large-sized versions of Barbie doll houses for their clients, some are incorporating bold, electric pink and playful elements (reminiscent of Barbiecore). There are hotel rooms, houses, and workplaces which are kitsch, whimsical and fantastical in nature that exudes youthfulness and positive vibes.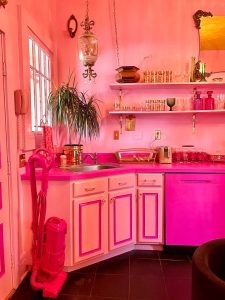 The pink kitchen with golden attachments reminiscent of Barbiecore aesthetic, a TikTok account called House of Adora. Courtesy: Housebeautiful.com
Barbiecore aesthetic can also be seen inspiring artists and sculptors alike with many Barbie renditions or colour-themed artworks being made. Such as Surrealist artist Mark Reyden's Barbie dolls in collaboration with Mattel Creations (Creators of Original Barbie dolls)  with whimsical themes which debuted last year in November 2022. We also have Sofia Chitikov's Barbiecore Sculpture which is glass on wood.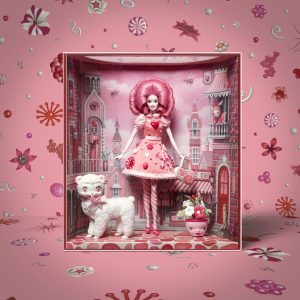 Pink Pop Barbie Doll by Mark Reyden x Barbie Collection. Courtesy: Mattel Creations
The Barbiecore trend is often seen as a response to the minimalist aesthetic of clean lines and neutral pastels. Barbiecore is dramatic, electric and maximalist by nature. It is accepting of an individual's hyper-femininity while also invoking optimism and hope.
Did you know that the iconic Barbie doll on which the entire aesthetic of Barbiecore is based on, was also modelled after the comic character Lilli created by Reinhard Beutheien in 1952 for the German tabloid, Bild. Ruth Handler (Co-founder of Mattel, the company that made Barbie) found the Lilli doll on her vacation in Germany and introduced Barbie in 1959 after being "inspired" by her. Lilli was initially a racy doll that men could purchase at tobacco shops.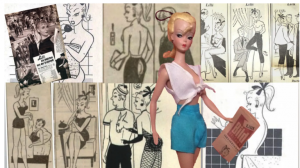 Reinhard Beuthien's Lilli for the German tabloid Bild as a comic strip character inspired Barbie, Courtesy: Hobbylark.com.
Barbiecore is also influenced by the 'Kawaii' and cute culture of Japan and South Korea. The babydoll face and make, the ponytails, the acceptance of pink hues and playful costumes and the innocence that is reflected in an individual. 'Kawaii' basically means adorable in Japan and there is a whole culture that is dedicated to it which has a long history in the country and can be experienced in themed parks, cafes, and shopping centres with certain clothes, foods, etc. Barbiecore seems to be a Westernised concept of 'Kawaii' that is prevalent in Japan.