A SUMMARY OF THE MOST EXCITING ART NEWS FROM AROUND THE GLOBE
While we focus on Indian art, we can't obviously function in a vacuum. It's a small world and everything is connected, especially on the web. So, let's train our spotlight across the world map to see what's going on — from art trends to socio-political issues to everything that affects the great aesthetic global consciousness. Or, let's just travel the world and have some fun!
11000 Drawings by People on Display as an Ode to the Coronation of Charles III
In honour of the upcoming coronation of King CharlesIII, more than 11,000 drawings created by people throughout Britain are displayed on a four-story interactive screen at Outernet, a broadcasting company in central London. The effort benefits BBC Children in Need. An additional exhibition of works by Drawing Year alumni will be on view from May 2 to 25 as part of Christie's celebration of the coronation. The show features commissioned works by the Royal Drawing School, along with an archive of drawings—one made by each student after successfully graduating. Additionally, Kevis House Gallery is selling signed limited edition lithographs of King Charles III's watercolours, accompanied by an exhibition featuring more than a dozen of his paintings. Sales will benefit The Prince of Wales's Charitable Fund. Read more on ARTnews.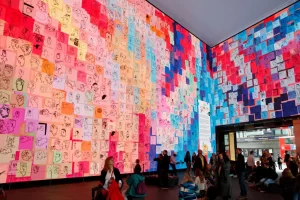 Parthenon Marbles to Return: Kunsthistorisches Museum Vienna and Greece Discuss possibilities
The possible repatriation of two marble works from the Acropolis is being discussed between the Kunsthistorisches Museum in Vienna and Greece. In the event that an agreement is reached, it may increase pressure on the British Museum to give up its Parthenon Marbles. The Austrian Foreign Minister, Alexander Schallenber, has announced that "technical talks are currently underway" between the Vienna institution and the Acropolis Museum in Athens. They focus on "the possibility of a loan" of the small 2,500-year-old marble works in its collection. Late last year it was revealed that the British Museum was in talks with Greece over a potential agreement that would see some of the Parthenon Marbles return to Athens. The two parties had been secretly meeting for months about the contested antiquities, which have been on view in the British Museum since 1832, after being stripped from the Acropolis in Athens by the Scottish nobleman Lord Elgin. Read more on ARTnews.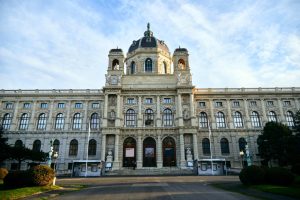 Smita Jain's exhibition "Past and Beyond" is an architectural treat for memories of the past and now
A textile designer turned artist, Smita Jain has presented her solo exhibition, 'Past & Beyond,' which explores her memories of buildings from the past and her vision of what the future may hold through architectural abstractions. It is about the core values, essence and spirit behind famous and little-known buildings and locations she has visited over the years. Her travels have taken her to her ancestral home in Ara, Bihar, the ethereal residences of Ladakh and Kashmir, the rustic palaces that line the Rajasthani coast, the temples of the holy city of Benaras, and some sights in Europe. Read more on The Hindu