"Fury" an artwork created in Dubai by renowned Indian artist M.F Husain sold for $201,600 at Sotheby's 'phygital' auction. Hefty.art, Web 3.0's most esteemed art platform, teamed up with Sotheby's, the world's leading venue for art and luxury auctions, to present "Fury," in the first-of-its-kind "phygital" sale of an Indian artist's work. "Fury" is a piece from Husain's latter series of paintings of horses that he produced in Dubai in 2000.
The collaboration offered the Husain painting,  as well as an NFT of the piece along side the Modern and Contemporary South Asian Sotheby's Auction. At Sotheby's 'phygital'(Phygital is the concept of using technology to bridge the digital world with the physical world with the purpose of providing a unique interactive experience for the user) auction in London, M.F. Husain's painting of a horse, "Fury" sold for $201,600. For the groundbreaking sale, Sotheby's partnered with Hefty Art which aims to bring both "legendary artists and untapped talent to the blockchain," according to the press release. Arab News reported that Hefty Art joined hands with the estate of Husain, with the artist's son, multimedia artist Owais Husain, describing the move as fitting for an artist who "had a pulse on innovation and what was to come next."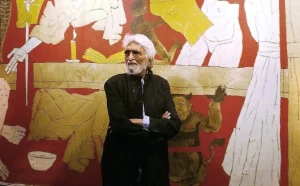 A photograph of M.F.Hussain
Sotheby's Head of Sale for Indian and South Asian Art Manjari Sihare-Sutin told Arab News that "Maqbool Fida Husain is the master and father of modern Indian art. Everyone tends to call Husain the Picasso of Indian art, but I personally think he was the Andy Warhol of Indian art. He knew how to market his work. He was a maverick, he was generous,".
Sihare-Sutin described the sale as the latest chapter in Sotheby's long association with the artist. Twenty-seven years ago, Husain's artworks formed a major part of its dedicated sale of Indian art, collected by Chester and Davida Herwitz. This art-loving American couple explained that Sihare-Sutin first visited India in 1961 where they "befriended Husain who opened the world of Indian art to them."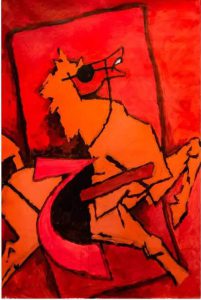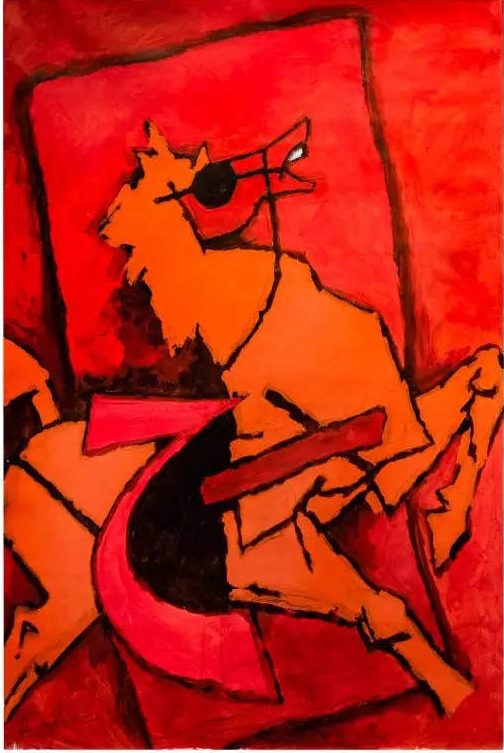 Fury: A painting by M.F.Hussain
Husain painted "Fury" when he was 84, he had a passion for horses his entire life. He visited China in 1952 to research the horses made of earthenware during the Song period. Following his time in Europe, where he was influenced by the equestrian works of Franz Marc and Mario Marini, he improved his method for depicting horses after visiting Iraq in 1965.
The inauguration of Hefty.art's new platform, a project that gives artists a voice and a space to flourish both creatively and financially, is fittingly marked by the physical sale of "Fury." Fury was created by M.F. Husain in 2000, the year of the infamous "dot com era" crash brought on by the rise and fall of technology stocks. Since then, the internet and technology have advanced and been embraced by people all around the world in all aspects of daily life, including the art world. The sale of 'Fury' marks the first of many NFTs released by Hefty.art of artworks by some of the most recognised curators and artists from across the world.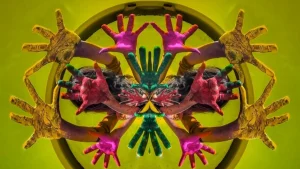 HEFTY.art is a platform for NFT curators, creators and collectors founded by Polygon
Hefty.art aspires to give creators the independence and authority they desire while ensuring that collectors become the legitimate owners of a one-of-a-kind digital asset when purchasing a work of art by ushering India into the realm of NFTs. The interaction between art, artists, and collectors is transparent thanks to NFTs, which remove a number of obstacles. Since they are digital assets made possible by blockchain technology, when someone buys an NFT, it is supported by a Smart Contract on the blockchain that may instantly execute transactions, distribute royalties, and give an artwork additional functionality or utility. In summary, NFTs make it possible for the commercial art industry to take advantage of numerous blockchain features, such as security, transparency, immutability, and traceability.