A SUMMARY OF THE MOST EXCITING ART NEWS FROM AROUND THE GLOBE
While we focus on Indian art, we can't obviously function in a vacuum. It's a small world and everything is connected, especially on the web. So, let's train our spotlight across the world map to see what's going on — from art trends to socio-political issues to everything that affects the great aesthetic global consciousness. Or, let's just travel the world and have some fun!
'Hybrid' deal with Greece over Parthenon marbles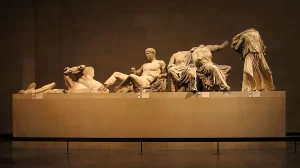 George Osborne, the chairman of the British Museum, has confirmed that he is continuing negotiations with the Greek government to work out a "hybrid" agreement for the return of the Parthenon marbles, said Osborne BBC radio on February 16 that he is seeking a mutually beneficial agreement for the museum and the current Greek government regarding the ancient Greek artifacts. The negotiations, begun in secret, come amid continuing demands from Greek opposition politicians to ensure the marbles' permanent return to Athens. If his proposals are accepted by Greece, Osborne indicated that the marbles would be shared and displayed by both Greece and Britain. Speaking on the BBC's Today programme, he said: "It's a very difficult problem to solve. But I think there is a way forward where the sculptures can be seen in both London and Athens and that will be a win-win for Greece and for us." Details on UK Daily News.
$4.5m Robert Colescott painting acquired by Crystal Bridges Museum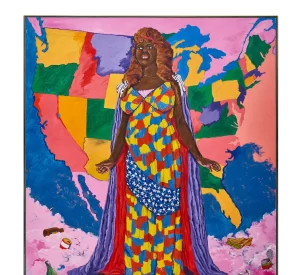 The parent organisation of the Crystal Bridges Museum of American Art snapped up late California artist Robert Colescott's Miss Liberty (1980) for $3.7m ($4.5m with fees) at Bonhams in Los Angeles on Friday (17 February), marking the latest acquisition for the museum in Bentonville, Arkansas, founded by Walmart heiress Alice Walton. The colourful painting of a woman standing in front of a map of the continental United States was previously held in a private collection and had remained largely unseen since it was painted, a Bonhams spokesperson said. Sharon Squires, Bonhams's senior director of post-war and contemporary art on the West Coast, said before the sale that the painting "is so significant to an American audience and deserves global attention". The painting achieved the second-highest auction price for a work by Colescott, who died in 2009. His George Washington Carver Crossing the Delaware (1975) sold for a record-breaking $15.3m (including fees) at a Sotheby's auction in 2021 to the Lucas Museum of Narrative Art, which is scheduled to open in 2025 in Los Angeles. Details on USA Art News.
5,000 year old tavern with oven, fridge and ancient beer receipe discovered in Iraq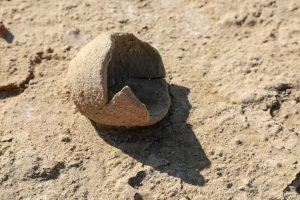 Ruins of an ancient tavern dating back to about 5,000 years have been unearthed by archaeologists at the site of one of the earliest cities of the Sumerian civilisation. Researchers from the University of Pennsylvania (UPenn) uncovered ruins of a primitive refrigeration system, benches for diners, a large oven as well as an ancient beer recipe in southern Iraq. They found about 150 serving bowls, with some containing fish and animal bones, suggesting it was likely a place for common people from the ancient city to come to eat. A synopsis of the excavation on the UPenn website described what archaeologists believed could be a temple and a tavern in the ancient city. Read more on Independent.