Rajesh Kumar
Primarily a painter, Devi Seetharam is an artist from Kerala who currently works with acrylic on canvas, using reductive techniques to create grain, texture and form. Thematically Devi explores the cultural psyche of the space she occupies. She grew up living in China, Cambodia, South Africa, Switzerland, Thailand, Taiwan, Singapore, Mauritius, UAE and Australia, but currently practicing in Bangalore, India.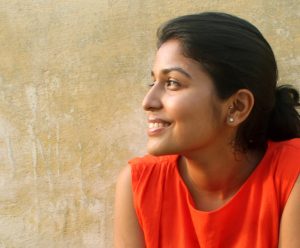 She's a part of the currently ongoing Kochi Muziris Biennale 2022-23. Her series of works titled 'Brothers, Fathers and Uncles' is on display at Coir godown, Aspinwall for the biennale. 'Brothers, Fathers and Uncles' is a commentary on male privilege and the politics of public spaces in Kerala. Her canvases are dominated by the characteristic white 'mundu'- a symbol of status and authority that have prevailed/continue to prevail, featured alongside other cultural markers that indicate the passage of time, such as fallen kannikonna flowers, and the counting of beads of a thulasi mala. Devi draws from and contextualizes elements of visual culture in this series of works that explores the deep rootedness of the patriarchy in Kerala's cultural heritage.
View this post on Instagram
Although set in the state, instead of the usual lush green and vibrancy, her paintings "look worn, weathered and tired" in her own words. "The natural outdoor space, rather than being a celebration is in a state of being exhausted. This dictated the mood and colour palette and they are not supposed to be happy paintings," says Ms. Seetharam. All the figures are wrapped in silvery white Kerala attire with the signature golden zari work accentuating the contrast.

She has been a part of Art Camp, Art in Industry' 13 and India Art Month residencies in the year 2010, 2013 and 2014 respectively. Also a finalist in Ora Art Competition, Mojarto, 2020; Incinerator Art Award, 2020 and Darebin Art Prize, 2019. She completed her BFA- Painting from LASALLE College of the Arts, Singapore 2011.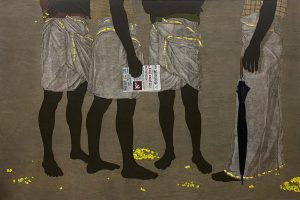 The fifth edition of Kochi-Muziris Biennale opened on 12th December, 2022 and will be on view till 10th April, 2023.