Tsuktiben Jamir
Vadehra Art Gallery in New Delhi, India is a contemporary art gallery that was established in the year 1987. It was started as an effort to celebrate the rich and versatile Indian art. They are currently showcasing Shrimanti Saha's solo exhibition called 'Reveries in the Atelier' and will be on view till the 14th of April 2023. The show will dig into the artist's own mind, where documented inner thoughts and recollections will be told through her paintings as the viewer takes a visual journey through her imaginative world. Saha uses a combination of realistic and fantastical aspects in her paintings, emphasising fine details and vivid hues. Saha is a contemporary Indian artist who is known for bringing intricate and detailed paintings to life. Her works are mostly inspired by her own experiences, memories, and observations of the world around her. Saha often incorporates plant and animal themes into her paintings, layering and weaving them together to form colourful, complex and dreamlike compositions.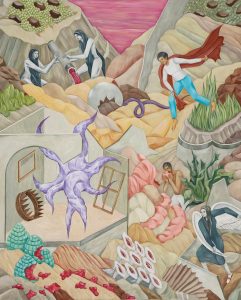 Vadehra Art Gallery describes this exhibition as "Saha's long-awaited solo exhibition 'Reveries in the Atelier' endears the studio as a space for performance rooted in both creativity and chaos. As we're invited to read her works as one might a novel or poem, the act of viewing becomes subsumed in camouflage as much as reveal, leaving us with open-ended interpretations that intimate a secret beginning in the artist's subjectivity. The ingenious confluence of Saha's posterity and futurism is explored through objectivity in her works on paper, autobiography in her oils and experiment in her animations – a cohesive body of work being presented together for the first time."
Saha's works are visual stories of intellectual journeys into the realms of truth for the important questions, especially those pertaining to the ecological crises around the world, human interference in knowledge, and political power plays, all while being guided by the self-gesticulating awareness of comedic satire. In this exhibition, historical and modern systems of knowledge, including those found in news reports, Indian miniatures, science fiction, literary criticism, film, European art history, comic books, architecture, and natural almanacks, are used to illustrate how discussions of the post-modern meanings of concepts as they have evolved within culture, emotion, and reason continue to this day. Her dive into the deep and varied sources yield a series of works that are truly testimony of Saha's brilliant fusion of "posterity and futurism."
Paintings like 'The Bear Hunt', 'The Dance Party', 'Fire in the Museum', 'Monument Formation', and 'City of Djinns' depict agitated figures making haphazard gestures in relation to issues of identity, control, gender, representation, and ecology in a sort of theatrical diorama, whereas in works like 'Red Studio', 'Nightmare', and 'Studio Visit,' there looms an existential figure that alludes to the perplexities of the creative process.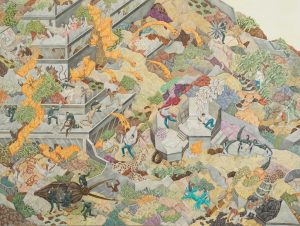 This solo exhibition is surely a treat for art lovers who are also fans of intricate and thought-provoking artworks. In a way, this serves as a peek into the talented artist's creative process; be prepared to enter Saha's vibrant and creative universe as you examine the minute details and hidden narratives she has incorporated into her paintings.
Exhibition dates:
15 March – 14 April 2023