Ved Prakash Bhardwaj
"A line is a dot that went for a walk." — Paul Klee
Yusuf's name comes in the front row among the artists who have significantly contributed in giving a respectable place to abstract art in Indian contemporary art. Yusuf's solo exhibition of drawings opened on February 13, 2023, at the Sridharani Art Gallery in Delhi and will run until February 21, 2023. This exhibition has been curated by senior poet and critic Prayag Shukla. In this exhibition, 100 drawings by Yusuf have been displayed. His drawings are being seen on such a large scale for the first time. I have expressed in this article what I read in Yusuf's drawings, what I understood, and what the drawings told me.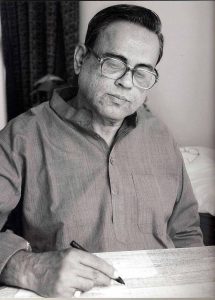 He starts the journey by holding up a line finger. Like, "Hum chale the Akele manzile javib magar log milte hee gaye karvan banata gaya," means "I begin to walk alone towards my destiny, people meet and join, and we transform into a caravan." A lot is found in the middle of this journey, which is left behind after walking along for some distance. Those moments left behind become memories. This shape keeps changing continuously. The lines keep changing. The lines meeting in the middle of the journey start taking on a new shape by becoming a group of broken lines. Sometimes these shapes appear familiar, sometimes not. Like a wonder, the attempt to understand the twist of these lines starts and then the sky of abstract images starts opening in front of us. This is the experience we have when we interact with the works of senior artist Yusuf. The art of Yusuf, who writes instead of drawing, is very simple to see but also difficult in its effect.
Yusuf doesn't draw pictures; he writes them. Remembering the days of childhood, he says that we had only heard that the artist had written the picture. That's why I don't draw pictures, I write them. Each line and stroke feels like a letter to me. Yusuf's artistic journey began with playing with lines. After his art education, he devoted himself to graphic art for a long time. Recognizing the importance of lines in graphics, he began to convert drawings into paintings. Drawing is also the main element in his paintings. He also says that drawing is the primary element. I organized this exhibition so that my artist friends and fans could see and enjoy my drawings. He says that he has done more than 6,000 drawings in the last six decades of his artistic life. While working at Bharat Bhavan or the Bihar Museum, I was always drawing. Once, when I showed my drawing to poet and critic Prayag Shukla, he said that it should be exhibited. Prayag Shukla has curated this show by selecting 100 of my drawings.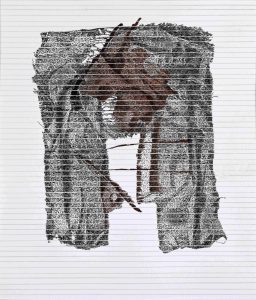 At first glance, Yusuf's drawings appear to be completely abstract structures. But if observed carefully and talked to, each drawing seems to tell a story of life. In many of the drawings included in this exhibition, one can see the ruins of palaces, and somewhere one can feel the map of a metropolis. Looking at many of the drawings, it seems as if in some part of a farmer's field the crop is waving and somewhere in the middle some part is empty. Such illusions are uncommon in drawing. We are accustomed to seeing a clear image in the drawing. Yusuf challenges this habit and provokes us to look at art in a slightly different way. His drawings bind us in their form but do not imprison us. He hands over some sutras to the beholder so he can move freely on the plane of thoughts. Based on these sources, we are able to get closer to life through these drawings.
Yusuf, who considers line to be primary, claims that when one line takes shape, the other line follows suit. A line takes shape automatically between two lines. In this way, a connection continues to form between the lines. This relationship in turn becomes a phenomenon of human life. SH Raza once surprised Yusuf when he said that he learned to draw the white line between colours from Yusuf. Yusuf had the opportunity to work with Jagadish Swaminathan for a long time. He took the attitude of seriousness about his work from Swaminathan only. This is why Yusuf believes in showing art more than selling it. He says that it is not enough to make art and sell it. It is also necessary for the artist to show his creation to the people.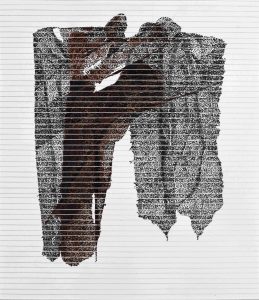 Yusuf says that when describing the ultimate purity of a line Paul Klee had opined that a line can never be drawn in its purest form. Whereas I believe that if a line has no true existence in nature, then how can anyone judge its purity at all? A line is an invention of man, who believes that it actually has a place of its own in nature. So far a line has been used to explain accessible things, to give expression to the shape and form of projections, to define circles, etc. The basic line is drawn to express the texture. A line plays a very important role in giving a dead form to any creative effort. It is light that enables us to see natural shapes clearly. The capacity to reflect light gives things their colour. Two opposite colours make it possible to see the outlines clearly.
Many of Yusuf's drawings have structures on three or four levels, as if they are reflections of each other. He says that many of my drawings are musical notes. Similar structures appear in my drawing, just as music has the same tone in loud and medium alap. He says that even in drawing there is music. There is one sound in each line. A musical effect is produced when different sounds harmonize as lines. He believes that there is a vital connection between various arts. There is a connection between painting, literature, music, and drama. He says that the association he made with musicians, writers, and painters while working at Bharat Bhavan made his art more alive. It was correct. Somewhere in his drawings, there is a rhythm like music, and somewhere we see a dramatic effect.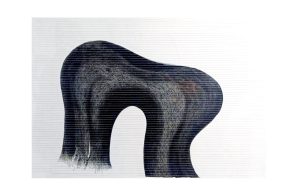 In Yusuf's drawings, we find structures like landscapes, while in some we get the impression of animals and birds. Some drawings have the feel of figures like horses and bulls. Although those figures are not real, their presence is felt. Similarly, in some places, there is a feeling of broken buildings, and in other places, there is a feeling of a human face. These experiences establish the possibility of infinite images of meaning in his art.
Prayag Shukla writes in his curatorial note that there are intriguing hints in these drawings that open up the possibilities of a diverse range of relatable imagery in front of the viewers by resonating with their memories. One might find islands, rivers, fields, ponds, hills, lanes, and byways in a city or a village, often with a menagerie of birds and other creatures. Some of the drawings may evoke scenes of opening skies, closing paths, towering cliffs, stretching and splintering branches, and weathering rocks in sweeping vistas and blossoming landscapes. No, they have not been drawn or suggested as such, but they can simply emerge from these lines that harmoniously assimilate various experiences. The works do not limit the viewer to any static interpretations. However, they continue to expand, with fluid shapes and curvatures that invite a wide range of perceptions.