Ambadas is one of the foremost artists who gave abstract art an identity in Indian art. This is the birth centenary year of Ambadas. He was born in the year 1922 in the city of Akola, Maharashtra. Here is a brief article on his art.
Ved Prakash Bhardwaj
It has been very difficult for me to say or write anything about the art of Ambadas. He was one of those rare artists whose creation is very difficult to put into words. Young artists often ask questions about their technique. Many even tried but could not succeed. Because, while doing so, they forgot that every artist develops his technique from his own mental and emotional capabilities but he also knows that technique does not make art. Yes, we can say that Ambadas perfected his technique just like a saint perfects mantras.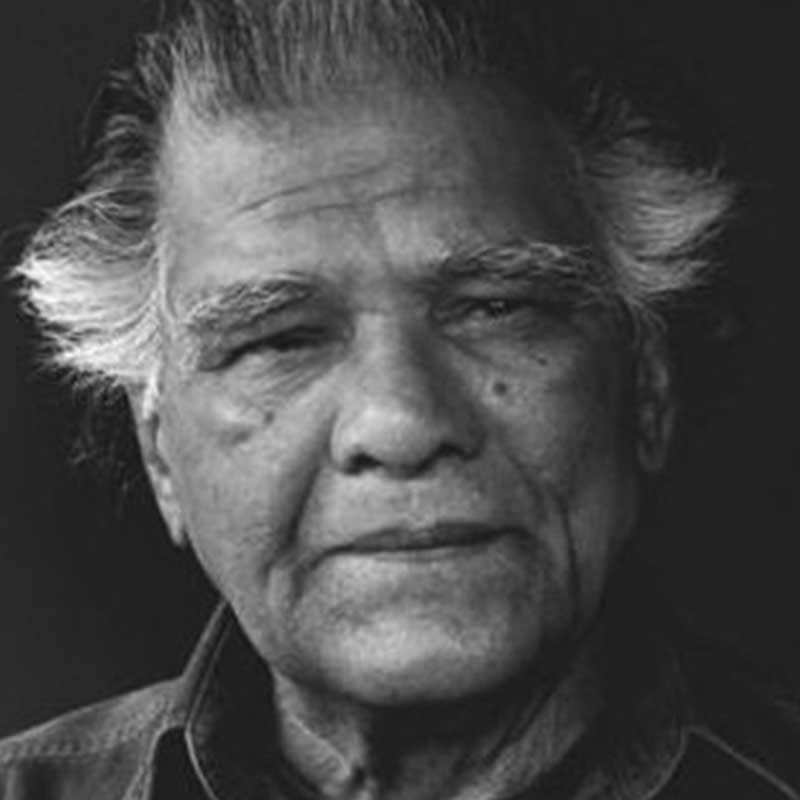 Ambadas Khorbogade has been known for his unique technique and effects. Ambadas was born in Akola in 1922. He took art education from Sir J. J. School of Art. He was one of the founders of Groupe 1890. Ambadas's art has been like diving into deep water to find something new and unexplored which was not imagined before. However, after a long time, for Ambadas, creating paintings in this way became a game that he knew, or could decide, about the outcome. Although by doing this, there was a feeling of repetition in his paintings, it was similar to the way a saint does meditation by repeating mantras.
He used to dip in paint on canvas or paper and then used to cherish the sudden shapes that suddenly formed. That's why his art is to happen as well as to perform. For Ambadas, combining forms that suddenly appeared on the surface was an artistic practice, a kind of play through which he saw life in a new and almost complete form. Nothing was empty for him anyway. He used to say that everything is full and that is why he used to take art as ecstasy. The creation of representational or descriptive paintings was rarely his goal.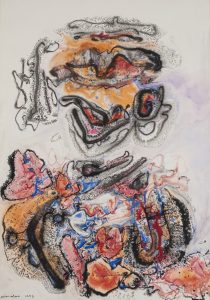 More use of colours is seen in the early paintings of Ambadas. In those paintings, there appears to have been a greater focus on the formation of abstract structures. He has been working in oil since the beginning. Later, when he was allergic to linseed and turpentine oil, he started using kerosene. Due to this, the density of colours in his paintings began to decrease and the abstract structures seemed to float weightlessly.
Even if we look at his early paintings, we see them divided into two or three surfaces. Because of this division, even in those paintings, the structures in the upper part seem to be flying. Later in his paintings the abstract shapes became freer.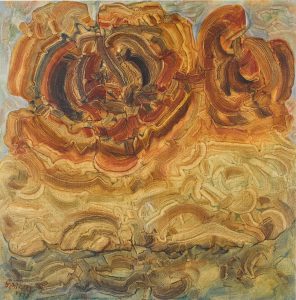 He was a member of a group of unrepresentative artists formed in 1951. Art was a source of constant discovery and wonder for him. And this search used to go on every day. There was hardly a day in his life when he did not do at least some drawing if nothing else. With the dance of the lines, his pen kept moving on the surface from one end to the other, sometimes with more and sometimes less weight, creating the impression of such shapes, which at first sight can be called organic shapes. On seeing his sketches and oil paintings, in the first evidence, it seemed as if the fractured human figures were floating weightlessly in infinity, disoriented by their weight.
Even in his oil paintings and drawings, what is linear dynamism in undefined but barely perceptible shapes is transformed into creative energy. In his paintings, the dynamism and weightlessness of the forms can be said to be a joyful transformation of liberation. It is as if people are dancing in a group, within a certain boundary, between the canvas and the paper. Everyone is different but everyone is united in the emotional world.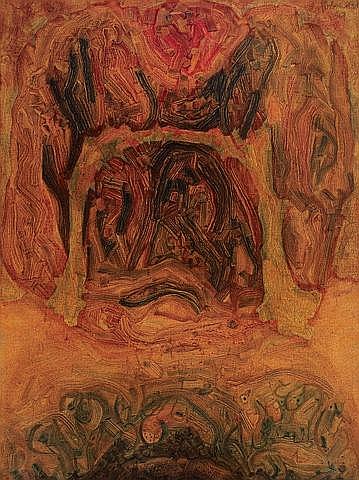 Contingency can be said to fill the color of life in his paintings. There is no doubt that he did not give place to any kind of description in his composition. He did not deny the crude human figures in his paintings, he also used to say that art cannot be considered separate from life. Art is a part of life in all its forms. For him, art was a kind of creation of ecstasy. He kept on creating the living world not in its real form but in essence. Here the lines and brushstrokes are sometimes parallel, sometimes intersecting each other, sometimes intense, and sometimes lightly overlapping each other. Looking at them it seems that they are embracing.
He had no place in the formal discipline of picture composition. Rather it can be said that there was no place for formalities even in his own life. In the last few years, whenever he came to Delhi, I often used to meet him in an art gallery. Without any formality, he used to meet strangers like old friends. From his art to contemporary art, many times informal talks were also held. Seeing and appreciating the work of young artists is such an aspect of his character that made him easily connect with all artists.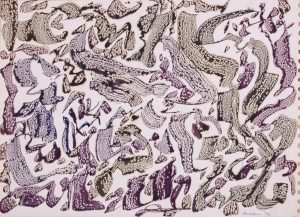 The weightless shapes with swirls and deep-light tones in his paintings and drawings are reminiscent of kinetic art. He may have studied kinetic art while living abroad and it may have had some influence on him, but his work was closely related to Indian cave paintings and tribal art. Their abstract shapes look like cave paintings by an anonymous artist or the whimsical prodigy of a tribal artist. And this is also natural because Ambadas himself used to call art the search for wonder. A quest that rarely ends for him. I remember once in a casual conversation he said that for him art is a continuous journey in which he tries to discover something new every day.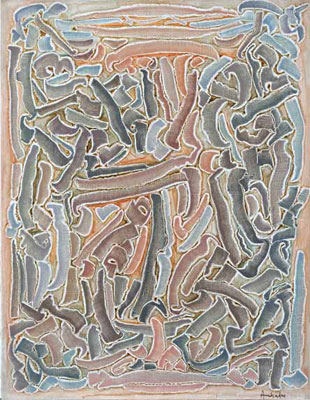 Subject elements and object elements had no importance in his art life. Objects, elements, or other forms were like departure points for them from one place to another. To understand his art also we have to see what has happened and what is going to happen in between these starting points. His paintings can be called explosions of energetic power in a way. He was deeply attached to the final image in his paintings. Although every artist keeps it, it also happens with abstract painters that sometimes they are not very sure about the final result in painting, but this was not the case with Ambadas. Looking at his paintings, it seems as if he was painting knowing the outcome. Even if we enter his art world, we find that like a saint, he was engaged in practicing the same mantra continuously by chanting it. There is also a feeling of texture in his paintings. Looks like they are weaving lines or textures into a shape like a weaver. This was probably because of their association with weavers. He worked with them.