Animesh Mahata: When art is a communication of humour, pathos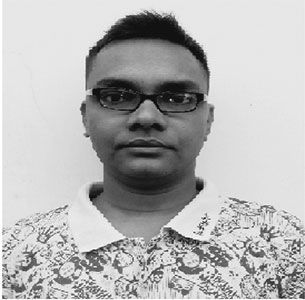 A heightened awareness that allows him to keep track of what is happening in society gives artist Animesh Mahata more context to formulate sculpting, and to develop a unique visual language. For him, art is a form of communication with the outer world, and puts into form the maker's innermost emotions, which are then conveyed to the viewer. If this is any guiding motto to go by, the artist definitely embodies an innate sense of humour, quirk and pathos. Realistic stylization of form and humorous moments caught in time draw attention to his body of work, which navigates mediums like bronze, terracotta and mixed media on paper. Take for instance the sculpture titled 'Moshtishkobhin', rendered in bronze — the exaggeratedly thin and tall naked figure of a man stands with his entire head and brain or 'mashtishk' (as it is known in Bengali and Odia) missing, exposed to the world — a symbolic commentary on the vulnerabilities of people. In an entirely different twist, the painting 'Festival' is a riot of mostly recognisable human figures and characters, studded over a chaotic fantasy landscape awash in hues of gentle blue. One can see the Twin Towers in New York on September 11, 2011; airplanes falling from the sky; Hitler in uniform, saluting next to a rooster atop an umbrella; war, protests and chaos in the background; a middle section depicting a tableful of clearly rich and privileged folks tucking in to a sumptuous meal, while starving families and children languish in the foreground of the painting.
Naveen Verma: Recontextualising symbols as satire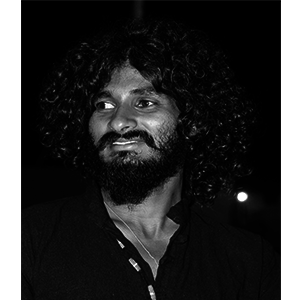 At a time when political commentary has taken over all public mediums around us, along comes an artist who melds black humour into his satire, mixed with some fascinating surrealism. But it's not just contemporary socio-politico-cultural ideas that Naveen Verma distills into his artwork — he also heavily imbibes inspiration from history and myth, as well as plain old nostalgia. In this pursuit, he often takes iconic desi imagery and recasts it as a recontextualisation of tradition — this, he feels make for a visual debate on the human existence, and how the inner and outer selves collide. The mixed media piece 'The Eyes On Power', for instance, shows recognisable symbols put together with quirk and panache. A card depicting the King of Diamonds has an empty, brocade-upholstered throne at its heart. Scattered cross the frame are a number of small objects, which comes to denote eyes or sight — perhaps indicating how heavy the crown sits on the person who wears it. 'Gambling 2' on the other hand is a gentle watercolour showing an old-style Indian Re 1 coin, comprised of the faded image of a scattered deck of cards, the iconography on which appears like rusted bits on the metal coin. The painting also has the figure of a fearsome, moustachioed man or apparition in traditional clothing seated in the bottom of the frame, wielding a long, curved knife — with eyes on the prize.
Keerti Pooja: When metaphor and reality collide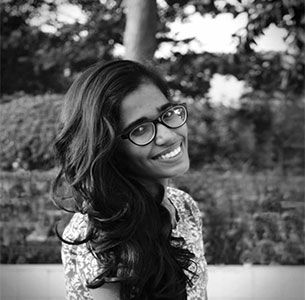 An artist often hones in to mirror a particular reality, one of the unending million truths that occur in this collective life. It could be said that Keerti Pooja does just this — her fascination for old-style bazaars, their cyclical rhythms and their denizens inspires her to create a fascinating repertoire of their representation. For Keerti, the routines that transpire in relation to labour, migration and large-scale farming practices, allowing cities to function, are a heavy influence and running theme. She also sees her own work as a metaphor for the ways in which we shape our lives, and hopes to show that the inner dimension of each one of us does not match our mental structures within, even though we may try to synchronise emotions with surroundings. In her pen and ink on paper work titled 'Sellers', the artist's play with symmetries and alignments draws in myriad vegetable vendors into an almost maze-like fantastical form, the intricacy of her detail fooling the eye at multiple points, where one suddenly spots a new form emerging from the otherwise chaotic rendition. Although it is an almost surreal representation, realism runs through its every element, as well as the metaphor of chaos, crowding and community that it depicts. 'Working Hands' takes a different approach, but with the same underlying earthiness and grit. The etching aquatint shows a triptych of figures carrying varying burdens — a harvest, a vegetable basket, and rations, showing diverse and yet chronological events of how we sustain ourselves, and how this nourishment reaches us through the efforts of lakhs of unacknowledged, silent faces.
Gulrez Ali: Colours and scale that speak to the soul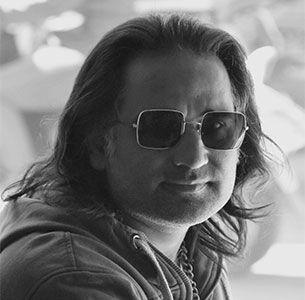 Analyzing the abstract is not always easy for the observer of art. It often distills into something nebulous, like the feeling it inspires within your heart and mind. If there were any specifics that came to mind when describing the art works of Gulrez Ali, it would be the words — bold and vivid. For Gulrez, his canvases are a cosmic blend of colour. Splashes of joy, happiness or other emotions expand into a symbolic journey of progressive or transgressive movement. He likes to play with the senses in his pieces, and explore what they perceive through the veil of the soul. In this vein, his 'Space Series' brings together a number of spectacular, larger-than-life abstract acrylic-on-canvas paintings. There is a wild freedom to his brush strokes and confident use of myriad colours, which keep the viewer transfixed as their imagination runs wild, believing forms and meanings in the artwork — that actually arise from their own inner workings. Glowing blues, royal purples, vibrant reds, earthy yellows, obfuscating greys, pristine whites, overwhelming blacks… all go into the hues that dominate Gulrez's frames. A memory of a storm, another of anger, a third of peace, yet another of calamity — the emotions invoked by these pieces are undeniably diverse, communicating to a wide plethora of sensibilities.