Aliya Usmani
Alok Vaid Menon spent their early years in the small conservative town of College Station in Texas. They started writing poetry at merely 12 years of age. In an interview with The Swaddle  they pointed out how this poetry became a channel for them to deal with all the harassment that they had to undergo for being different from the norms that society seemed to rigidly subscribe to. Like many, art became linked to healing for Menon and they meticulously turned the hatred and pain into something beautiful. Menon from a young boy writing poetry has now transformed into a internationally acclaimed mixed media artist based in New York. His performance style is very unique and combines poetry, comedy, sound art and digital culture.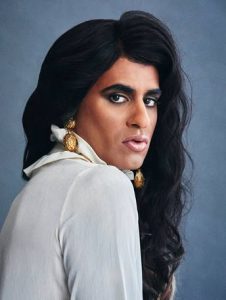 Belonging, trauma, gender, colonialism and the complexities of the human condition are the most central features of their work. The expression of their authentic self is also an equally critical component. Their voice has been instrumental in de gendering concepts such as body hair and fashion through their incessant and bold activism.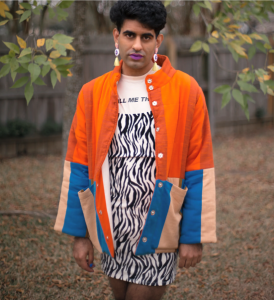 Their work constantly questions the alignment of gender and identity. Menon's work is also distinctive in its ability to seamlessly integrate art and poetry. They are widely known for the duo Dark Matter that consisted of Menon and artist Janani Balasubramanian. Menon also garnered much attention for his role and appearance in the popular documentary called the 'The Trans List' made by HBO in 2016. 
His journey from Texas to New York made him realise that transphobia is everywhere including in cities such as New York which are largely seen as progressive and more accepting. According to Menon, despite the popularity of the acronym LGBTQIA, the whole community is often painted with a single stroke. Menon, on the other hand, is trying to highlight the heterogeneity of the community. 
He is coming to Imphal, Manipur on the 10th of January to perform at Ya All and he is also coming to Delhi on the 14th of January to perform at Aiwan-eGhalib Auditorium. He will be performing a comedy poetry and as usual his whole show is going to be nothing less than art. 
In an interview with the 'Platform', Menon said "I believe that all of us are able to transform – that we just have to be exposed to the right poetry, art, resources, conversation, something to help us realize that another world is possible. I have seen so much transformation in my own life of people I thought would never be able to change in their ways. What it takes is compassion, empathy, and persistence. It can feel impossible because we are up against hundreds and thousands of years of oppression. But that's what art is about: taking on the impossible."
Alok Vaid Menon's achievements are reflective of how they are making their mark as an artist and activist. They are the youngest to have received the Live Works Performance Act Award. Their works have been presented at 350 venues across 40 countries.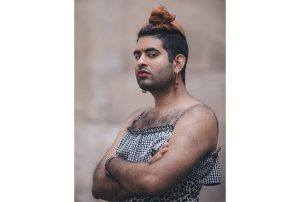 Their creative process involves acknowledging and accepting their feelings even if they are too complex. These serve as their raw material to create their Art. In an interview with 'The Swaddle', they stated "I surround myself with other artists who are trying to imagine something else. I run away to run toward. I embrace chaos and contradiction." They create art and it is through their art that they practice their activism. 
Their art creates a space for people to be vulnerable, for Menon themself to not suppress anything as it stems from their very being and is full of honesty. Alok Vaid Menon also performed at the Spoken Fest in 2019. They have performed for Vancouver Just For Laughs Comedy festival, the Soho Theatre in London and also the Edinburgh Fringe Festival. Moreover, their  debut in films will soon be marked by their appearance in Absolute Dominion. Their Instagram account is an art work in itself that will make you question your hidden biases about gender, beauty and race.
References
https://www.platform-mag.com/art/alok-vaid-menon.html
https://theswaddle.com/talking-with-alok-vaid-menon-about-art-activism-and-the-transfeminine-movement/
 https://www.nytimes.com/2021/12/04/style/alok-vaid-menon-artist-nonbinary-poet-activist.html 
https://www.alokvmenon.com/about