Rajesh Kumar
With an expansive body of work rooted in drawing and painting, Chitra Ganesh in her twenty year of practice has evolved to encompass animations, wall drawings, collages, computer generated imagery, video and sculpture. She's a visual artist based in Brooklyn, New York. Her works connects histories of surrealism, mythology and cultural iconography with contemporary comics and sci-fi aesthetics. Ganesh attempts to reconcile representations of femininity, sexuality and power absent from the artistic and literary canons. She often draws on Hindu and Buddhist iconography and South Asian forms such as Kalighat and Madhubani.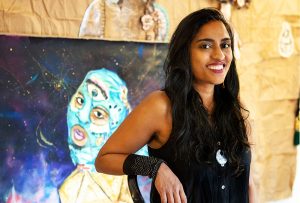 Dating back to her early life experiences, in an interview with The Creative Independent she points out the graffities on subways, the Indian movie posters, her exposure to Amar Chitra Katha, the textiles and everyday household bling like glitter and sequins, poms poms, iridescent nail polish as her source of inspiration for her artwork. For her, visual languages in Bollywood's orbit became conduits for expressing an expanded sense of the real, heightening the fantastical and symbolic via a hybrid use of graphics and paint.
Talking about her involvement in various medium of artwork, she says, "Even though the practice appears varied in that way of producing works across a broad range of media, these are some core threads and interests that run through it all. For example, an interest in the presence of the hand and in figuration, and how bodies that are gendered or mis/read as female often serve as the site where material violence and social conflict get played out. I'm also thinking about the shape-shifting possibilities of myth, the physical and psychic limits of the body, the idea of circular or non-teleological time, and new ways of embodying desire".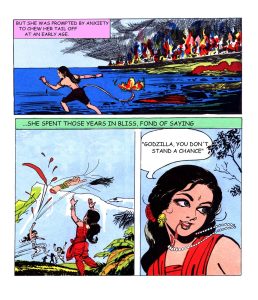 Ganesh's large installations such as 'At Her Dream's Edge', 'Face of the Future', 'Her Garden, A Mirror, Her Kitchen' explores identity, power hierarchies, technology and the feminine. "One of the things I have been interested in with my own specific kinds of utopian and dystopian narratives are the ability of that form to focus on structures, rather than individuals. I mean, there is of course science fiction that prioritizes an individual character that transcends consciousness, a white male liberal humanist sort of ideal, but I do think that other utopias, for example in Rokeya Sakhawat Hossain's Sultana 's Dream and more, they talk about structures like governance, food distribution and traffic flow."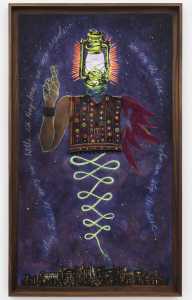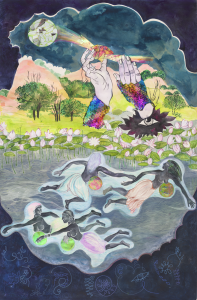 In a statement quoted by Art Forum about Ganesh's exhibition titled 'Nightswimmers', "The works installed on dark-purple walls in a dimly lit space, the exhibition evoked with a contemplative mood, the liminal state between sleep and waking life, a limbo that semms an apt metaphor for the atemporal stupor of the past two years".
As discussed earlier, some of her works are inspired from Amar Chitra Katha, a popular comic book composed of Indian muthologies and epic Indian historical tales. The comics offer religious and mythological narratives based on South Asian history and religious to a popular audience. Like Grimm's fairy tales, Greek myths, vampire stories, Bible stories for children and popular folklore, Amar Chitra Katha comics provide prescriptive models of citizenship, nationalism, religious expression, public behaviour and sexuality.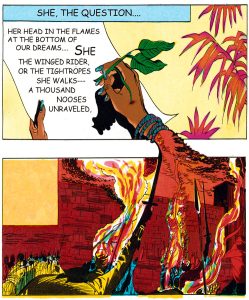 "I construct each comic frame by merging pen and ink drawings with appropriated fragments drawn from the Amar Chitra Katha compendium. I then write a new textual narrative for these images to create a fragmented and surreal narrative structure. I'm interested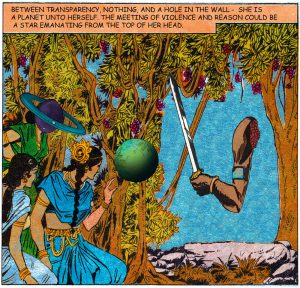 in the mythological form and how it enables the formulation of questions that seek to articulate who we are, where we are headed, what specifically constitutes humanity, and how we might come to terms with a cyclical relationship between creation and destruction, or death and life. My aim is to create a mythology that poses questions rather than giving clear answers; one in which 'good' and 'evil' are no longer constitutive categories organizing our worldly experience. Abject imagery and disjunctive narratives interrupt traditional storytelling forms, offering alternative articulations of conflict, desire, and power. In contrast to the traditional epic monomyth structure, which centers on the hero and his journey, my works feature women as protagonists in their own right, actively articulating their pasts and shaping their futures", says Chitra Ganesh.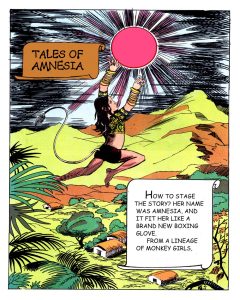 She has four complete comic series inspired from Amar Chitra Katha to her credit, 'Tales of Amnesia, 2002', 'She the question, 2012', 'Architects of the Future, 2014' and 'Multiverse Dreaming, 2021'. In 'Tales of Amnesia' there's an audacious female character who confronts subscribed notions of compliance in order to explore alternative models of feminity and power. By rewriting popular history from Ramayana in which men and women indulge in episodes of absolute and unsolicited power, Ganesh appears to empower her character Amnesia with an opportunity to directly challenge the original fairy tale. ' She the Question' was originally published as a 24-page comic book that was commissioned in 2012 as part of a large solo exhibition of the same name at the Gothenburg Kunsthalle in Sweden. In 'Architects of the Future', she integrates the visual languages of 60s and 70s science fiction and mid-century Japanese comics with imagery loosely inspired by Amar Chitra Katha. The four prints form a nonlinear narrative to suggest structural resonance between the forms of epic myth and science fiction. Whereas a suite of twelve digital prints of varying sizes and forms, 'Multiverse Dreaming' depicts a non-linear narrative center on themes of reflection and regeneration in times of uncertainity and is situated cyclically in times at the intersection of winter and spring.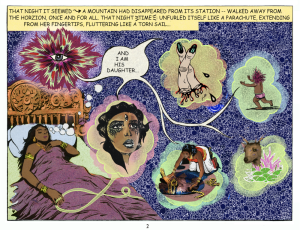 Ganesh's work is represented in the collections of the Museum of Modern Art, NY, USA; San Francisco Museum of Modern Art, CA, USA; the Whitney Museum of American Art, NY, USA; The Brooklyn Museum, NY, USA; The Art Institute of Chicago, IL, USA; Smithsonian American Art Museum, Washington, DC; The Ford Foundation, NY, USA; University of Michigan Museum of Art, MI, USA; The Pennsylvania Academy of Fine Arts, PA, USA; the Devi Art Foundation, India; Kiran Nadar Museum, Delhi, India; the Saatchi Collection, London, UK; Burger Collection, Hong Kong; Deutsche Bank, among others.
Ganesh is the recipient of numerous fellowships and awards, including grants from the New York Foundation for the Arts; Printed Matter; the Art Matters Foundation; the John Simon Guggenheim Memorial Foundation Fellowship in the Creative Arts; the Joan Mitchell Foundation Award for Painters and Sculptors; and the Hodder Fellowship from the Lewis Center for the Arts at Princeton University, and the Pollock Krasner Foundation.
References
https://thecreativeindependent.com/people/artist-chitra-ganesh-on-the-value-of-process-and-what-success-actually-means/
https://www.artforum.com/print/reviews/202204/chitra-ganesh-88244