Manjeera
March 10, ON THIS DAY
When I feel I'm telling the truth, then there is no restraint.

– Bhupen Khakhar
Bhupen Khakhar was a radical artist– he was as true to his own self and the process of creativity as one can be. Being the first Indian artist who openly depicted homoerotic and gay themes, Khakhar wasn't always welcome in the Indian art scene and generated quite the controversy. In fact, he received international recognition and acclaim much before he got any sort of acknowledgement in India. Khakhar's paintings are vibrant and fresh, with a rich colour palette that does not hesitate to break the rules, with greens, bright oranges and hot pinks coexisting together on a singular canvas. The human figures he makes do not observe anatomical perfection; they are weirdly angular, sloping down and placed in awkward positions. They are not beautiful by any means, one can even call them ugly. But Khakhar's canvas brings alive the everyday and there is something utterly fascinating in his visuals that does not allow the viewer to tear their eyes from his paintings.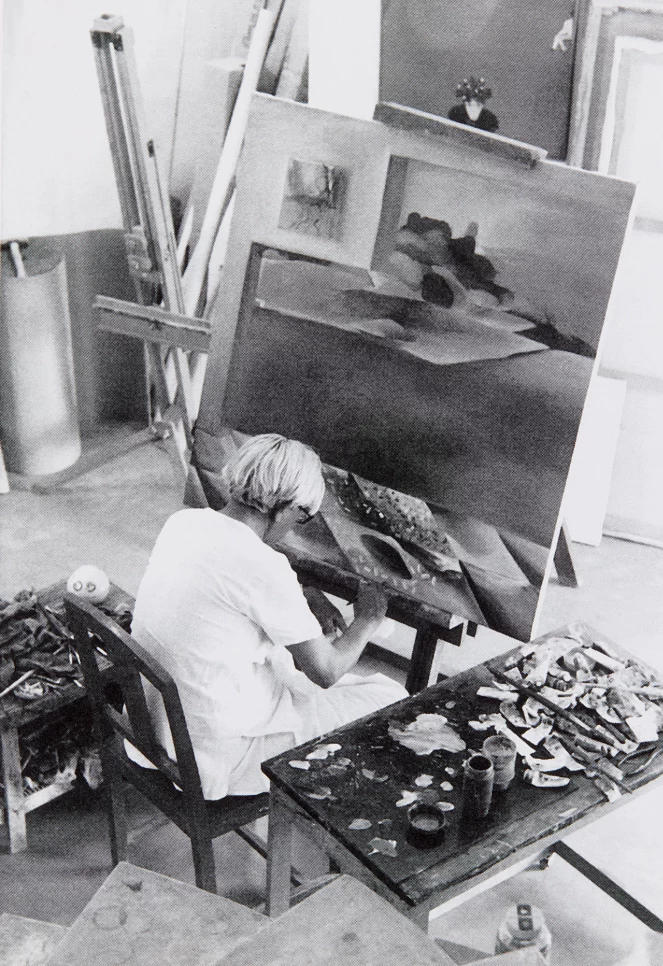 Bhupen Khakhar did not start off as an artist. He was born in 1932 on this day to a Gujarati family and he was the first of his family to complete his higher education. His father was a heavy drinker and passed away when Bhupen was four. His mother, Mahalaxmi, put all her expectations on him and Bhupen fulfilled them. He graduated from the University of Bombay with a BA in Economics and worked as a chartered accountant in Baroda. Despite this, he kept pursuing his passion for art on the side. At this point, he had not yet formally studied art, but taught himself what he knew and picked up the brush to eject the inner turmoil of his heart. He did visit the J. J. School of Art in Bombay, but found it monotonous and was worried his family might not be happy. Regardless, perhaps the creative world was always his calling, since the Khakhars were originally artisans from the Portuguese colony of Diu.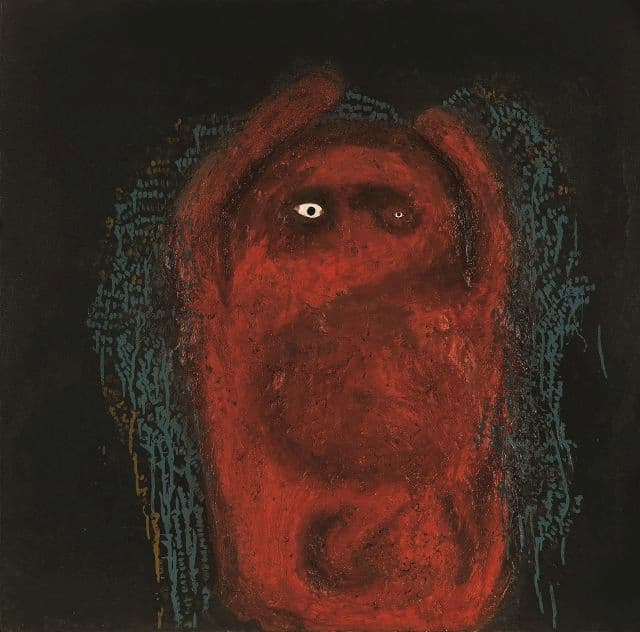 Khakhar met the Gujarati painter and poet Ghulam Mohammed Sheikh in 1958 and the entire trajectory of his life changed. Sheikh was fascinated by Khakhar's work and asked him to come to the Faculty of Fine Arts in Baroda. This was newly founded, and Khakhar could freely express what he wanted to paint. The lack of formal training became his best strength as he approached unconventional topics. His early pieces were centered on myths of both religious and secular roots.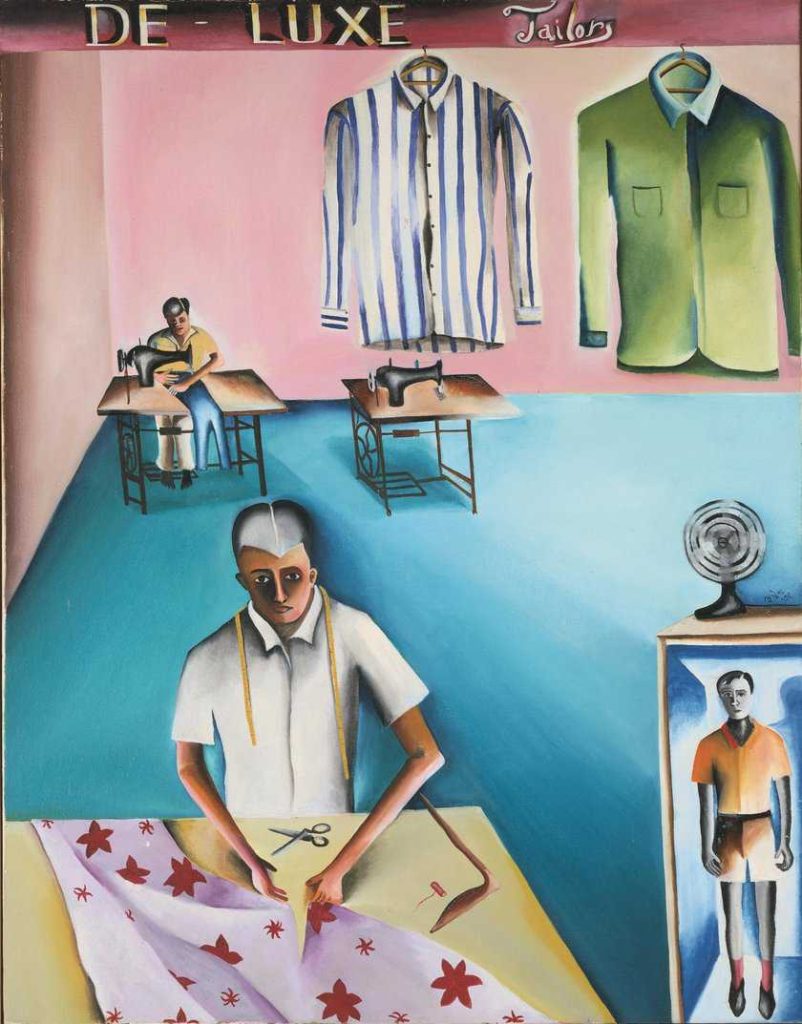 From the 70s, Bhupen found more definition in his artistic style and started painting everyday life, where the center of his artwork was the ordinary man. He painted the provincial middle-class, with all their flaws and idiosyncrasies, especially focusing on the day workers. He took to painting small shops, business and stores, reproducing the quaint and mundane environment. An example of this can be seen in this painting, where he draws a tailor cutting some fabric, but the perspective is distorted at many levels, with the shirts appearing too huge and the fan too tiny. Khakhar was very taken by the everyday life, saying:
I think art is just like everyday life. It is full of frivolity, it has its seriousness; for me, it is a necessity, like when I eat
In 1976, Khakhar travelled abroad to many counties as a part of a cultural exchange programme– it was during this trip he noticed that homosexuality, though still a taboo, was not kept under the wraps as much as it was in India. His visit to the U.K. where the gay rights movement was strong gave him inspiration. He also witnessed several protests and struggles by the lesbian and gay communities, giving him a larger understanding on the importance of accepting oneself. The death of his mother in 1980 gave him the final push to take the courageous step to express his sexuality via art and emerge from the closet.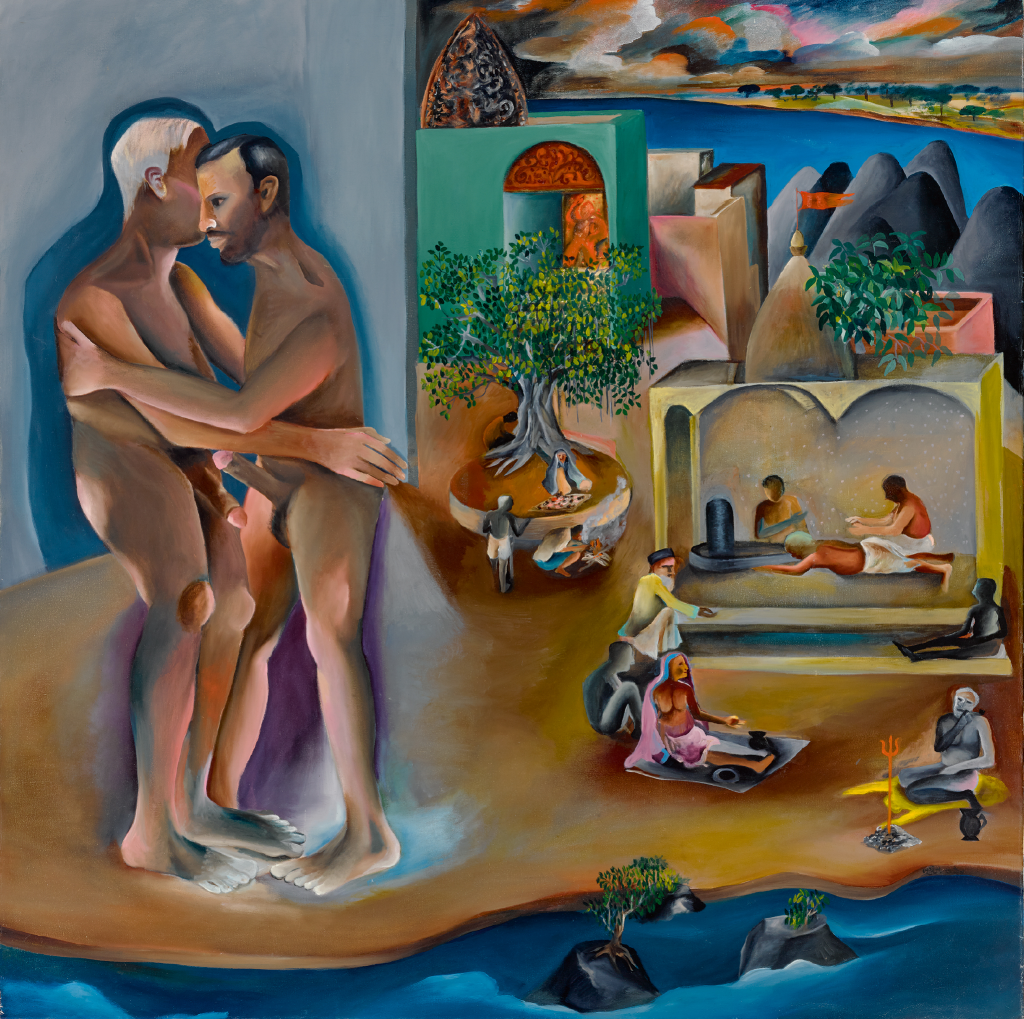 After declaring his homosexuality, Khakhar did not feel like anything was holding him back and he entered the next phase of his artistic creativity. He started painting his erotic paintings, but they did not insist on aesthetic beauty; rather they were made to shock the viewer with their nakedness and ugliness. He painted stories and narratives of ordinary life, but the subjects were transformed from the middle-class workers to the gays, loving each other without impunity.
Khakhar remains as an important figure in the history of modern Indian artists; with his evocative art that did not hide but instead celebrated his sexuality. It has been almost 20 years since his passing, but his art work reveals to us the vibrancy and honesty of this artist who gave hope to many and taught us to accept ourselves.

References:
https://www.thestatesman.com/features/figuratively-personal-1502617429.html
https://www.sothebys.com/en/articles/the-groundbreaking-life-and-works-of-bhupen-khakhar
https://prinseps.com/research/bhupen-khakhar-the-gentle-radical-painter/