Pratiksha shome
Andrea Burgay is a visual artist from Syracuse, NY, who currently lives and works in Brooklyn, NY. Her work blends collage, sculpture and found material, she presents a physical manifestation of the passage of time, destruction and decay, with a sense of potential renewal.  Her work was recently included in the exhibition "Putting it Together 2023" which was held between April 15 – May 14, 2023, at The Lockwood Gallery in Kingston, NY. Although she already exhibited its part 1 in 2022, this time she says includes selections from her Fictions, Ruins and Reliquary series.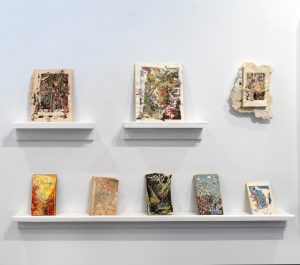 Her works are pieces of destruction and decay coming together to form art, taking inspiration from the cycles of destruction and renewal that mark the passage of time. The exhibited art focuses on worthlessness and potential, finding meaning in materials that have been discarded. The three bodies of work in this exhibition address the experiences of the passage of time and loss through multiple approaches—remembrance, memorialization, and transformation. The works are also inspired by the materials used within each work and what they suggest throughout the process.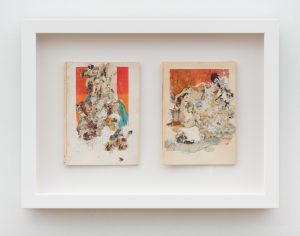 The pieces from her Fictions series: sculptural collages on deconstructed books, are colourful, densely layered objects that bear the markings of their visceral transformations. Some books explode with colours, others are eaten away, ravaged by time as if these objects have taken on lives of their own, neglected and ignored stories pouring out of them and mixing.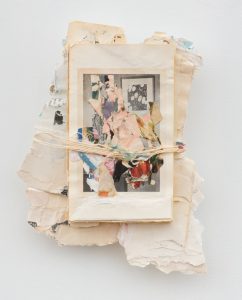 In her own words, she describes her Ruins series, the largest piece in the exhibition, as "These works are large-scale collages that use broken-down pieces of posters, illustrations, magazine and book pages to create forms, textures and values. I think of these as collage drawings in the sense that they are abstract explorations that capture emotional or psychological experiences. The compositions evoke forms and energies moving—things coming together and falling apart at the same time."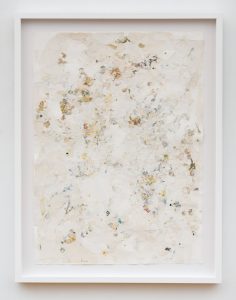 The Reliquaries are however sculptural collages made of piles and accumulations of paper ephemera—letters, postcards, calendars and magazine pages making them look unique and unworldly. Each is a portrait of a person she says that has either had a close personal relationship with her or has deeply inspired her from afar. "These memorials are made to honour the memory of those who have passed on, either from my life or from this life. Embedded within each Reliquary are objects or mementoes related to the person portrayed—relics of the relationship or symbols of their life." Andrea describes. 
Several of the works in this exhibition have a muted palette of faded and discoloured paper. In these, colours have been worn or sanded away to evoke weathering and decay. In others, brighter colours persevere and are preserved from the original materials used.
Much of the material the artist said is found at thrift stores or used book sales. These papers and objects connect to previous moments in time, past owners and histories. Selection choices may be based on a colour or texture that resonates, a title or phrase that attracts the eye, or the quality of wear that shows what the object once meant to an owner—a book taped back together or worn by rereading.
Other materials that she used are from her personal collection. These objects have meaning based on her experiences or memories. There is a combination of preservation and transformation that gives a new life to an object or material as a way to bring the past, and the unwanted and overlooked, into the present in a new form—a sort of revival or resurrection.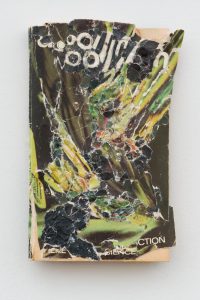 Among the pieces, the Stars is a piece that stands out from the Reliquary series probably because this piece is a homage to a friendship that was once very important to the artist. She says, "I had a difficult time letting go of this friendship, and when it was over, I had years of letters and postcards that I didn't know what to do with. They held so much meaning and described the formative years of my life. It seemed a shame to get rid of them, though keeping them also seemed to be a form of holding on to the past."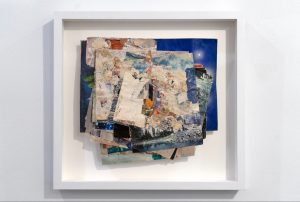 The story of this piece, like the others in this series, is deeply personal and is a way to build a complex object and engage with a process that has meaning even though the viewer is deprived of the art's backstory. The work itself conveys the larger ideas—letting go of the past while acknowledging its relevance and impact on the present. 
Andrea's art is a form of storytelling, describing the events of the past and touching the nostalgic cord yet it comes across as a hope for a bright future connecting them more deeply to the emotional experiences of their own lives.