A SUMMARY OF THE MOST EXCITING ART NEWS FROM AROUND THE GLOBE
While we focus on Indian art, we can't obviously function in a vacuum. It's a small world and everything is connected, especially on the web. So, let's train our spotlight across the world map to see what's going on — from art trends to socio-political issues to everything that affects the great aesthetic global consciousness. Or, let's just travel the world and have some fun!
Christie's to return an Adriaen Van Der Werff Painting That Was Stolen During World War II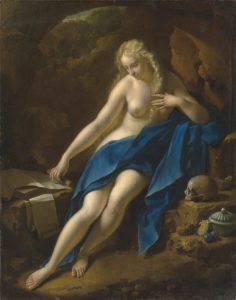 A French court has ordered Christie's to return an 18th-century Dutch painting to the heirs of a French banker and distant relative of Marcel Proust that was the subject of a restitution claim. The painting at the center of the dispute, The Penitent Magdalene, was produced in 1707 by the Dutch artist Adriaen Van Der Werff. It was part of a collection owned by Lionel Hauser, a cousin of Marcel Proust who was known to have helped aided the author with his finances until 1920. The work, which was consigned for sale at Christie's London in 2018 and last sold by the house more than a decade earlier, in 2005, was confiscated from Hauser's property during World War II. During the war, Hauser faced the threat of deportation and eventually sought refuge in the south of France. A total of 40 artworks are believed to have been taken by the Nazis when Hauser's Paris residence was raided in 1942. Before his death of natural causes in 1958, the Jewish financier sought legal recourse in Germany to recover the stolen work, but was unsuccessful. Details on Artnet News.
France to return 'Talking Drum' to Museum of Civilizations in the Côte d'Ivoire in 2023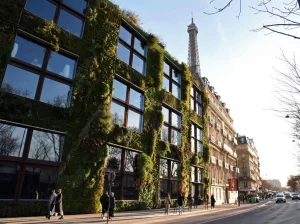 A wooden instrument confiscated by the French army in 1916 and housed at the Quai Branly Museum in Paris will be returned to the Museum of Civilizations in the Côte d'Ivoire in 2023. The instrument's return marks the first time it will be in its country of origin in nearly a century. The Ivorian drum Djidji Ayokwe, nicknamed the "talking drum," is a traditional musical instrument that was used by the Ébrié community to warn against danger, to mobilize for war, and to summon villages to ceremonies or festivals. It measures almost 10 feet long and weighs 940 pounds. The return is part of a 2017 restitution policy initiated by French President Emmanuel Macron. The drum was the first on a list of 148 works that the Côte d'Ivoire officially requested at the end of 2018 to be returned by France. Read more on Art News.
Anish Kapoor's bean sculpture is finally complete in New York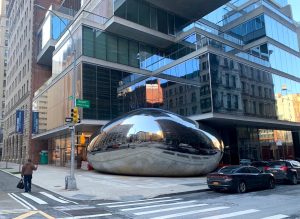 New York City finally got its bean. About five years and several delays later, Anish Kapoor's mirrored sculpture was unveiled to the public this week, seemingly propping up Tribeca's "Jenga Building" at 56 Leonard Street. As first reported by Tribeca Citizen, and confirmed by 6sqft, the longstanding barriers and scaffolding have been removed, with the monumental permanent public artwork taking its rightful place on the corner of Church and Leonard Streets. When plans for Herzog & de Meuron's 56 Leonard were unveiled in 2008, early renderings showed Kapoor's sculpture in front of the building. After challenges concerning the welding and fairing process of the smooth, shiny sculpture added "a huge amount of time" to the installation, as 6sqft previously reported, construction began in February 2019, two years after 56 Leonard opened. Read more on 6sqft.