Ved Prakash Bhardwaj
After four days of ruckus, the ground of NSIC is now silent. Indian Art Fairs were not being organized due to Corona. It happened in 2022, but there was probably something missing. The thirst of art lovers was not quenched. Those who hunger for art, whether they are artists or art lovers, will never be satisfied. Now there are two categories even among art lovers. One is those who see art and buy art for their hobby; the other is those who invest in art. The art world needs both. Events like the Art Fair also fulfill this need to some extent. This time many artists felt a little disappointed. They said that this time the fair seemed a bit lighter because the number of foreign galleries and artists has decreased this time. Even though the number of experimental works was less, Indian arts such as Nathdwara paintings, Madhubani or Mithila paintings, and Gond paintings made their presence felt at the fair. It is a pleasant sign if traditional Indian art gets importance in any international art event. This time, even some of the artists presented contemporary subjects in miniature style which was a pleasant surprise.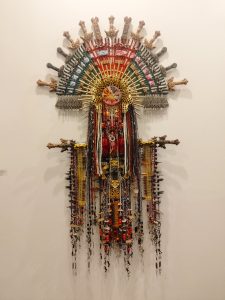 There has often been a dichotomy between modern art and decoration. Interior designers have never been considered artists. Similarly, fashion designing was also never considered art. This time, many such works were displayed at the Art Fair, which proved that the material and style of interior decoration can be the new formula of contemporary art. In this context, it would be appropriate to mention Harish Ojha, who is creating abstract paintings using the technique of paper cutting. Similarly, Sanjana T. Tony, an artist from Bangladesh, made nine small-sized works of traditional weaving art, showing the period from conception to the birth of a child. Similarly, the work made of embroidery was attractive. In the booth of Art Centrics Space, Pinaki Ranjan Mohanty's work expresses contemporary socio-political situations through wood sculptures of birds on stones. This craft demonstrates that in art, ideas and presentation are more important than material.
Anish Kapoor is known for his amazing sculptures. He often uses technology. His sculpture was the center of attention at the art fair. There was an illusion in the sculpture. The viewer's image changed as the viewer approached his glass sculpture and then further away. It was similar to what people of my generation had seen in glass houses in which people were seen as some fat, some thin, and some tall or short. People were amazed to see the craft of Anish Kapoor. At the fair, some equally amazing and stunning digital works were also on display.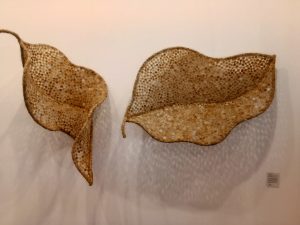 This time it was a new experience for art lovers to see the abstract paintings and sculptures of Sadanand Bakre, one of the founders of the Progressive Artists Group, at the fair. Bakare created abstract sculpture at a time when no one was even thinking of it. The sculpture of Amarnath Sehgal, similar to Bakre, was displayed by someone after a long time.
Annie Samat's wall hangings in the booth at New York's Mark Strauss Gallery were literally assembled from wood, plastic, and other ready-made ornaments, and many other things. Art can be like this too, it was a surprise to the people. Similarly, Nikhil Chopra's installation which was displayed at Galleria Continuum was a matter of surprise, in which the audience could not understand what the artist wanted to show because of the strewn clothes, the dress of the girl child on the empty chair, the umbrella, the utensil, etc. It would have been an ideal situation if the organizers had managed to explain this to the audience. Along with the display of good and new art, it is also necessary to prepare people on a mental level to understand that art.
A similar situation prevailed with the video installation of Ranbir Kaleka. Most artists believe that it is not their responsibility to convince the audience about their art. The viewer himself must try for this. This is true to an extent, but fine arts in India are neither properly a part of education nor a part of social culture. That's why people are often seen immersed in wonder about modern art and they are unable to establish any relationship with modern art.
Another artist was attracting people to the fair. He was Satish Gupta, who is known for his large sculptures. He too had displayed a big sculpture at this fair but the specialty is that it was a group of many smaller sculptures. He has been working on Buddha for a long time. Along with the sculpture of Buddha, his paintings were also seen at this fair. Jayshree Chakraborty's abstract paintings made from paper, cloth, etc. were impressive due to their texture and structure.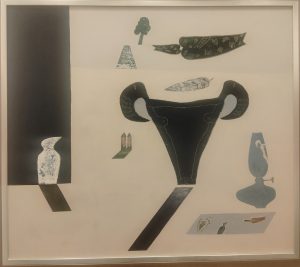 This time the sculptures of Naresh Kapuria and Latika Katt were also seen at the fair. The works of Yashwant Deshmukh, Sachindranath Jha, Abhijeet Pathak, and ceramic artist Vipul were also attractive. The sculptures of Manjunath Kamat and Arun Kumar HG attracted the attention of the people at the fair. Kamat depicted fragmentation in colored terracotta sculpture. Arun Kumar HG created a ceramic-like sculpture by mixing cement with paper pulp. His wooden bird sculpture was also noteworthy.
Another delightful occasion at the fair was the creation of the life-size statue of MF Hussain along with his paintings. Hussain's statue looked alive. There was a line of people waiting to take photographs with him, as the era of taking photographs and taking selfies continued. Seeing art is becoming a fashion, along with passion. Many youths were seen at the fair enjoying the glamour of the art instead of watching it. Many fashion designers and models kept coming and going.
On one hand, there was the glamour of young girls dressed up and on the other hand, there was the glamour of posing for photographs with big actors or celebrities. No wonder social media these days is full of photos of art fair. This was the glitz and glam of the art and its fair, which talked nonstop for four days. Some people were the center of attention because of their dress.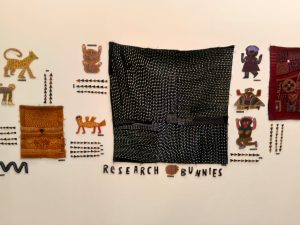 These were some of the stories of the fair, which attracted the attention of many people. But the glamour of art was not limited to this. People also came in wheelchairs to see the art. A foreign woman was showing art to her 5- to 7-year-old child, while a man had brought his little daughter. Many old people were seen roaming in the fair. This time, digital workshops and other events were also the centers of attention at the fair. Many artists and their children have been attracted to such workshops.
It was a good thing that people showed interest in meeting the artist and learning about him at many booths where embroidery, collages, etc. were displayed. But this facility was not available in all the galleries. Artists weren't everywhere and many galleries didn't even have enough information about the artwork. People in India want to know about art or any other subject in easy language. The information that was available at some places in the fair was in English while 90 percent of the people roaming the fair were speaking Hindi or their regional language. It would have been better if there had been some arrangement for such people as well.