Ved Prakash Bhardwaj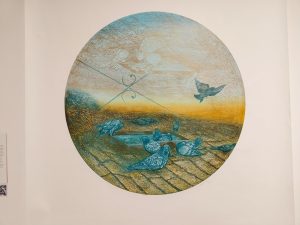 'ART FOR HOPE 'initiative, supported by the Hyundai Motor India Foundation, the CSR arm of Hyundai Motor India Ltd., showcases India's best young talents in diverse fields of arts, crafts, and sociocultural initiatives. This is the 2nd edition of the program where 25 artists and 10 art collectives are the winners of the Art for hope grant, chosen from over 200 entries, received from 87 cities representing 25 states.
Art is a reflection of a society's values, its culture, and the people who are a part of it. It helps us understand our innermost emotions. Hyundai Motor India Foundation under the aegis of the global brand vision of 'Progress for humanity' and CSR philosophy of 'Continue' took to the cause of artists as a part of the commitment of doing well for society, eventually contributing towards building India of tomorrow. "Art for hope" envisions unearthing India's undiscovered talent, providing them a platform and encouraging a spirit of innovation, creativity, and collaboration. In this edition of the program, the artists are showcasing works on social, environmental and on community-centric subjects in their own distinct artistic way.
The grantees includes, Arindam Manna, Auroapaar, Binoy Paul, Chandraprakash Hiraman Kumare, Connect Signal Daricha Foundation, Datri Foundation, Geeta Vaishnavi, Himani Khurana Imon Chetia Phukan Ishita Chakraborty, Kalakriti Foundation Kanika Nagpal, Kattaikkuttu Sangam Kottapuram Integrated Development Society, Kumar Pandurang Misal, Manasi Kishor Mankame, Nayanjyoti Barman Payal Goswami, Prasad Shrikant Mestri Preeti Singh Priyanshu Chaurasia, Ramkumar Kannadasan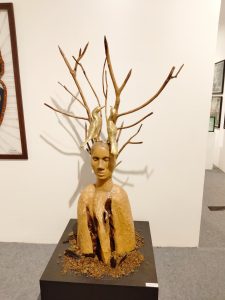 A strong reaction to the curses of the present and the urge for awareness about the future comes forth with full force while looking at the artifacts included in this exhibition. Most of the artists have focused on the environment, pollution, garbage disposal, cultural crisis, the condition of labourers and other people on the marginal society, etc. Along with the preservation of traditional arts and local culture, there is also an urge to integrate them with the latest technology. Through paintings, prints, photographs, sculptures, installations, video art, etc., the artists in the exhibition have emphasized on hope for tomorrow more than hope for art. The crisis caused by globalization on local cultures has also been reflected in the work of many artists. Most of the artists in this exhibition are young and are well versed with the new techniques. That's why their art also uses technology and give hints of the art of the future.
Chandraprakash Hiraman Kumare is a Nagpur-based artist who focuses on the lives of marginalized sections of society in his photography. The labourers who contribute the most directly and indirectly to the country's economy have always been kept on the margins. This is the section of society that does not appear anywhere along the lines of the graph of development, but it contributes the most. The working class plays a major role in providing basic facilities like food, clothes, and houses to society. But this class is never given importance by society in political, economic, and cultural fields. Those who grow grain for others sometimes go hungry; most of those who build grand buildings in metropolitan cities do not have their own roofs. Chandraprakash highlights the contradiction between the contribution of this class and its status.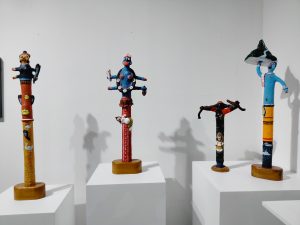 Human perception affects ecological and personal processes-Arindam Manna began his research while exploring the idea of 'resilience' involving site-specific prompts which sometimes become emotional or physical, mostly grounded in ecology. Ambiguity lends itself to a specific experience of association and connection, where interconnectedness is both depicted and experienced through materiality. This project leads the artist to explore the notion of resilience and the multi-layered relationship that it produces, while (re)visiting places through a continuous engagement with the mode of drawing, photographs, video, and sound; and dealing with various concerns around homeland, mobility, isolation, temporality, body, and place. "Dodging Time" acts both as an intervention and reflection of the situation, where Arindam is observing the seasons as a passage of time that inherits a system of resilience. Thus, the seasons do not mark the passage of the year; rather they are spread out in space.
Delhi resident Tarun Sharma does printing. In his work, he creates an environmental crisis and human helplessness in the midst of it. For this, he keeps cows, birds,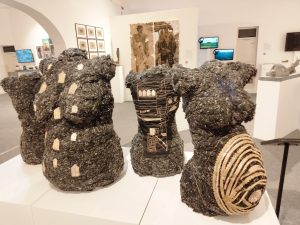 rats, etc. prominently in his prints as symbols. In metropolitan life, there is no place for the rest of the creatures except humans, while their presence is necessary for human life. In this way, he stresses on the need for coexistence.
Ashavari Mazumdar and Auropaar from Pondicherry bring the problem of household and other waste to the fore through their photographs and videos. These artists have worked with traditional Indian dance artists by meeting online for about 3 months, combining traditional dance and digital mediums. These artists believe that if traditional dance and its artists are not connected with the new technology then it will be difficult to save them.
Kolkata-based artist Ishita Chakraborty works on global climate change and eco-feminism. She brings many issues like land rights, ethnic conflict, and seed conservation to the fore through her art. For the future, she considers rhizomic language necessary so that everyone can survive together before the world collapses without any land rights.
Preeti Singh from Himachal Pradesh works to preserve the folk and traditional culture as a heritage in its natural environment. Their art, driven by their memories with humans and other creatures, is to develop the art made on the walls by women in their own society in a modern way. Concerns about mountains getting destroyed due to the urbanization of villages, mud houses disappearing due to concrete houses, plants and birds ending, etc. emerge in her art.
Valsala Prasad is associated with the Kottapuram Integrated Development Society, Thrissur, Kerala. In his art, he highlights the impact of the water crisis on fishermen and common people at the local level. In these effects, he sees the fishermen, farmers as well as other affected sections together. Through the Integrated Development Society, people are taught to make beautiful handmade curtains, table covers, carpets, etc. This work is done as an art rather than a product. In this way, the artists associated with this society are also doing the work of saving the local traditional art.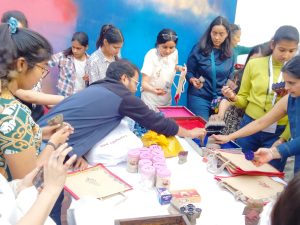 Similarly, the work of Kolkata's Parichay foundation artist Bholanath Karmakar is an attempt to give a new identity to local art. The Ghat Stambh he displayed is a form of contemporary installation art as well as a form of folk art. Sayantan Samanta from West Bengal works on land degradation, ever-increasing urbanization, environmental challenge, and ecological balance in his art which can be seen in his creations. He has created works combining craft and installation art. Kerala artist Sreelakshmi KS also works with ecological balance as the main theme in her art. Artist Umesh Singh, who is from Banaras, Uttar Pradesh, works on the myths of farming and the actual condition of farmers, as well as the condition of people in the midst of inequality, and social, political, and religious issues in society. In the installation that he has done, wheat, rice, pulses, etc. are kept in multi-level racks while some places are completely empty. This reflects the contradiction between the production and availability of food.
Shubhi Audichya of Udaipur, Rajasthan has made cloth crafts using gota patti, embroidery, etc. on women's clothing which is a part of the folk art of Udaipur region. Artist Gautam Dutta of the Redesign Design Cell of Assam raises social and other issues through local art. Similarly, artist Binay Paul from Assam creates crafts using locally available materials. In these crafts, he presents the general activities of local life as well as the narratives. Priyanshu Chaurasia from Banaras, Uttar Pradesh draws attention to marginalized people through photographs of rag pickers and installations made of plastic.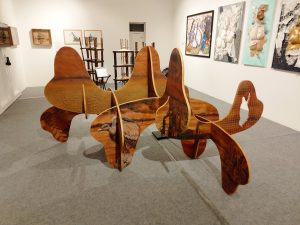 A feature of this exhibition was the workshops organized in it, in which the artists taught the children and adults coming there to do many arts including Block Printing, Graphics, Bandhej, etc.