There's no denying that 2021 was a tough year for industries across the board, as the onslaught of the second wave in the first half of the year caused a huge wave of grief, loss and uncertainty. But as humanity rallied, a ray of hope did pierce through the clouds as the weeks went by. And, while it may be easy to assume that purses were zipped tight and investor sentiment was on a break — that\'s quite the opposite of what really happened! Commercial sectors have rallied in the face of crisis, and the art world was not about to be left behind. Besides the foray into the digital world with NFTs, traditional art has also smashed new and exciting records in 2021 — all of which Abir Pothi was meticulously chronicling for its readers. Let\'s take a small trip down memory lane to check on the top sales we were all lucky to witness.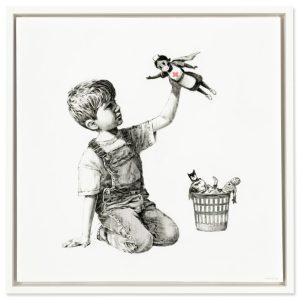 Banksy's Game Changer: $23.2 mn
Exactly one year to the day that the UK first went into lockdown in March, famed auction house Christie's raised a record $23.2 million (16.8 million pounds or €19.4 million) when it sold Banksy's 'Game Changer' painting, all of which is to be rerouted as funds to health organizations and charities across the country in a bid to honour their efforts throughout this unprecedented pandemic.
Travel back in time to our post here.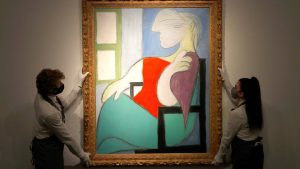 Picasso's Woman Sitting Near a Window: $100 million
Marking the fifth work by Pablo Picasso to sell for a nine-figure sum, Woman Sitting Near a Window by the Spanish artist has sold for $103.4m (£73.5m) at Christie's auction house in New York in May. The painting, which depicts Picasso's young mistress and muse, Marie-Therese Walter, was acquired only eight years ago at less than half this price.
Travel back in time to our post here.
Basquiat's In This Case: $93.1 million
A painting of a skull by Jean-Michel Basquiat sold for $93.1 million at Christie's in New York in May, becoming the artist's second-most expensive work to sell at auction. The 1983 piece, titled In This Case, smashed its estimate of $50 million. The painting was last purchased publicly in 2002, when it sold at Sotheby's for just under $1 million. It then sold privately in 2007 for an undisclosed sum.
Travel back in time to our post here.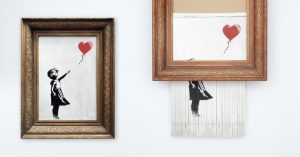 Banksy's 'Love is in the Bin': £16 million
Banksy again! His Love is in the Bin — or what remained of it after the anonymous artist's live destruction of his piece Girl with Balloon (which sold for £1m in 2018) — went under the hammer at Sotheby's in London in October. And, it sold for a whopping £16m — including a buyer's premium, the purchaser paid £18.5m in total. The sale saw nine bidders battle for around 10 minutes, and beats the previous record of £16.8m set for Banksy in March this year.
Travel back in time to our post here.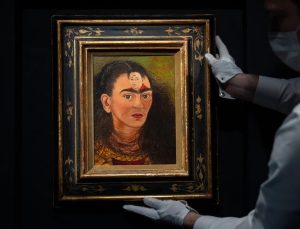 Kahlo's Diego y yo: $34.9 million
The most expensive work by a Latin American artist ever sold at auction is now Frida Kahlo's 1949 self-portrait Diego y yo, or Diego and I. Breaking records, the painting went under the hammer for $34.9 million, against its estimate of $30 to $50 million. Kahlo's husband, Diego Rivera had a 1931 painting The Rivals sold at Christie's for $9.8 million in 2018 ($10.7 million today).
Travel back in time to our post here.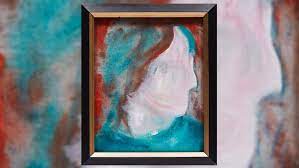 David Bowie's $4 painting: US$90K
A painting by British pop icon David Bowie was discovered in June and purchased for about USD$4 at a Canadian store that resells donated goods. Then, it has been sold at auction in Toronto for nearly USD$90,000, blowing past auction house Cowley Abbot's estimated USD$7,000 to USD$10,000 valuation earlier. The diminutive artwork 24×20 centimetre was originally sold through a website around 2001. It somehow found itself two decades later at a donations store Ontario where an anonymous buyer paid USD$4 for it.
Travel back in time to our post here.