There\'s no denying that 2021 was a tough year for industries across the board, as the onslaught of the second wave in the first half of the year caused a huge wave of grief, loss and uncertainty. But as humanity rallied, a ray of hope did pierce through the clouds as the weeks went by. And, while it may be easy to assume that purses were zipped tight and investor sentiment was on a break — that\'s quite the opposite of what really happened! Commercial sectors have rallied in the face of crisis, and the art world was not about to be left behind. Besides the foray into the digital world with NFTs, traditional art has also smashed new and exciting records in 2021 — all of which Abir Pothi was meticulously chronicling for its readers. Let\'s take a small trip down memory lane to check on the top sales we were all lucky to witness.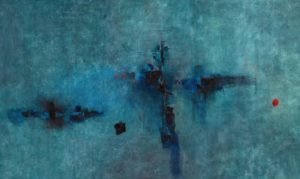 This Gaitonde 1961 oil on canvas broke a record for Indian art
Before charting foreign waters, it must be acknowledged that Indian artists made the country proud, first and foremost. For instance, a record was set for all of Indian art in the second week of March, when a 1961 oil-on-canvas by artist VS Gaitonde was sold for a whopping Rs 39.98 crore. With this, the artist has also broken two of his own records.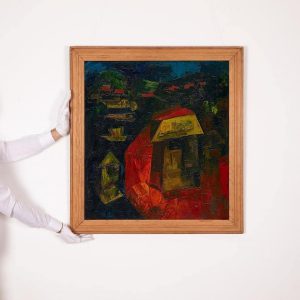 H.A. Gade's Untitled, oil on canvas, 1950 | Via Astaguru on Facebook
In July, Indian artists' works fetched new records at auction, when a whopping Rs 1.19 crore ($167,750) was the price fetched by an FN Souza painting; and further, artworks by HA Gade and Paritosh Sen fetched the highest price ever for their works. While Gade's Untitled oil on canvas work of 1950 commanded a record-breaking price of Rs 48.81 lakh ($68,745), Sen's House of Banaras, a rare work from the artists oeuvre from 1958, was sold at Rs 62.30 lakh ($87,745), online auction house Astaguru said.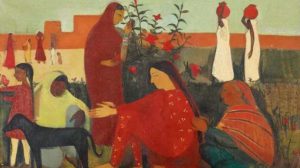 The work fetched ₹37.8 crore at a Saffronart auction in Mumbai, making this the highest-ever price achieved by the artist in an auction. | Via Mint
In the same month, a new auction record set by Amrita Sher-Gil's Ladies' Enclosure. It is a rare painting from her India period, made just three years before her sudden death at the age of 28. It fetched a massive Rs 37.8 crore at a Mumbai auction — making it the second-most expensive artwork by an Indian artist globally. Sher-Gil's 1938 work is one of her largest canvasses (21.5×31.5 inches) and depicts a group of women sitting in a field.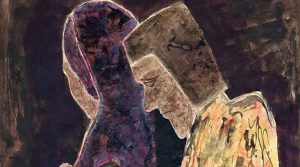 The Tagore painting that was auctioned. | Via The Telegraph
Just a few months down the line, in September, Rabindranath Tagore's untitled painting of a "couple" fetched a record $637,500 or Rs 4.7 crore at a Christie's auction, bought by "an institution in Asia". It was earlier estimated to sell for $120,000-$180,000. This is "a new global auction record for the artist", said those who helmed the live auction at Christie's in New York, as part of the Asian Art Week, adding that this was one of his finest works to go on the block in several years. The work, signed in Bengali, is mixed media on paper laid on card and measures 56.8cmx45.7cm.