Ved Prakash Bhardwaj
When we look at a painting, we often try to read a story from the shapes on the surface. When there are abstract paintings in front, then the same story becomes a mystery. But, many times we see such paintings which are abstract but do not bring any mystery. They just present our own known world in front of us in a different form. The world that is familiar but also mysterious, like the paintings of Muzaffar Ali. His paintings seem to reveal dreams and secrets as well as the past. With familiar images as well as unknown structures, he gives a new meaning to his paintings and other artworks.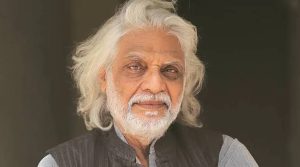 Muzaffar Ali's popularity is more as a filmmaker. Films likeUmrao JaanandGamanhave made him an indelible part of the memory of the public mind. But before becoming a filmmaker, he worked as a painter in his early days in Mumbai. By the way, his films have also been like a picture series. A retrospective exhibition of his artworks started on 11 January 2023 at the Galleries in Bikaner House, Delhi. The exhibition includes his older paintings as well as large-size paintings created in 2022. Muzaffar Ali is also a fashion designer. Apart from this, he has created many types of designs. That is the reason he gives a lot of attention to the presentation of his painting and the exhibition as a whole.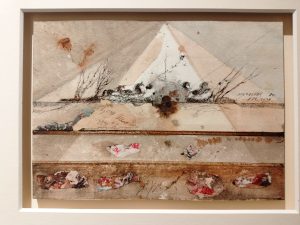 Muzaffar Ali's paintings are collages. He uses paper, cloth, ropes, and dry leaves-pieces of wood and sometimes old photographs on canvas, boards and other surfaces. In addition to individual portraits, photographs of vintage cars and landmarks have also been used in these paintings. In the exhibition, he displays oil and acrylic paintings, and many drawings. Many of the paintings have text written in Urdu. A Sufiana style expands the meaning of his paintings.
If you look at the paintings of Muzaffar Ali, on one side there is memory, a mystery, and an attempt to find and understand the past. In his paintings, he usually uses rice paper, which gives a kind of emotional calmness to the painting.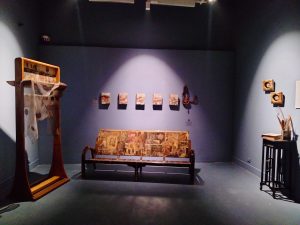 As he says, he has had an old association with sketch pens, colours, etc. His education in Geology, Botany, and Chemistry gave a different direction to his pictorial language. He had also received an art education from Lucknow Arts and Crafts College. That is, his entry into the world of art was not an accidental event. He started his early life as a painter in Mumbai. However, he took his artistic dreams in other directions, including fashion designing and other designs including furniture. In this exhibition, he displayed a table and a wooden sofa chair, which are a design as well as the artwork.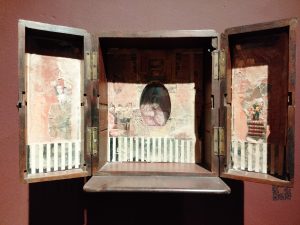 This exhibition, which spans some four decades in terms of artistic life, brings to the fore many forms of his art. This includes his horse paintings and on the other hand, there are also paintings looking for lost time through collage. Memories, whether of persons or of cars and old buildings, are an essential part of his art. That's why his paintings sometimes seem to take a journey of memories. But this is not nostalgia. In a way, remembering the past is also a way to understand and catch contemporary life.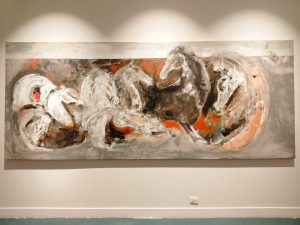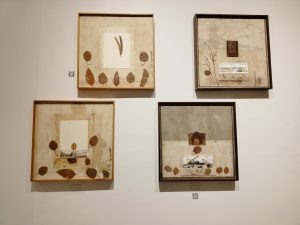 Muzaffar Ali has used dried leaves, pieces of wood, etc. in his paintings. Apart from this, he has made many small-sized jharokhas (windows), in which abstract landscapes have been created with individual pictures as well as dry leaves, etc. His love for natural elements transforms his other designed items into works of art. He openly expresses his affection for dry leaves. According to him, the leaves actually represent the cycle of time, the cycle of the seasons as well as beauty and dedication. That's why he often uses leaves as art material. And while doing this, he starts reciting poetry. His pictures are like a ghazal and Sufiana- Kalam. His paintings need to be seen at the level of spirit more than their physical existence. He takes the viewers on a journey of emotions and thoughts. The impression of travel in the still images of the painting is a great strength of his art.