Krispin Joseph PX
Bhagavan Hanuman has been a trending topic in Indian online media for many days. Parallel to the Election campaign in Karnataka and other states, Prime Minister Narendra Modi, BJP, and opposition parties, including the Congress party, take an aggressive position on this topic.
PM Modi criticised Congress for including a pledge to ban the Bajrang Dal in its election manifesto for the Karnataka Assembly polls. He accused the party of attempting to imprison the devotees of Lord Hanuman. The comments were made hours after the manifesto was released.
Parallel to the election air and drive, an exciting element, an angry Hanuman image created by a Keralite- Manguluru-based artist Karan Acharya is also going viral. A graphic illustration of Hanuman is already famous in the Indian scenario, praised by Narendra Modi in the 2018 election campaign in Karnataka. After a while, that image was memorialised and circulated online, went viral again, and participated in a new trend with election campaigns and political stunts.
Karan Acharya created this Angry Hanuman in 2015 at the request of his friends for an annual temple festival. This creation went viral and is now everywhere- on buses, windscreens, public walls and T-shirts. Artists give a shade of angriness to Hanuman.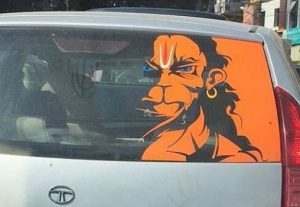 Karan Acharya designed this Hanuman angriness for a Ganesh Chaturthi flag, and the image went viral on WhatsApp DPs and Facebook after he sent it to his friends. Artists gather unexpected recognition and possibilities and use social media pages-including the Insta page- to create and spread more graphics from the epics. First, people from artists' villages started using this image for their vehicles, and when he reached Banglore, he realised many thousands of people were using his vector, Hanuman. Gradually, artists became known as 'Hanumanji Ka Artists' among locals. According to the news, the soaring popularity of the image has also flooded him with work, including film offers for animations and commissioned works. Artists were on planning a comic book series featuring the monkey god in a world several thousand years from now.
Karan Acharya's artwork became an instant sensation on social media, particularly on Twitter and Instagram, where his digital artwork of Lord Hanuman quickly went viral. The images, which depict Lord Hanuman in a bold and contemporary style, quickly caught the attention of people, and the artist gained an enormous following in a very short span of time.  Currently, Acharya has 434k followers on Instagram which showcases his digital artwork. The theme of his artwork revolved around Hindu religion and mythology. You can read about Karan Acharya on Wikipedia.
Despite the controversies surrounding his work, Acharya's popularity continued to soar. His artwork has been widely appreciated for its unique style and bold interpretations of traditional deities.In addition to his digital art, Acharya has also designed a blue graphic of Shiva, Ram and a painting of Prime Minister Narendra Modi.
Acharya's popularity has led to many opportunities, including being invited to the Ayodhya art festival and being part of the first Mangaluru literary festival. He also designed the teaser poster for the movie Mundina Nildana in 2019. In 2018, he started a company to sell his artwork on t-shirts after obtaining copyright protection for his Hanuman art.
Acharya's talent and popularity have led to him receiving over 2000 requests for photo edits on social media. While he does some of them free of cost, for others, he charges a fee. Despite his success, there is still a debate about who makes money from his artwork, as some people have used his work for commercial purposes without permission, potentially infringing on his copyright. However, by obtaining copyright protection for his work, Acharya has legal protection and exclusive rights to reproduce, distribute, and display his creations, and can seek legal recourse if his rights are violated.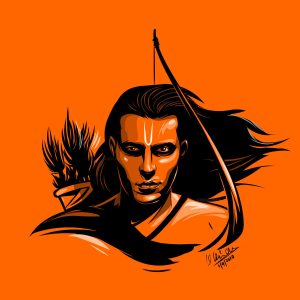 The popularity of Karan Acharya's artwork, particularly his digital illustrations of Lord Hanuman, has taken the Indian online media by storm. His unique and bold style of depicting traditional deities has gained him a massive following on social media, with a huge no. followers on Instagram alone. Acharya's success has led to many opportunities, including designing the teaser poster for a movie and being invited to various art and literary festivals. However, the issue of who profits from his artwork remains a topic of debate, with some people using his work for commercial purposes without permission. Nonetheless, by obtaining copyright protection for his creations, Acharya has the legal right to reproduce, distribute, and display his artwork, and can seek legal recourse if his rights are violated. The remarkable skill and widespread admiration of Acharya serve as a powerful statement to the profound impact of art.