Rajesh Kumar
The creepy-crawlies are no longer just a part of the soil, all ignored and disgust upon, they are now a major part of the paintings by Smitha GS. The paintings are full of creepy crawlies and that's what she loves. You name them, there they are, crawling of flying all over her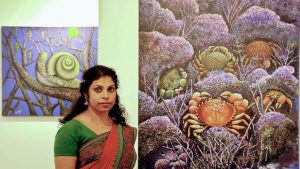 canvas. Snails, beetles, lizards, butterflies, moths, owls, spiders, grasshoppers, ladybirds, praying mantis and maggots come to life through her painting.
Currently Smitha is a part of the fifth edition of Kochi Muziris Biennale. On 26th January, 2023 on the occasion of Republic Day an acrylic painting by G.S. Smitha was adapted into a 25-foot long tail art by Air India Express. The brand new tail art created at the Kochi Muziris Biennale was installed on the Boeing 737-800 aircraft. The painting recreates multi-coloured landscapes populated by chameleons, grasshoppers, microorganisms and aquatic species. According to the sources, the metaphysical painting simultaneously reveals the enigma of tiny creatures and the enormity of hills and flowerbeds. The unveiling event took place at a hangar of Air India Engineering Services Limited situated at Thiruvananthapuram International airport.
#FlyWithIX : Adv. P. A. Mohamed Riyas, Hon'ble Minister for Public Works & Tourism unveiled the new tail of VT-AXN.

(1/3) pic.twitter.com/rM2kgiS2ZX

— Air India Express (@FlyWithIX) January 26, 2023
"The vibrant tail art that carries the culture of India, and this unique partnership between Air India Express and Kochi Biennale shows their commitment to art and culture," said PA Mohamed Riyas, Kerala State Minister of Public Works and Tourism.
A salient feature of Smitha's painting is the use of blue and violet as background. "Night is when I unleash my creativity. Free from all external disturbances I can concentrate well. Blue is the colour of night. And crickets are an indispensable part of it".
Right from childhood, she used to keenly observe insects, maggots and all sorts of crawling creature. She has spent hours watching the antics of antlions. That's how she learned that antlion is the larva of the dragonfly. Smitha has painted the lifecycle of the antlion transforming into the dragonfly. She frets over the thought that insecticides may ultimately weed out her dearest creatures from the face of the earth. If that were to happen, tomorrow's kids would never know that such creatures once lived on this planet.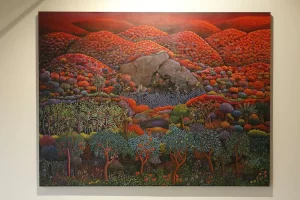 The fifth edition ofKochi-Muziris Biennaleopened on 12thDecember, 2022 and will be on view till 10thApril, 2023.