Krispin Joseph PX
Kochi Muziris Biennale brings many things together. The twin harbour city, Mattancherry and Fort Kochi, had a uniqueness before the Biennale, from colonial period trade to myriad compositions of the ethnic groups, old buildings and warehouses that assembled the historical cities in the Arabian seashore. Biennale gathers specialities, including the historicity of these twin cities and the heritage of vanished Muziris port in the title.
Fort Kochi and Mattancherry started their legacies centuries; the harbour city attracted colonisers with the smell and taste of pepper and spices. The Portuguese, Dutch and British made a cultural trail in these cities and traded Kerala's taste and smell, and that fragrance reached everywhere with 'exotic' stories. Diverse ethnic communities from different parts of India initiated their way to these cities have arrived and settled, which changed the socio-cultural fiction of these cities forever.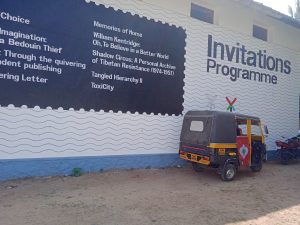 Fort Kochi and Mattancherry started to move with the Biennale in the last ten years, and Biennale mobilises this twin city's resources and cultural heritage. Biennale adds unique elements to this city, harmonised with creative expressions and thoughts worldwide in different mediums and styles; not inside, it is celebrated everywhere in the city.
One can use various transportation facilities to reach the Biennale space; bus, boat and taxi are prior, and after arriving at the festival city, one can choose a primary vehicle for seeing Biennale. That is an Auto rickshaw, and the city's auto drivers use this time to gather people to give them a tour of Biennale venues. Biennale in main venues, satellite exhibitions, invitations shows, students biennale, and other exhibitions surrounding the space of Fort Kochi and Mattancherry, not directly connected with Biennale but targeted the audience. Audiences worldwide try to reach out to all these venues within one day, and they try to hire an auto and visit Biennale.
Kochi Muziris Biennale boosts the tourism industry in Kerala much better than before, and after the pandemic, tourism is trying to reach a high. Domestic and international tourists became an audience of Biennale, and many people came here only for Biennale. Most people hire an auto because the auto is the only affordable transportation facility in this Biennale space, and auto people know this place very well. They would give them a good ride through this city and the Biennale within a time frame.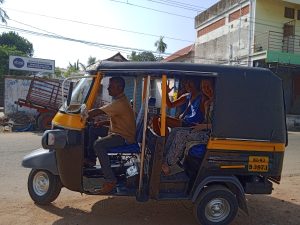 I spoke to many tourists who hire an auto to visit the venues, and most of them are really into local culture and language. Some comment how auto drivers carry them to venus and explain the artwork to them so 'cool'. Tina Steinmetz is a German priest who has visited Fort Kochi and Mattancherry for some time, and she sees the Biennale space in an auto; auto driver Manoj from Mattancherry, not only carries them to the Biennale space but explains the artwork to them.
Tina Steinmetz hires Manoj auto for two days to roam around Biennale venues and twin cities with friends. Manoj explains artwork from different perspectives from ground realities, which may not be in an art historical or academic. But some genuine approach is there in his narration of art, and he gives life to the artwork, Tina told.
People engage with people and artwork. Biennale opens a new era of engagement between people and the artwork in this twin city. German priests and her friends engage with local culture through an auto rickshaw journey. Auto rickshaw is only a medium to travel in the landscape and communicate with people.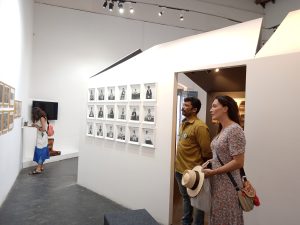 'For me, Biennale is a visual experience. I am encountering new sorts of visuals from every venue. I enjoy seeing the artwork with guests, trying to understand more, and talking to them about what I learn. Every day I learn something new and engage different people worldwide. Biennale brings many things to Fort Kochi and Mattancherry; tourism boosts up and cultural upgrades. I observed the changes that began from the first Biennale and now reached another phase; after the pandemic, people come here to attend Biennale and engage. Many unknown things I learned from the Biennale artworks and the people who come to see Biennale, told auto driver Manoj. Auto rickshaw journey through the venues gives a new experience for us, New Delhi-based visitor Raajika told in a private conversation.
Sanoj shares the same opinion as an auto driver with an international tourist named Natassja Stiles. Biennale opens a broad spectrum of viewing the city from a new perspective, which is not open to the public or the tourist. The people changed their identity from tourists to artwork audiences, and local engagement also changed. Before Biennale, site seeing is the main thing going on through the auto-rickshaw people; now, that is an art tour.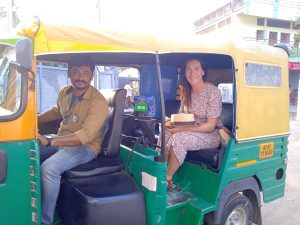 Biennale brings new audiences and tourists to this twin city, and people start to receive this event and become a part of that; local shops, hotels, homestays, street vendors, and city space's surroundings generate earnings. The unexplored socio-political discourse in different mediums brings new-age art events, generating public opinions regarding creative expressions.
A minimum number of the auto tour happens daily in the Biennale space, and people use it as a travel partner for the entire period in this twin city. Drivers are charged hourly, and the whole day depends on the requirement and the duration of the trips; up to 1000 bucks is the average for the auto tour in Biennale, including the waiting charges.