Smriti Malhotra
Jean-Michel Basquiat, known for his unique style, which combined elements of graffiti, fine arts and painting in his works is now in the news again for one of his paintings 'El Gran Espectaculo' (The Nile). This stunning 12-foot large canvas is being offered by Christies for over $45 million in an auction scheduled for this May.
The painting was made by the American artist in 1983 where he combines various elements of text and symbols to create a layered symphony. The main figure is a skeleton in yellow with a crowned head, flanked by various other figures and motifs such as Pharaoh's head, snakes, pyramids, spiders, an eye and more. The painting could be a commentary on power, death and the cyclical nature of life. It is among the artist's "most historically and intellectually important" paintings, according to Christie. The painting oozes the quintessential oeuvre of Jean-Michel Basquiat.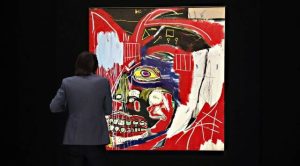 The sale of this particular painting could set a record for the most expensive works ever sold by this artist publicly. Christie's is known for selling Basquiat's works, in 2021 it sold 'In the Case' made in 1983 which was a painting of a large skull and was co-signed by Giancarlo Giammette, Co-founder of Valentino, as per the ArtNews. This work was sold for a whopping price of $ 93.1 million.
Coming to the Nile, it is believed to have resided in the personal collection of Valentino Garavani, also the founder of the Valentino Fashion Group. It was owned by Enrico Navarra, a gallerist, collector, and book publisher before the fashion mogul bought it. The painting has been a part of various retrospectives over the years, worth mentioning is the first one that was organised in 1992 in the Whitney Museum of American Art. The painting-insured by the third-party guarantee-is set to be showcased at Christie's 21st-century art sale in May at the renowned Rockefeller Centre.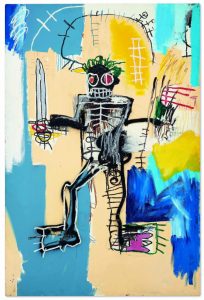 It is stated that a portion of the sale shall be going to Accademia Valentino, an institution for art, fashion and education. Jean-Micheal Basquait's art has inspired the likes of filmmakers, designers, musicians and of course a wide range of audiences. Several musicians have referred to his name in their music. Kanye West has used one of his paintings as the cover art for his album My Beautiful Dark Twisted Fantasy. Reebok, the shoe brand, paid homage to the artist by introducing a product line and many fashion designers are also heavily inspired by his works such as Alexander Mcqueen, Valentino and the Japanese brand Uniqlo also has a line dedicated to the artist's works.
The sale shall be a momentous one as it once again proves the power of Basquiat and his artworks.