(Editor's note: Abir Pothi is excited to bring you book excerpts from Raza: Jaisa Maine Dekha by noted artist Akhilesh published by Rajkamal Prakashan, where he has sketched with words his long association with Syed Haidar Raza from the author's early days to Raza's last. We thank Akhilesh for allowing us to translate and use excerpts for Abir readers. This is special because Raza would have entered his 100th year in 2021. It is a useful book for art lovers and, specially, young artists as they get a ringside view of the journeys of two artists crossing, connecting and sometimes entwining their paths and destinations. We are bringing it in five parts. This is the first.)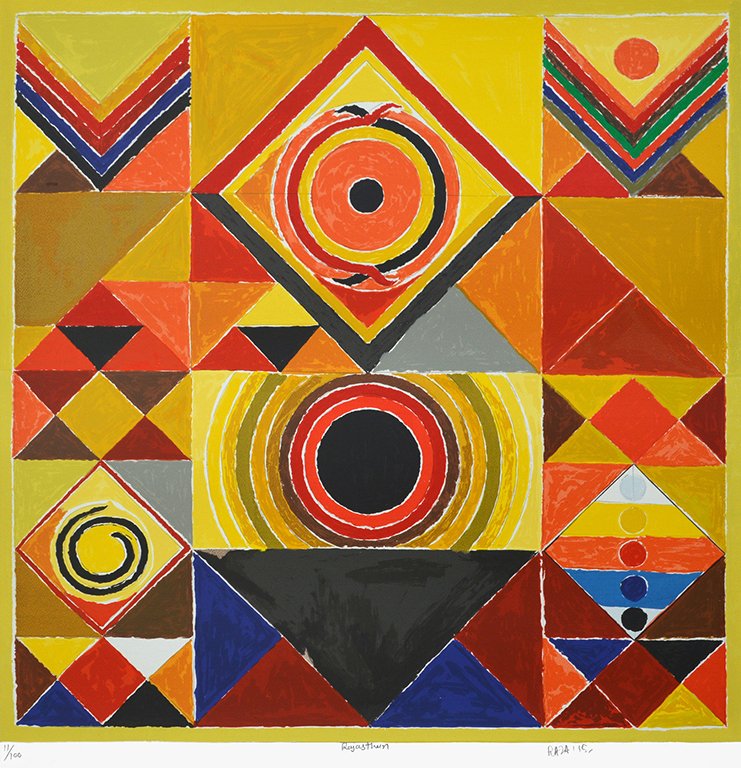 1978 was an important year for me. This was the year when I completed my studies and wanted to take a specialisation course on sculpture studies. This was also the golden jubilee year of our college. And to have Devlalikar Sahab as our teacher was something wonderful. One more thing happened, which we had no idea of, but which taught me how to see.
During winters we came to know that S H Raza's work would be shown in 'Utsav 78', a multi-art programme organised by Kala Parishad Bhopal. I had not seen his work before, nor had any idea about how his works looked like. During the Utsav, exhibitions of Husain and Bendre had already been organised, so we had a sense this too would be a special exhibition and Raza would be an important artist. We talked amongst ourselves who all are keen to go, but not many showed interest. Finally, only three of us – Qadir, Haren Shah and I – went to see Raza's work. We took a night train without ticket and reached Bhopal early in the morning and we went straight to Kala Parishad, where the exhibition was to be inaugurated. We reached about 10 in the morning and met Raza sahab in the campus. Those days in our minds image of a painter for us was closer to Husain, with his shabby clothes, unkempt beard, a jhola slung on his shoulders. This was the common image. To imagine an artist without all that was not only difficult, but also as if wrong.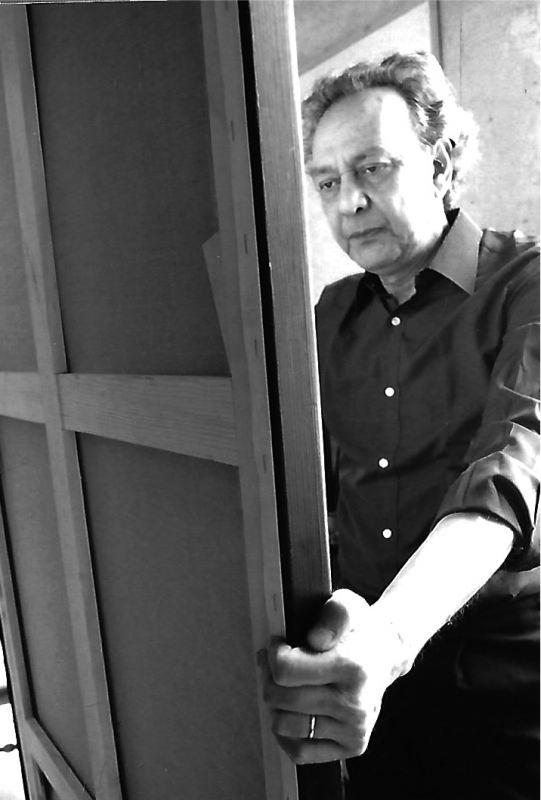 He was standing there: gentlemanly, clean shaven and in a good suit. Raza was very particular about his choice of clothes (till the end and, if you happened to be with him, he would also be very conscious about your choice of clothes), soft-spoken and very contrary to the image we had. When he found out we have come from Indore to watch his works, his face gleamed. He asked each of us our names and excitedly walked us into the exhibition. This was my first experience of watching an exhibition of abstract works. As we entered into the gallery and saw his abstract works, I asked Raza sahab, "Samjhaiye…" (please explain). He asked me, "How many days are you going to be here?" I said, "Three days". He said, "Watch it for three days then, we will talk in the end." The exhibition was not completely set up. Some works were still left to be hanged.
He then got busy talking to the carpenter and some other people, and we three were left alone with the paintings. The gallery was illuminated with the colours of Raza's paintings, their colours were glowing. The attraction of colours was pulling us deeper into them. This was a celebration of Raza's freedom. Before this he was painting landscapes, Indian landscapes – Onkareshwar, Maheshwar, Kashmir, Mumbai etc., and now living in France, scenes from there, in his own signature construction and constitution, as mentioned by Henry Cartier Bresson in Kashmir about the lack of construction in painting.
These works from the Seventies marked a fresh beginning for him, which made him what he is known for. These works were the personification of his wandering through the forests of Central India in Mandla, from his childhood days.
Here it is relevant to talk about his meeting with Cartier-Bresson. Raza received a scholarship in 1948 to travel to various parts of India and make landscapes. (I don't know why this scholarship was discontinued), and he travelled to Onkareshwar, Maheshwar (Banks of Narmada river near Indore) and reached up to Kashmir. There he met Cartier Bresson (the very reputed photographer of 'The decide moment' fame), who saw his works and told him that the works are very good, but they lacked construction. It was difficult for a 26-year-old youth to understand what is construction in a painting. Bresson just hinted that to understand construction one could look at Paul Cézanne's work. Raza returned to Mumbai intrigued and started looking for Cézanne's works.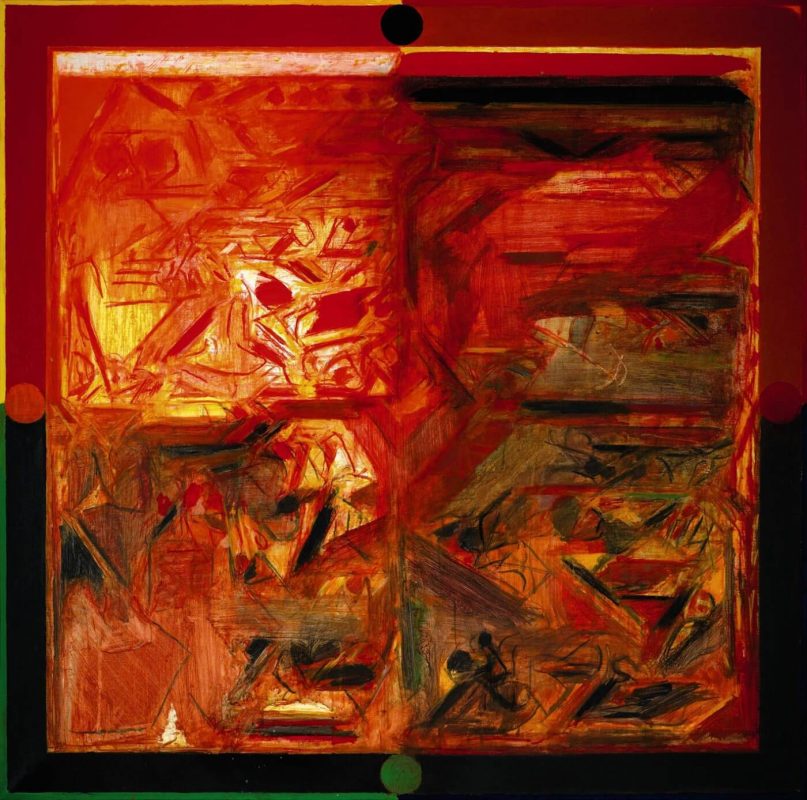 Just around this time he finalised the idea of forming the Progressive Artists Group with F N Souza and K H Ara and also that the group should not be very big. They decided each will add one member to the group. Souza brought in M F Hussain, Raza brought in H A Gade and Ara included Sadanand Bakre to the group. Thus, the foundation of this group was kept during the exhibition of Raza's works, made through the scholarship. Later, in the same year, the group's first and only exhibition was held. Raza kept his quest alive and he found out about a one-year scholarship offered by the French Embassy and that it required knowledge of the French language in order to be considered. Raza took French classes and learnt it fast enough. His works, his keen quest, and probably his newly-learnt French helped him land the scholarship with a concession. It was extended to a two-year period. Raza reached Paris in beginning of the Fifties.
The exhibition in Kala Parishad, Bhopal, was an evidence of "seeing" Raza. The works were evidence of what the artist was living and breathing. These works were not different from the landscapes any more, but the scene was not something external anymore. These were landscapes which were not there earlier. This was a gift of Raza to the world. The 'Rajasthan' he painted does not exist anywhere in the world, but only in his painting. The sun he painted is not about painting the sun. It was Raza's sun, the shine of which had encompassed the blue of his painting 'Sailab', where a storm was just about to strike.
This was the time when Raza had just started painting with acrylic colours and left oils, which was the newest medium then. Raza went to Berkeley University in California for three years to teach in the Sixties. Acrylic colours had just been invented around that time and introduced in the American market. Raza loved the water colour quality of this new medium and gave up working with oil colours. These works were painted in this new medium and had a fresh flavour to it. It marked a new beginning for Raza. This also helped him find his own direction. Ajit Mukherji's book 'Tantra' introduced new forms related to tantrik practice, which attracted many modern painters. Some kept copying them over and over, but Raza took time to understand and assimilate them, to harness and process them with his own childhood experiences and developed his own style to start a new chapter in the arts, which we know as Raza's art. In this exhibition the displayed paintings 'Sailab' and 'Rajasthan' are not about a storm, or floods or the deserts. Nor are they visualisations of the literal meanings of those nouns. These works were actually 'metascapes'.
These were paintings of 'colour-feelings' far from the traditional visualisation of landscapes. For the first time I began to understand that colours are not the
medium but the main elements of art. The dominance of red is not a distraction, but an attraction, that it is not aggressive, that it is also calm and very beautiful. In 'Rajasthan' one can note the relation of red colour with others. The white used here is the pulse of the painting. These works shook my common perception of colours. I remembered this sentence from a letter Vincent van Gogh wrote to his brother Theo, "The artist of future would be of colour's." I saw this happen with my own eyes.
One could sense the conversations colours were striking with us through those works. I was hooked.  For three days I kept looking at the works with much attention and found out about Raza's process, how he begins, how he applies colours. My friends kept spending time meeting their friends and others in Bhopal, but they would drop me at the gallery in the morning. Raza also saw me spend my time with his works. Last day he walked to me and said, "Let me explain to you now. I said, "I have understood." He was happy and walked away. We returned to Indore.
(To be continued)
Copyrights: Akhilesh. Translated from the Hindi by Nidheesh Tyagi