Abhishek Dixit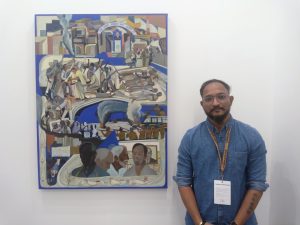 It was only a short while ago that Dr. Bhimrao Ambedkar wrote the Indian constitution to restructure the social system. As he tried to shape society for welfare, his contribution is largely forgotten now more than 66 years after his death. With an aim to remind all the struggles of the Dalit community and the contribution of the Father of the Constitution, Vikrant Bhise (b. 1984), an artist from Mumbai, displays his works on the life of Dr. Bhimrao Ambedkar at the India Art Fair. Vikrant's work is deeply rooted in historical movements and struggles that are important not only for Dalits but also in the Indian context. Movements like Dalit Panther and Payal Tadvi's suicide case strongly influenced him to produce a work that could re-ignite questioning in the minds of people. Vikrant being associated with the Dalit community, his way of conveying the harsh truth about the life of labourers and lower class people is portrayed in a subtle manner where he blends reality with his vision of imagining Babasaheb guiding the people for a better future.
"I want to remind people about the contribution of Dr. Bhimrao Ambedkar. My work is based on the lives of Dalit communities, I really care about the lives of labourers (working class) and I want people to understand the exploitation they are suffering from the upper classes". Bhise said.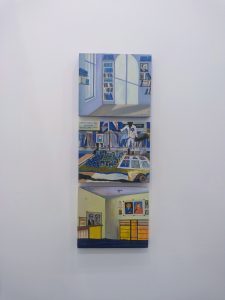 Vikrant was a courier boy when he was in school. Due to the financial instability of his family, he had to work from the eighth grade itself. He did not feel like studying in school. However, his interest in art and culture led him to pursue a foundation course from Model Art Institute, and later he joined LS Raheja School and then JJ School of Arts. At the forefront of the struggle against caste-based domination and its direct impact on land, freedom, and labour, Vikrant's artistic practice reiterates his commitment to the revolutionary spirit rooted in Ambedkarite consciousness. Working in the incandescent scrolls and multi-paneled paintings with the light of resistance that once illuminated the murals of post-revolution Mexico; and small works with ink on paper that carry the urgency of being an up-close witness to the human condition in the vein of Hore, Vikrant's iconography at its most fundamentally informed and deliberate. 
Gail Omwet identifies reason as well as ecstasy as recurring forces in utopian imaginations, choices that orient our struggles. In Vikrant's dealings, the fabric of revolutionary times is unbroken, weaving civil resistance into the present such as movements to uphold constitutional values ​​and labour rights, the power of collective action, and dissent in the pursuit of justice, through key texts and history with information. 
His work is curated and displayed by Anant Art Gallery and any art lover will find his work interesting. The India Art Fair has allowed him not only to sell his work but also to meet great artists with whom he could learn. This is a not-to-miss exhibition for art lovers.