Abhishek Dixit
Creating a form from the destruction of material is the style of abstract artist Bhushan Bhombale. He was born in 1991 in Bhusaval, Maharashtra, and began pursuing art when he thought of rubber as a tool to explore. At home in his village, his father ran a tire garage for repairing punctures. He would repair punctures and learn the ropes by scratching the surface of the tires. Both his elder brothers are currently in this business, but it was he who realized his talent and passion for art. Due to his close association with rubber, he came to the idea of ​​representing it in structural form and thus decided to spend his life as an artist understanding the complexity and characteristics of rubber. He came to Bombay after his twelfth grade to study at the L.S Raheja School of Art and later at the Sir JJ School of Art and began expanding his early experiments with collage.
"As a child, I felt my inspiration with rubber and I always thought of coming to Bombay to learn this art and that is why the abstraction in my work comes from my early association with rubber."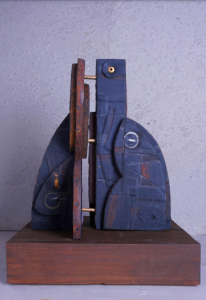 After arriving in the city to work, study and live where rents are unaffordable, the artistic life became a struggle to maintain a working practice and pay rent, which required long journeys on suburban trains. It was difficult for him to withstand the big city blues. Lacking funds, he used box-boards, discarded fabric and paper to create blanks as his canvases. "I was walking in Chamar Gali in Chandni Chowk recently, and I found everything, balconies, buildings, and people in collage form, and met many chappalwalas (Slipper Sellers), who assured me that everyone wears a chappal (slipper) irrespective of caste but not all wear a shoe. It gave me a vast idea about the work that is done in an abstract way." Bhombale said when asked about his recent work. He associates these images with nature—the weirs that mark the boundaries of fields, the forms of fallen leaves, and the colour, weather, and temperature of the landscape. All of his work is untitled and allows you to view it in your own subjective way. Sant Tukaram tells about a pillar in one of his poems where he associates the pillar with the sky; Bhushan learned the dimensions of space from that poem. "In Hindi we call it "jagaah", and this idea of ​​adapting space to our vision is something I really love and my work is a deep investigation into that philosophy."
Bhushan Bhombale makes sculptures on paper and food. He follows an aesthetic line that emerges from his paintings. He comes from a long lineage of collage and decoupage making; He expands the work by making papier-mâché on flat services. "To me, the placing of images with objects such as idols is often akin to the act of Indian pilgrimage." A strange element of magic is created when you place visual vocabularies in conversation in concrete ways. We have arrived at an understanding of Bhushan Bhombale's practice, which is still experimental and emerging. Bhombale uses emergent forms through experimentation in painting and surface techniques and thus arrives at an authorial style. His work is curated by Prabhakar Kamble at Art & Soul Foundation, a must-see for art lovers at this India art fair.