OCTOBER 4, ON THIS DAY
"I knew the wild riders and the vacant land were about to vanish forever… and the more I considered the subject, the bigger the forever loomed. Without knowing how to do it, I began to record some facts around me, and the more I looked the more the panorama unfolded."

Frederic Remington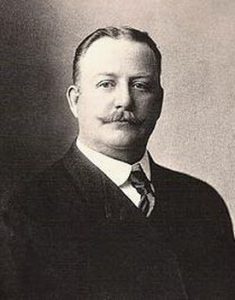 Frederic Remington was a multitalented artist who achieved fame as an illustrator, writer, sculptor, and painter. He was hailed as a chronicler of the American West. His illustrations of cavalry forces, cowboys, and Indians appeared in popular magazines such as Harper's Weekly and Collier's. According to one contemporary reviewer, Remington's work influenced most easterners' perception of the West.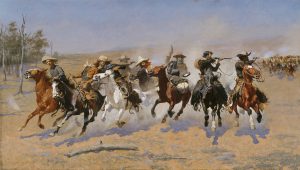 Frederic Sackrider Remington was born on October 4, 1861 in Canton, New York. Remington's family was firmly rooted in American culture, with his father a Civil War Colonel and a relative by blood, the great painter of Native American tribes, George Catlin. At Yale University's School of Fine Arts, he studied art with John Henry Niemeyer. In 1881 he traveled to the Montana Territory and established a studio in Kansas City, Missouri. His first published sketch appeared in the February 25, 1882, issue of Harper's Weekly. Between 1885 and 1913, Remington's drawings were published in forty-one periodicals, including Century Magazine, Collier's, and Harper's Weekly. Though identified with the American West, Remington actually spent much of his life in the East.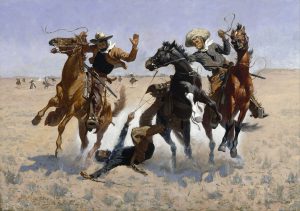 When the Spanish-American War broke out in 1898, Remington went to Cuba as a war journalist. The reality of combat had left him badly rattled. His return to the United States was followed by a period of intense innovation, particularly his experiments with nocturnal pictures. These paintings, filled with peril, threatening violence, and terrifying silence, frequently echo, metaphorically, Remington's experience of battle. He also illustrated books by such notable authors as Henry Wadsworth Longfellow and Theodore Roosevelt. His subject matter offered a nostalgic, even mythic, look at a rapidly disappearing western frontier.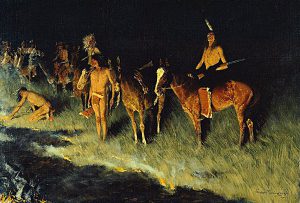 When Remington studied the fundamentals of clay modelling from sculptor Frederick W. Ruckstull, his career took an unexpected turn. Remington went on to model twenty-one sculpture groupings, almost all of which were western in nature. Others were unique and complicated multifigure compositions inspired by motifs created in his paintings and sketches. Unlike most of his contemporaries, Remington rarely worked on a grand scale.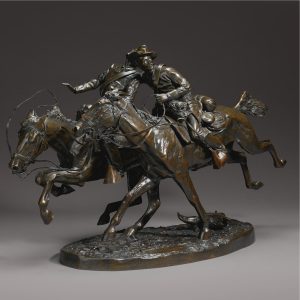 At the age of 48Remington passed away on December 26, 1909, in Ridgefield, Connecticut due to complications from an appendectomy. His works are now in the collections of the Houston Museum of Fine Arts, the Art Institute of Chicago, the National Gallery of Art in Washington, D.C., and the Frederic Remington Art Museum in Ogdensburg, NY, among others.
Sources: