17 th Sep' 2023 ON THIS DAY
"Art is always ahead of time. Tomorrow, they will understand it"

—M. F. Husain
Early Moorings
M. F. Husain, popularly hailed as the 'Picasso of India', was born on this day, 17th September, in 1915.
Maqbool Fida Husain was born in Pandharpur, in Maharashtra today and then in the Bombay Presidency of pre-independent India. Maqbool lost his mother at a young age, and was subsequently raised by his paternal grandmother. He later had to move to Gujarat to live with his maternal grandfather. He learned Urdu while his stay here, and got fascinated by the geometrically pleasing nature of Arabic Kufic calligraphy, sparking his interest in drawing. This influence would later also be visible in his distinct flat, almost geometrically laid out compositions. Maqbool was unable to complete his school education, and apprentice at a tailor's shop in his late teens. But he started painting in his spare time during this period, and this passion would lead him to join the prestigious Sir J. J. School of Art in Bombay (now Mumbai) at the age of twenty.
During and after his studies, Maqbool survived in a room in the slums of the city, and earned his livelihood first by painting Bollywood film posters on billboards, and then by creating toys and nursery furniture in a furniture shop in Bombay (now Mumbai).
Co-founding the Progressive Artists" Group
In the late 1940s, Husain won an award at an annual art exhibition held by the prestigious Bombay Art Society, and his work caught the attention of FN Souza. Souza invited him to be a cofounder of the Bombay Progressive Artists' Group (PAG). The group was formed just 4 months after the Indian Independence, and would change the tide of Indian Modern Art. The Indian avant garde prior to this group was focused on creating art rooted in a perceived 'Indianness'. The Progressives, in contrast, welcomed the Western 'isms' with open arms and borrowed freely, in the process creating a unique visual language suited to their personal needs. This new visual vocabulary proved to be revolutionary for post-Independence India, and seemed more suited to a new India than the specious Indianness that was being contrived in other parts of the country through blind rejection of Western painting conventions and techniques.
Husain would borrow from Cubism, and develop his own flattened picture planes. By combining a bold, vibrant and colourful palette with Western avant garde vocabulary, he would create his own unique visual idiom, distinctly recognisable the world over.
Redefining a new India with bold brush-strokes
Husain's painterly vocabulary drew as liberally from the vibrance of his Indian surroundings as the Western avant garde he encountered. In addition, his themes and subjects were also rooted in the country and its culture.
Indian mythology, especially from the Mahabharat and Ramayan; prominent Indian personalities such as Gandhi and Mother Teresa; scenes from Indian rural life; and Indian historical epochs— these featured prominently on his canvases. When painting Gandhi and Mother Teresa with his vibrant palette, Husain was giving image to two icons he felt had helped bring together the people of a new India— one through his struggle for Independence, and the other through her social work for the downtrodden in the country.
By the late 1950s, Husain had gained international repute, and was even showing his works in New York. One canvas of note from this period is titled, 'Voices'. This piece won him his first international award at the Tokyo Biennale of 1959. And in 2020, it became the most expensive work by Husain ever sold at an auction, in a bidding by the auction house AstaGuru. This canvas differs from his largely figurative oeuvre, and in its predominantly tertiary colours, which stand in contrast with most of his paintings with heavy application of primary colours.
Horses and doves
A few Indian Modern masters are immediately identifiable through the animals and birds they love to paint. While Sunil Das is popular for his bulls, and Jamini Roy for his cats and fish, Husain is best remembered for the horses he painted, many of them running diagonally across his compositions, dynamic and powerful in their stance.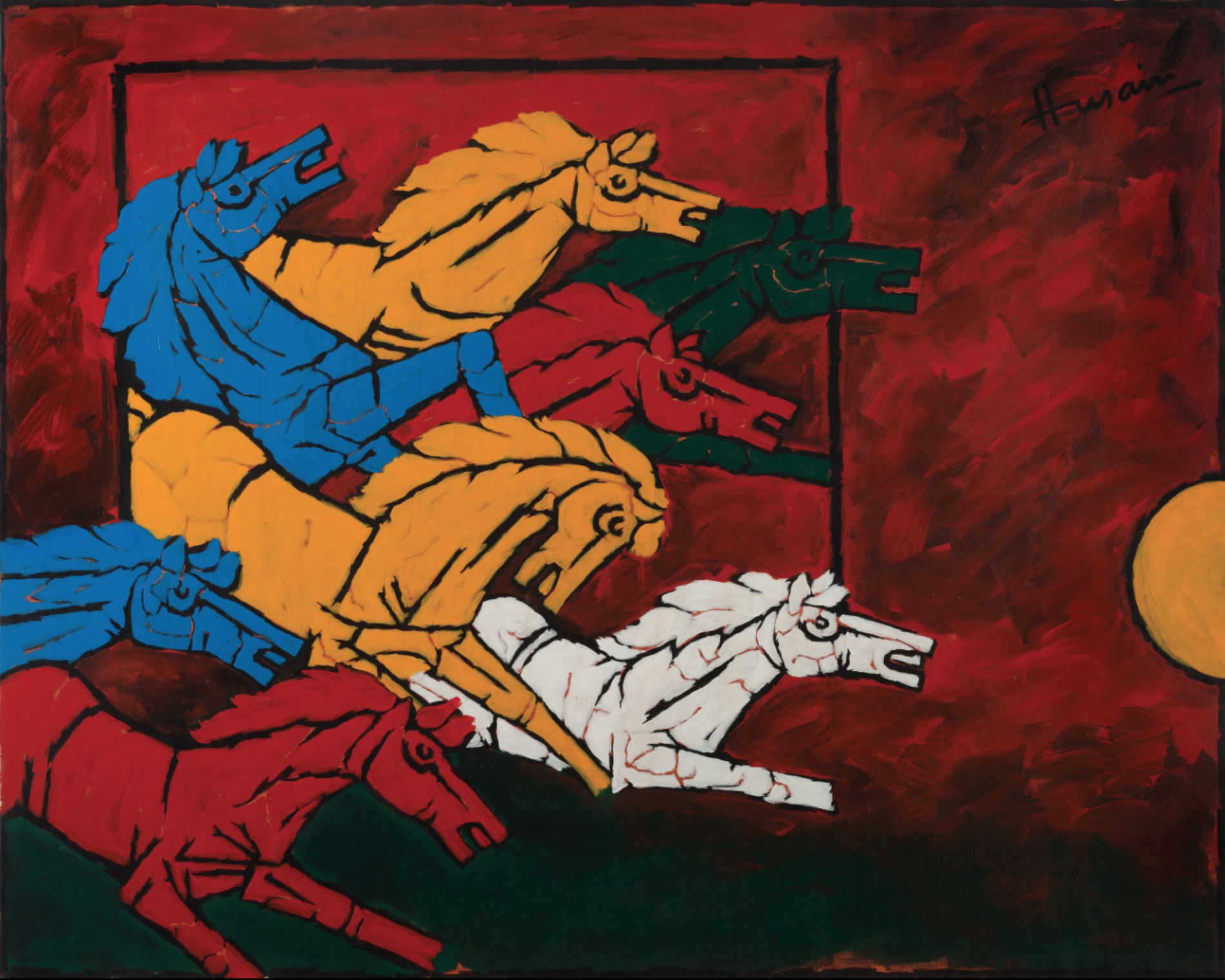 Husain's horses were so beloved by art lovers, that a now-prominent art gallery commissioned him to create their logo with the image a horse in his style, during its inception in 1989— Gallery Espace in Delhi.
Some critics have interpreted Husain's horses as symbolising freedom. Apart from these horses, the artist also painted doves on many occasions, representing harmony and peace.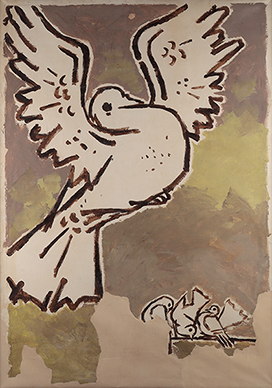 A flattened pictorial plane depicting symbolic pictures
Having studied the rigorous academic course at Sir J. J. School of Art, there is no doubt that MF Husain could paint realistically— had he not been able to, he would not have got the opportunity freelance as a film-poster painter during his days of struggle.
But the Progressive in him chose to be a picture-maker instead of painter, using flattened representations often modelled like paper-folded origami. These flattened figures and objects are easy to identify and tend to be symbolic representations of the subjects in question, suiting his intent to make pictures expansively representative of ideas rooted in Indian culture but containing universal themes, even when painting specific people like Gandhi.

Husain's pictures talk as directly and immediately as a child's drawing— perhaps an influence of Picasso on him. Whether he was actually influenced by Picasso or not, he is called the 'Picasso of India' by many, which is a testimony to the visual impact of his images. In Husain's paintings, the vertical could become a symbol for rigidity, the diagonal for dynamism, and the horizontal for repose. Moreover, he often painted more than two eyes for figures, and sometimes none, depending on what he wanted to convey. Figures, limbs, hands, eyes— these were representational motifs for the artist, painted (or not painted) as per the symbolic message he wanted to convey.
A good example of his symbolic picture-making is the painting of Bhishm above. The painting is a good example of the artist conveying the human condition through his depiction of mythological events. Like child art, the image contains large expanses of colour yet is minimal in its composition, containing only those elements necessary to convey the theme. While the figure is somewhat realistically represented, the arrows are mere symbols, not unlike the ones used for pointing directions in our signages. Yet the painting manages to convey exactly what it aims for: The figure (of Bhishm) suffering in agony, lying on a bed of arrows. Husain's mastery is clearly visible in the economy of line, colour and compositional elements used in this picture, and others like it. Like Picasso, Husain too simplified his pictures over time, stripping them down to the bare essentials required to symbolically convey the theme.
Painting India, in exile
Many Indian audiences, unfortunately, were not able to appreciate the symbolic figuration of Husain's paintings. In a communally tense climate post-1990s, there were public uproars against his nude depictions of mythological deities as well as of an image of India depicted as a nude female. Although Husain's intention was to depict the human experience in its purest forms through symbolic nudity, many in the public weren't tolerant of this expression.
The hostility was such that the artist faced threats to his life, and had to leave India in exile in his later years. From 2005 up until his death in 2011, Husain lived in Doha, Qatar in the winters and in London, England in summers. The acclaim and fame of the master was such that the First Lady of Qatar commissioned him to paint the history of the Arab civilisation. Later in 2008, Usha Mittal, the wife of the India-born London-based industrialist Lakshmi Mittal, commissioned Husain to make a series of 32 triptychs on the history of India. Of these, only 8 got completed, but each one is a sight to behold, narratively showcasing the coexistence of different facets of the country into singular picture frames.
It is doubly ironic how a painter wishing to define a new India was driven to exile from his nation, and would then be painting about his country right till his final days.
In 2011, M. F. Husain died of a heart attack at the age of 95 in London. He was given the second-highest state honour of India, the Padma Vibhushan, in 1991, and he lives on in the hearts of art lovers through his prolific body of art.
Sources:
'Art History School' on Youtube (https://www.youtube.com/watch?v=OsVQKR918RQ)
MPositive (http://www.mpositive.in/2014/09/page/9/)
Times of India (https://timesofindia.indiatimes.com/life-style/spotlight/mf-husains-toy-story/articleshow/17266065.cms)
AstaGuru (https://www.youtube.com/watch?v=ORkqla75avQ)
brainyquote.com (https://www.brainyquote.com/authors/m-f-husain-quotes)
ndtv.com (https://www.ndtv.com/india-news/full-transcript-of-mf-husains-interview-411979)
Art and Capitalism: Why Luxurious Hotel Matters in Indian Art?