"Whether I do figures or landscapes, my passions and concerns remain the same. It is the human condition that leads me to art." —- Ram Kumar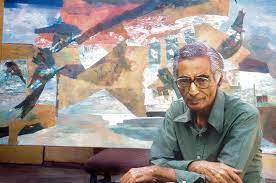 One of India's leading abstract painters, Ram Kumar, was an artist and writer as well. He was associated with the Progressive arts group, which included several artists who are credited with making India known to a larger audience, such as Tyeb Mehta and MF Hussain. Kumar has been called the first Indian artist to give up figuration for abstract art. Art historian Diane St. Peter noted that Kumar was one of the foremost abstract artists from India.
Born on this day, 23rd September, 1924 in Shimla, Ram Kumar was among India's leading modernist painters and writers. He completed his studies in Economics from St. Stephen's College, New Delhi, in 1946. During his college days he visited an art exhibition which left an imprinting note on his heart. From thereon Ram Kumar gave up his job at the bank and took classes at Sharda Ukil School of Art under Sailoz Mukherjee. There he met Sayed Haider Raza, another member of the Progressive school, who went to become a good friend to Ram Kumar. After convincing his father to pay for a one-way ticket to Paris, he studied further there under Andre Lhote and Fernand Léger.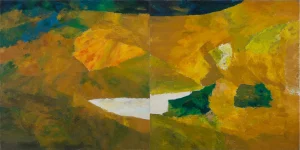 Every person has a desire for global success and Kumar was not different from all but he preserved a close connection with his homeland. European styles infused his work but his subject matter remained distinctly Indian. Kumar made a trip to Varanasi with MF Husain in 1960. Hindus believe that death or cremation in this holy city leads to liberation rather than rebirth in another form and in some ways these sentiments are reflected in the transition of Ram Kumar's work from figuration to abstraction. His practice came to be defined by simple, abstract compositions inspired by Varanasi and the landscapes of his childhood.
The conspicuous absence of human figures in Kumar's paintings of Varanasi may be explained by the instances of his first visit to the city: "It was the middle of winter. And I had reached the city late at night. The dimly lit lanes were deserted and gave an impression of a ghostly deserted city. Except for the occasional howl of stray dogs, all was quiet. I thought the city was inhabited only by the dead and their dead souls. It looked like a haunted place and still remains the same… Every sight was like a new composition, a still life artistically organised to be interpreted in colours. It was not merely outward appearances which were fascinating but they were vibrant with an inner life of their own, very deep and profound, which left an everlasting impression on my artistic sensibility". (Ram Kumar quoted in Ram Kumar: A Journey Within, ed. G. Gil, New Delhi, 1996, p. 89)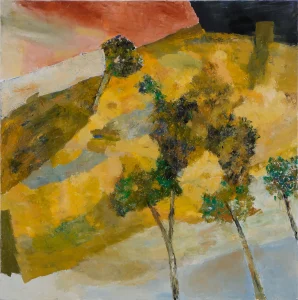 Ram Kumar received the Padma Shri in 1972 and the Padma Bhushan, India's third highest civilian honour, in 2010. Some of his solo shows include those in New York, Mumbai, New Delhi & London. He also has a documentary feature to his credit titled 'Lal Bhi Udhaas Ho Sakta Hai' directed by Amit Dutta and produced by the Government of India's Film Division. In 2002, a show of his work was organized in Mumbai, New Delhi, San Francisco and New York. He died in 2018 in Delhi.
Sources:
https://www.firstpost.com/living/ram-kumar-passes-away-remembering-the-quiet-artist-who-refused-to-give-into-convention-4431847.html
https://en.wikipedia.org/wiki/Ram_Kumar_(artist)
https://www.saffronart.com/artists/ram-kumar
https://www.architecturaldigest.in/content/artist-ram-kumar-memoriam/