Tsuktiben Jamir
Born in Ahmedabad, Komal Shah always had an affinity for Computer Science. She furthered her passion by earning a master's degree in Computer Science from Standford University and later her MBA from Berkeley. She then advanced to prominent tech jobs, including top roles at Oracle, Netscape, and Yahoo. However, there was always another passion brewing inside her that was years in the making; she started collecting art and co-founded the mission-driven Shah Garg Collection in 2008, which highlights women-identifying artists and people of colour in addition to showcasing Shah's own passion of abstract art. Subsequently, she left her job in the largely male-dominated tech industry.
It was when she actually started collecting art seriously in 2014, that her eyes were first awakened to what she characterised as huge disparities encountered by female artists in market prices, museum acquisitions, and overall exposure in the art world. She knew she had to do something about this. She told The New York Times, "I started realizing how the odds were so stacked against women, who were making amazing work and were just not getting their dues because of a lot of societal biases."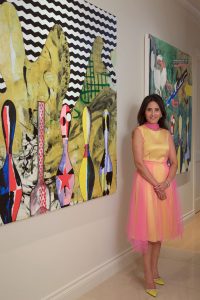 She made it a mission to expose and promote female artists and remind the world of their unique talents. As such, her collection features artworks by generations of women who worked in abstraction, from the mid-20th century artists Joan Mitchell and Lenore Tawney to the young contemporary painters like Firelei Báez and Jadé Fadojutimi. She also revealed in an interview with The Hindu Business Line that the "crux" of her collection consists of works by the abstract paintings of four women: Amy Sillman, Charline Von Heyl, Jacqueline Humphries, and Laura Owens. Her collection has gathered almost 300 pieces of artworks, of which 10% are in circulation among institutions at any given time. She told The New York Times, "I want to make a point with the collection, which is how excellent these artists are — they belong in every single museum."
The Whitney Museum of American Art in New York City will have a retrospective of Ms. Shah's Jaune Quick-to-See Smith painting on account of the exhibition dedicated to the retrospective of Jaune Quick-to-See Smith's artworks called 'Jaune Quick-to-See Smith: Memory Map' from 19th April 2023 to 13th August 2023. Shah's Pacita Abad canvas will also be on view at a retrospective hosted at the Walker Art Center.
Shah has played a significant role in museum philanthropy as a member of the San Francisco Museum of Modern Art's acquisitions committee as well as the London's Tate Modern's North American acquisitions committee. She was also chosen to serve as a trustee of the Tate Americas Foundation in the spring of 2018 as well as for the SFMOMA in May 2018. Komal Shah's husband Gaurav Garg also shares the same passion for art and they have even launched a talk series at Standford University called "Artists on the Future."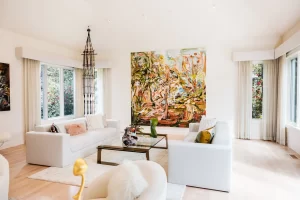 In her mission, Shah went as far as to commission curators Mark Godfrey and Katy Siegel as well as six art historians to work on a book called "Making Their Mark: Art by Women in the Shah Garg Collection," to write on the themes in her collection and to provide brief articles on the more than 135 women who are included in the book. "I want the book to serve as a starting point for scholarship about women artists," remarked Shah.