Krispin Joseph PX
Savita Bhabhi has been a hot topic in India since its publication in 2008; Bhabhi is a pornographic-cartoon character, a desired housewife having a sexual relationship with many people. Anonymous activists in India published this Character through a comic strip medium.
This comic is widely celebrated and circulated in India, and it humorously deals with internet censorship, with Savita Bhabhi as the heroine who saves the day. Who is behind this Pornographic cartoon is still anonymous for a long time, and after the popularity of the Savita Bhabhi comic, a Uk-based Indian citizen Puneet Agarwal claims he is behind this Character and managed through a website, Indian Porn Empire. But, after a while, he announced he stopped doing the "Savita Bhabhi' comic and was taken down.
India Government banned Savita Bhabhi's comic in India, and the Government censored the original website. That drives criticism against the law, and some critics argued that the ban on Savita Bhabhi reflects a "meddlesome, patriarchal mindset" of a "Net Nanny" government. The official prohibition of this Character brings attention to this comic, and people try to protect the "Savita Bhabhi' comic from being destroyed. Now Savita Bhabhi comic pdf is available on many online platforms.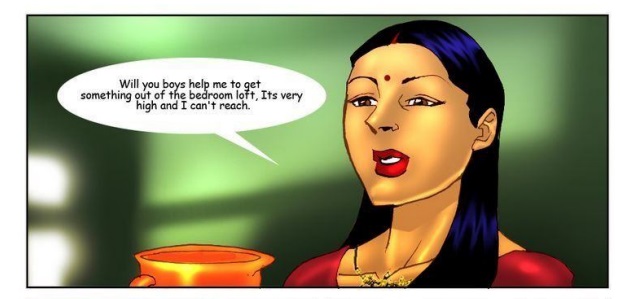 "Since it, it's going to be fairly difficult to get theatres to show our movie in India, we have embarked on a very novel concept for the premiere of the Savita Bhabhi Movie," Agarwal said after the release of Savita Bhabhi movie in the UK and USA. "It is the first time in India that a premiere will be streamed live at a particular date and time."
Image of Savita Bhabhi
Why the creators of this comic named her Savita Bhabhi? We need to answer this valid question before searching for the identity of the image representation. Pornography is always thrived in every human settlement, sometimes as a hideous matter and sometimes in high cultures like Khajuraho or Pompeii.
According to BuzzFeed India, this Savita Bhabhi comic strip became popular because it is very seductive to see an Indian woman unapologetically running after pleasure within a society that frequently disgraces women for pursuing pleasure. And she fits the stereotypes of an Indian bhabhi but also damages those stereotypes by satisfying her lust. And Bhabhi is portrayed as an upper-class woman who pursues sexual relationships with numerous people irrespective of their caste, class or gender. The list of people begins from door-to-door sellers to next-door teenage boys, husband colleagues, and teenage cousins.
As per data, In 2017, India was the world's third biggest porn-viewing country, and the number of female visitors from India shot up to 129% as a part of the smartphone revolution. When we went through the comment box, BuzzFeed Indian 1.9 million views video story on Savita Bhabhi, we got an idea about the impact of this cartoon in Indian culture. Pornography is a classification that has existed since the 1800s. The discovery of Pompeii, a city buried under volcanic ash from AD 79, has revealed a treasure of sexy frescos, sculptures, paintings, mosaics, and lampshades.
In a book titled 'Cyber Sexy, Richa Kaul Padte bring some insight into pornography and Indian society. According to data, India Bhabhi was the most searched keyword on deshi pornhub in 2015. 'SAVITA BHABHI WAS India's first internet porn star—or so her fans believe. Voluptuous, dark-haired, fair-ish, with a round bindi between her eyebrows. She resembles a Bollywood leading lady (before they all became size zero), and her title bhabhi—'brother's wife'—evokes a perfectly layered North Indian meaning. Out of reach because she's married but sexy precisely because she's unattainable, Savita makes everything from a pallu to a pair of worn jeans look erotic. And this is no small feat, considering that Savita Patel is a cartoon, write Richa Kaul Padte.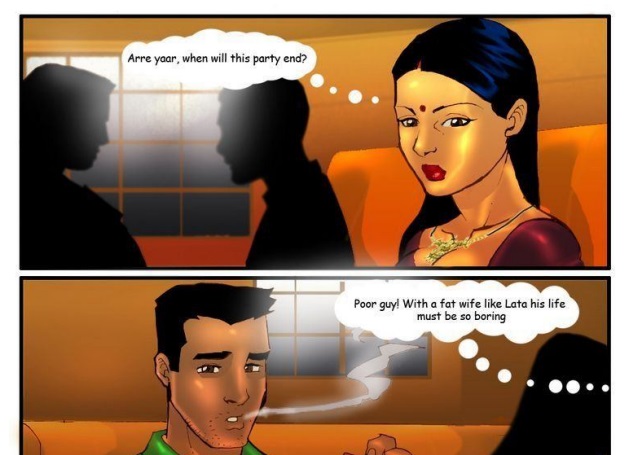 Savita Bhabhi got over 15 million monthly views and was translated into French and Mandarin. This comic became more popular than we imagined because this comic has some desi aesthetics in Character, and that aesthetics evolved in the Indian mind very long before. Looking into this Savita Bhabhi's cartoons from the "Desi Aesthectics' view, we can get enough materials from our great history. How has this "Savita" satisfied the imagination of a significant number of people at the same time? The creators of this comic unfold the desire of a Character, and that Character unleashes the lust of a mass. The layer of upper caste and class may be the reason for this popularity. People seeking or wishing to have an affair with an upper-class-caste grown-up woman or obsession make "Savita Bhabhi" more favoured for most Indian males.
Art historians always talk about the power of images; German art historian Hans Belting write about the power of image in his book Likeness and Presence. "We are not the masters of our pictures, but instead at their mercy; they colonise our bodies, Belting write. In the same book, Belting argument on the image is gone well, and images were never the affair of anything but always society. According to Belting, picture-making is a social practice, even the picture is morally correct or not. "Picture-making, a social practice in which all cultures engage, has to be distinguished from visual perception or the generation of inner, mental pictures, writes Belting.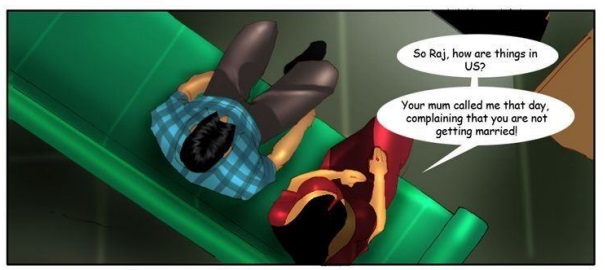 Savita Bhabhi is created as a pictorial narration of a character, fulfilling the desire of the mass volume of people. Widespread desire creates this Character, and that satisfies mass desire. In another book titled "An Anthropology of Image, Belting argued that the image is mirrored in contemporary thought.
This "Savita Bhabhi' Character and the "design", including the abundant anatomy, picturised the widespread needs of the people. We saw this abundance in many other image-character in different periods. This image-making practice (maybe male-dominated) went through societal needs and created something to satisfy social needs. There is no visual continuation for Savita Bhabhi. Each story narrates 'Savita' Bhabhi in new gestures, anatomy, and adornments. That gives a fresh look and feel to the audience, which may provide a resemblance to neighbours and unapproachable ladies.
What do you think about the Didarganj Yakshi statue? Where from this abundance comes from the 3rd century BC stone statue? An ideal "Indian women beauty" is there in the Didargang Yakshi figure. We can see this abundance of beauty in Sati and Sundari's images created in 19th-century Bengal. Every practice of image-making is wholly connected with society's needs.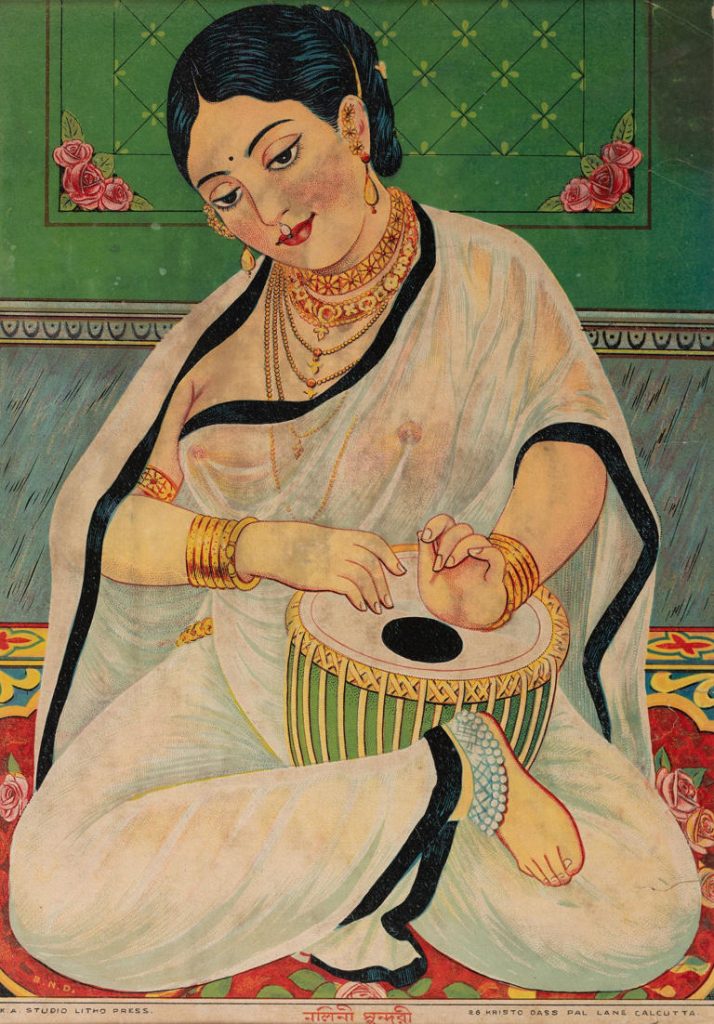 Read More: Sati & Sundari: Art Show Explaining the Transitions of Women's Life
What art practice is to give what that society wants. The artists (graphic designers or painters, sculptors) always look into the culture, realise what they want, and produce something accordingly. Indian Government banned this "Savita" Bhabhi pornographic comic, while in Japan, Hentai pornographic anime and manga got widespread reach and acceptance as a part of high culture.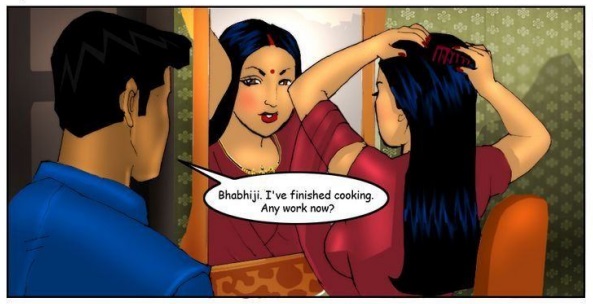 "What is disturbing, therefore, is the meddlesome, patriarchal mindset that underlies the decision to confine this iconic representative of a sexually liberated young Bharatiya Naari to a chastity belt of the technology age, writes Venkatesan Vembu In a DNA article after the ban of Savita Bhabi.
The real reason to Save Our Savita Bhabhi is that she represents a refreshingly new face — and much else — of one subset of young Indian women who are giving hormonal young Indian adults not just cheap thrills but an essential lesson in life. If this argument doesn't persuade the babu behind the ban, perhaps we could get "Savita Bhabhi" to make a flesh-and-blood presentation behind the closed doors of the culture ministry. She usually makes a compelling case in such situations, Vembu writes.
Bhabhi: For Namesake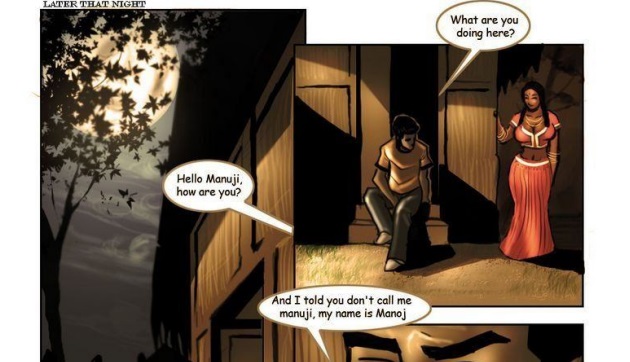 The question remains there, why Savita Bhabhi? Why is Bhabhi so important in Indian culture? In a classic book, Indian Society, an Indian psychoanalyst, Sudhir Kakar, writes about the relationship between Bhabhi-Devar in Indian society and the mother and whore relationship. "It is the age-old yet persisting cultural splitting of the wife into a mother and a whore which underlies the husband-wife relationship and which explains the often contradictory Hindu views of the woman, writes Kakar.
Our mother is always treated as a "Goddess", and someone else mother is treated as Whore is a mundane affair now. We stamped this "Savita Bhabhi" with our traditional cultural values as an evil woman because of her relationship with men. Indian society creates these "Evil" women parallel with our good women. As "We will do well to remember that the Indian tale of intimate relations, or that of any culture, has many renderings, write Kakar in his book.
'For a time in Indian social history, the erotic importance of the brother-in-law—in the sense that he would or could have sexual relations with his elder brother's widow—was officially recognised in the custom of niyoga. The tradition goes back to the times of the Rig-veda where a man, identified by the commentators as the brother-in-law, is described as extending his hand in promised marriage to a widow inclined to share her husband's funeral pyre, write Kakar.
In Indian society, according to Kakar, there is a mutual awareness of a married woman and her younger brother-in-law as potential or actual sexual partners, which is very much an actuality even today. 'In clinical practice, I have found that women who are on terms of sexual intimacy with a brother-in-law rarely express any feelings of guilt". Kakar writes that their anxiety is occasioned more by his leaving home or his impending marriage, which the woman perceives as an end to her sensual and emotional life.
Why the name of this comic matters because that title helps to popularise these 'Savita Bhabhi' in Indian society as a million views pornography. How these pornographic materials are created, preserved and circulated in the Indian community is always a topic of discussion. Who made it is not a matter when we took the popular material as a study area because 'someone' always addresses the widespread needs of the times.
Indian political system tries to erase the diversity of identity and replace it with the myth of a singular Indian (Hindu) Culture; women's bodies are often the battleground where the fight for culture occurs. The sexless, clothed bhartiya nari is seen as the epitome of morality and cultural purity. She signifies the possibility of a monolithic cultural history devoid of 'Western influences' or any influence, as Richa Kaul Padte wrote.
Savita Bhabhi is an iconography of culture, like many other symbols, which is circulated secretly, and the materials talk about the secret life of India.