Smriti Malhotra
The Mangaluru Chapter of INTACH and the Art Kanara Trust in Mangaluru, Karnataka organised a two-day Madhubani painting workshop and exhibition by Shravan Paswan on 25th and 26th April 2023. Indian National Trust for Art and Cultural Heritage has vast chapter networks across the country that are constantly working towards heritage conservation as well as dissemination for the citizens and the youth of the country. INTACH and its chapter networks are known for conducting such stimulating workshops and programmes for everybody with the aim of raising awareness towards vernacular arts and introducing the citizens to intangible and tangible forms of the cultural heritage of our country.
Shravan Paswan is an eminent Madhubani artist who was assisted by Santosh Kumar Paswan and his daughter Ujala Paswan at the workshop. The exhibition is on view for the public till 29th April 2023 at the Kodialguthu Centre for Art and Culture, G. G. Road, Ballalbagh, Mangalore.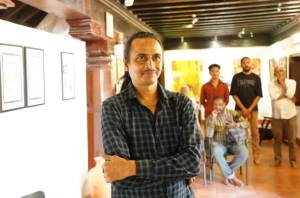 Shravan Kumar Paswan, renowned Madhubani artist and exponent. Courtesy: Mangalorean.com
Bharathi Shevgoor, writer and human resource trainer was present at the inauguration ceremony, she spoke about how she came to appreciate the Indian indigenous art form and welcomed the artists who had flown in from Bihar especially for this workshop cum exhibition.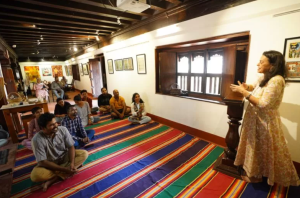 Bharathi Shevgoor addressing the participants at the workshop. Courtesy: Mangalorean.com
Shravan Kumar Paswan addressed the gathering by speaking about his foray into the age-old artform, stating that this is a family tradition and he learnt this art at an early age from his mother, Urmila Devi and is happy to be passing on this legacy to eager students and the youth of the country. He comes from a long-line of artists and learned the art under the guidance of Padma Shri Awardee Sita Devi. He has been awarded the Kalidas Award in 2005, Vidyapati Award 2014 and the Lalit Kala Akademi Award in 2016, and has exhibited his artworks nationally and internationally.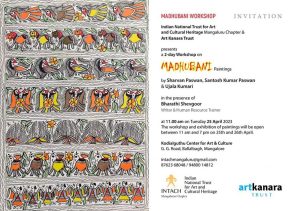 Madhubani Workshop cum Exhibition Invite. Courtesy: INTACH Mangaluru Chapter's Facebook Handle
The basics of Madhubani and Ghodana painting were taught to the participants present at the workshop. Another round of workshops shall be conducted between 27th – 30th April 2023 at the Bhavana Foundation.