A SUMMARY OF THE MOST EXCITING ART NEWS FROM AROUND THE GLOBE
While we focus on Indian art, we can't obviously function in a vacuum. It's a small world and everything is connected, especially on the web. So, let's train our spotlight across the world map to see what's going on — from art trends to socio-political issues to everything that affects the great aesthetic global consciousness. Or, let's just travel the world and have some fun!
French artists denounce New EU sales tax on art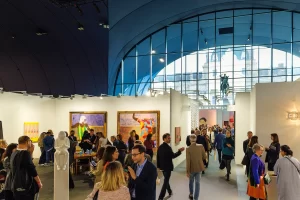 Around 120 French artists signed a Le Monde op-ed that decries a new European Union tax directive that threatens to dramatically raise the cost of selling art in France. "Some will no doubt be surprised to see artists take up the pen on the occasion of such a measure. It is because this directive, if it is transcribed as such into French law, is a threat to the French artistic scene," wrote the signatories. Among the signatories are Zineb Sedira, who recently represented France at the Venice Biennale, and Gérard Garouste, who has a Centre Pompidou retrospective now on view. Daniel Buren, Orlan, Fabrice Hyber, Julian Charrière, JR, Annette Messager, Matthew Lutz-Kinoy, Ugo Rondinone, and Martial Raysse were also among those who signed the letter. Details on Art News.
Christie's sells rare chandelier by Alberto Giacometti for $3.5M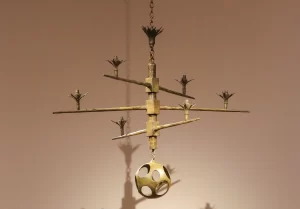 A few weeks ago, I found three vintage Herman Miller Eames fiberglass upholstered armchairs on the street. I took them home in a cab for $30, a minuscule fraction of what new ones cost at $925 each. I can only imagine what it felt like when an eagle-eyed customer spotted a nice chandelier in a London shop in the 1960s, paid £250 and then later learned it is one of the few lighting fixtures made by famed Swiss sculptor Alberto Giacometti. The unique bronze chandelier, which dates to the 1940s, was recently sold by Christie's at auction for $3.52 million (£2.922 million). The price surpassed its estimate range of $1.8 million to $3 million (£1.5 million to £2.5 million) but fell far below a similar piece that sold in 2018 for roughly $9.3 million. Read more on Art News.
Roman 'dry cleaners' shop almost 2,000 years old uncovered along Pompeii street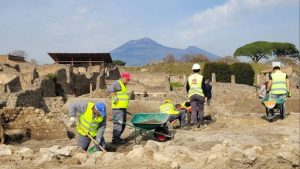 A 2,000-year-old ancient Roman dry cleaner was unearthed by archaeologists at the Pompeii Archaeological Park in Italy, the Miami Herald reports. Archaeologists have been excavating a previously unexplored section of the site at Insula 10 in Regio IX along the via di Nola. The land is sizable—"about the size of a city block," per the Miami Herald—and was used for farming until it became part of the archaeological park in 2015. The team uncovered the ridges and upper floors of several buildings, including a house that was converted into a fullonica, or a laundry shop, according to a release from the archaeological park on Monday. In these shops, launderers would have been paid to wash people's clothes. Details on News Observer.