Tsuktiben Jamir
Nature Morte is one of the most important art galleries in India that is known for featuring and promoting predominantly South Asian artist's contemporary artworks in various genres and media. They are currently hosting the solo exhibition of 'Chromatic Flight' by Manisha Parekh. She was the part of the jury panel for Abir First Take 2022, an annual art festival for young and emerging artists. On account of this exhibition, Nature Morte is inviting art lovers to an exclusive conversation with Manisha Parekh herself and Roobina Karode, Director and Chief Curator of Kiran Nadar Museum of Art on the 16th of March, 2023.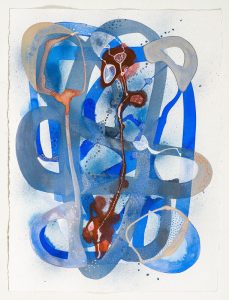 Parekh and Nature Morte go way back when in 1998 she debuted her work at the gallery's second exhibition at the India Habitat Centre in Delhi. This is her sixth solo exhibition with the gallery. Times of India writes about her sixth solo exhibition, "In a play of two stellar installations and a series of paintings that swim in the strata of structural to fluid strokes in watercolour and ink, Manisha Parekh's Chromatic Flight at Nature Morte is a glimpse into the gravitas of her own Eden." Years of experimentation have led her to a special relationship with ink, watercolour, and charcoal; this bond, along with her adept manipulation of the mediums, makes it seem as if each line, gesture, and stroke was placed delicately and with purpose.
One of her two installations is called 'Alchemy' and she uses tactile elements like iron and copper to broaden her visual vocabulary. The piece explores the inherent properties of the metals, the property of oxidation, rusting, bending, and piercing with the touch of a hand and the passage of time. The other piece, 'Following You,' is a 12-part piece made of mild steel. It is designed in such a way that as one passes by the piece, the steel and shadows combine to create a series of new two-dimensional drawings on the wall.
Parekh is a visionary artist who frequently incorporates recycled and found materials into her pieces to produce work that is both conceptually and aesthetically rich. "I do not recall the first time I met Manisha Parekh, but I do recall being intrigued by her art the first time I encountered it. I included a large work of hers in the second show mounted by Nature Morte in India, this being "Ada or Adour" (the title copped from Nabokov), a group show of the work of seven women artists (Judy Blum, Jennifer Bolande, Zarina Hashmi, Rumanna Hussain, Manisha Parekh, Gargi Raina, Chrysanne Stathacos) at the India Habitat Centre in New Delhi in January 1998, all of whom were dealing with seriality in their works, albeit with vastly different subjects" said Peter Nagy, Founder & Co-Director, Nature Morte, about the artist.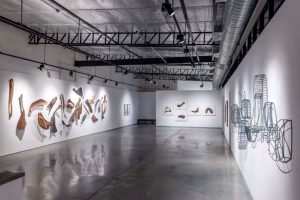 He continued, "Chromatic Flight is the sixth solo show I have worked with Manisha on, now spread across five gallery spaces in 24 years. What impresses me to this day is her consistency of approach and absolute focus, disregarding the vagaries of trends in the art world, unconcerned with what others may think or do. Manisha's works are constantly evolving, albeit at carefully measured and logical steps. She is inspired by the materials that she uses to create her works, hence the largest shifts, or most surprising changes, occur when she decides to work with materials she has not used before."
On view till April 2 | 11am – 7pm