Although the Indian Institute of Technology, Gandhinagar, has frequently been a pioneer in tying technological challenges to everyday language, the country's engineering institutes are typically thought of as churning up technical solutions for the nation's difficult problems. For fans of visual storytelling and cinema, the "Comics Conclave" at the Indian Institute of Technology Gandhinagar (IITGN) is going to be a memorable occasion since they will also get the opportunity to explore the lesser-known artistic side of the great filmmaker Satyajit Ray.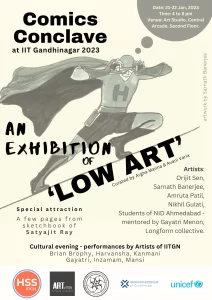 The Institute will display some chosen and curated images from the original Satyajit Ray sketchbook as part of the "An Exhibition of Low Art" event, which is scheduled for January 21–22, 2023. A few copies of pages from his original sketchbook that have been chosen especially for this IITGN event will be included in it. These pages demonstrate his approach to the sequential graphic story and how it complemented his cinematic language.
As part of the "Comics Conclave" to be held @iitgn during Jan 21-22, we are excited to host "An Exhibition of Low Art" from 4 pm to 8 pm. The exhibition will feature some of the select artworks of the legendary filmmaker #SatyajitRay from his original sketchbook.#ComicsConclave pic.twitter.com/MdmWaYWkWO

— IIT Gandhinagar (@iitgn) January 20, 2023
It is well known that Satyajit Ray loved comic books, and many people would enviously covet his personal collection, which is currently preserved at his home. There isn't much evidence of his active involvement with the form, despite his persistent interest in sequential graphic storytelling, which has been discussed in numerous interviews over the years. The sole public proof consists of four comic strips that he created for the Sandesh magazine covers. But if we look more closely at his notebooks and sketchbooks, we can see him experimenting with concepts related to this visual form. In reality, in the 1950s, he offered a sequential visual script for "Pather Panchali" and "Ravishankar" (a film that was never made).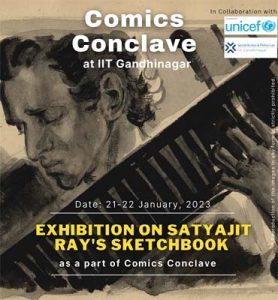 The "Exhibition of Low Art" will also feature comics by Orijit Sen, Sarnath Banerjee, Amruta Patil, Nikhil Gulati, and Longform Collective, as well as works of art and artefacts on Indian traditional storytelling created by students from the National Institute of Design, Ahmedabad (mentored by Gayatri Menon). It will be available for viewing from 4 p.m. to 8 p.m. on both days. Prof. Argha Manna, an artist in residence at the IITGN, has curated the exhibition. A series of captivating talks and interactive sessions with renowned graphic novelists, artists, filmmakers, and academic scholars are also scheduled for the two-day Conclave. These speakers include Orijit Sen, Amruta Patil, Sarnath Banerjee, Nikhil Gulati, Pinaki De, Debkumar Mitra, and Gayatri Menon.
The exhibition will be open from 4 pm to 8 pm on both days January 21–22, 2023.