Tsuktiben Jamir
After a hiatus of three years thanks to the COVID-19 restrictions, Art Basel in Hongkong finally made a major comeback; the fair returned in full force after three years of online and hybrid activities. The 2023 Hong Kong edition of Art Basel hosted the participation of 177 galleries from 32 different countries and territories. Angelle Siyang-Le, the director of the fair told The New York Times, "My goal is to bring Hong Kong back and to reinforce its role as a cultural capital."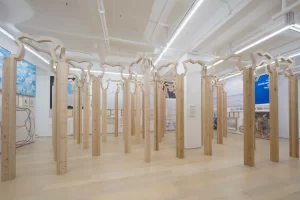 The Encounters sector also made a comeback, showcasing 14 large-scale pieces with the theme "This present, moment," including pieces like Jaffa Lam's "Trolley Party" (2023), a 14-meter patchwork made of recycled umbrella fabric that was stitched together with the assistance of female workers from the Hong Kong Women Workers' Association, "Like Tears in the Rain" (2023) presented by Sabrina Amrani Gallery and "Mr. Cuddles Under the Eave", Trevor Yeung's inverted pyramid composed of 13 suspended trees.
Another series of artworks titled 'Insights' showcased the solo and curated works of artists from the Asia Pacific region. A significant new video piece by renowned Swiss artist Pipilotti Rist, "Give Me Your Trust," as also lighted on the M+ Facade, broadening the access to art for all people. The colourful public artwork, which honours the hands that built Hong Kong as well as the rest of the globe, displayed hands in a variety of sizes, colours, and forms, emphasising the strength of the human touch.
Another piece in the part, "Constellation Forest" (2018) by Wu Shanzhuan and Inga Svala Thorsdottir, is a sequence of arching wooden shapes resembling church vaults that audience may travel through. It was presented by Hongkong based Hanart TZ Gallery, that was founded by Johnson Chang 40 years ago.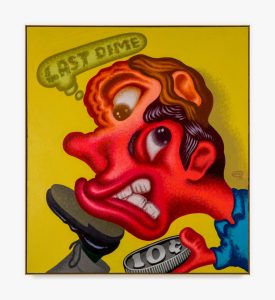 Galleries like the Venus Over Manhatten made its debut at the fair and highlighted works by Peter Saul, an 88-year-old artist who frequently parodies comics and cartoons and has long exhibited a Pop sensibility.
The L'Officiel Art magazine booth, another highlight of the contemporary art exhibition, was a positive indication that the publication is on the path to grow into an even more potent venue where artists can share their various ideas and ignite in-depth conversations in the creative fields.
The most recent efforts by Art Basel and its owner MCH Group appear to be a part of a larger strategy of diversifying the art community. "Lots of projects were dreamt up during the pandemic, when we started to think about how to support galleries in a collaborative way, rather than just build up our own kingdom," told Adeline Ooi, the Director of Art Basel, Asia to the Financial Times.
The Art Basel Hongkong comeback was a five-day celebration from 21st March to 25th March 2023, and was packed with an exciting variety of artworks in the form of paintings, installations, sculptures, video screenings and discussions. This much anticipated resurgence is testimony of the power of art to bring together people from across the world to celebrate the many wonders of art and its forms through a plethora of perspectives and experiences.