Krispin Joseph
What is the contemporary experience of Raja Ravi Varma's paintings? Can anyone move without encountering Raja Ravi Varma's artwork in public or private? You may not recognise the calender artwork as an image of Raja Ravi Varma for a long time.
Some years ago, Mumbai-based ad agency, Taproot, created an ad campaign for the Save Our Sisters fundraising program, an Save the Children India initiative. Looking at those posters more closely, we can understand how Raja Ravi Varma's legacy still exists in Indian popular culture. What they create for their ad campaign is a loosely or cleverly recreated Raja Ravi Varma's painting ambience in a photographic shoot-up. 'Works to prevent the trafficking of young girls and women for commercial sexual exploitation is the reason for that controversial advertisement.
The firm uses costumed female models photographed in traditional hand-painted Hindu renditions of the three goddesses. The message is clear- no woman is safe, not even our beloved goddesses in India. For this purpose, they use the photographed format of Goddess images, which looks similar to Raja Ravi Varma's Goddess portraits. This is the recent intervention of Raja Ravi Varma"s artwork in our society.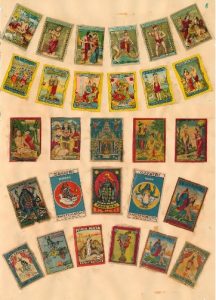 There are many links between this oil paint master of India and the people of India. Finding out the contemporary relevance of Raja Ravi Varma at a glance takes work. In Google Art and Culture project, they bring many examples of Raja Ravi Varma's works and art and culture worldwide. One thing is 'calendar art', which gives Ravi Varma's works popularity among ordinary people inside the country and abroad.
Oleograph printing from Ravi Varma press was spread out in India and abroad. Besides these oleography prints, Ravi Varma's paintings find their way into ordinary people's visual culture. Reinterpretation of Ravi Varma's images significantly impacts our contemporary visual experience that has been pleasing for a while in our visualised social life.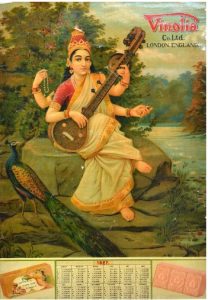 The oleographs from the Ravi Varma Press inspired and influenced many layers of creative expression like religion, cinema, comic culture, and commerce. Later artists hugely impact chromolithographs from the paintings by Raja Ravi Varma. The Indian advertising industry may find out the potentiality of Ravi Varma's paintings in Indian society because they know the reach and acceptance of his paintings in the Indian community.
If we look into the printed calendar of Vinolia soap in 1927 used by iconic Ravi Varma's Saraswathi painting has been spread out in our social settings for a very long very before. We consume many things because they wrap or introduce them, including with a familiar image. The same tactics ad agencies are using now with Amitabh Bachan, Shahrukh Khan, or even Sachin is a marketing strategy.
Before, when those marketing strategies were on the road with Ravi Varma's kind of painting, the impact and the result were huge and not to be devalued. Ravi Varma's image of Lord Vishnu is used for Strawberry and Apricot jam at the same time as the Vinolia soap advertisement, and the advertiser tries to proclaim the benefits of strawberry and apricot at the same time with Lord Vishnu's image with two Goddess in his left and right.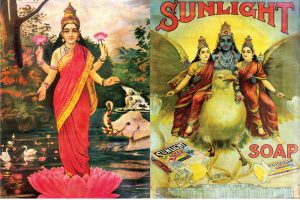 The influence of Ravi Varma's painting does not conclude in the calendar art and only remains in the Indian sub-continent, where oleography travels into Austria, Japan, Sweden, etc. In the Google Art project, they bring the match-box labels printed in these countries, inspired by chromolithographs from the Ravi Varma Press. Many questions are raised from the point of the realistic painting of Ravi Varma and the complexity of contemporary society. How can we consider the relevance of Ravi Varma's artwork in this complex society? People think complex society and the complexity of society needs some 'complex artwork' to fulfil the desire for the modern needs of human culture.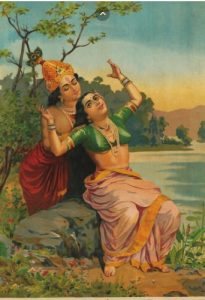 How can young artists get inspired by Ravi Varma's paintings now? That inspiration in the context of realism. If anyone needs realism, Ravi Varma's style pattern is the first-hand solution, and inspirational artwork may fulfil people's needs.
In the context of Raja Ravi Varma's painting, which was created in the late 19th and early 20th centuries, realism is relevant to postmodernism in several ways. Firstly, Ravi Varma's paintings can be seen as a response to the dominant European artistic tradition of the time, which was characterized by romanticism and idealism. By depicting Indian life and culture in a realistic manner, Ravi Varma was challenging the dominant artistic discourse of his time and asserting the value of his own cultural heritage.
Secondly, Ravi Varma's paintings can be seen as an example of how art can be used to challenge dominant narratives and power structures. By depicting scenes from Indian mythology and history, Ravi Varma was creating a new visual language that challenged the hegemony of Western art and culture.
Finally, Ravi Varma's paintings can be seen as an example of how realism can be used to create a new form of aesthetic experience that is grounded in everyday life. By depicting ordinary people and their surroundings in a realistic and honest manner, Ravi Varma was creating a new form of beauty that was accessible to everyone, not just the elite.
The art fraternity considers Ravi Varma a legendary master of our time and all over the world, celebrating the birth anniversary of the master painter. Art galleries and auction houses are starting to engage with Ravi Varma's work meticulously. International Astronomical Union (IAU) adopted the 'Varma' on June 18, 2013, for a crater on Mercury. Varma is east of the slightly smaller crater Rikyu. And Lourve Museum worked on the overdrive on how Raja Ravi Varma had drawn inspiration from European artists such as Manet, Princep, Caravaggio and Raphael. They are trying to make an international audience to Raja Ravi Varma's works.