A SUMMARY OF THE MOST EXCITING ART NEWS FROM AROUND THE GLOBE
While we focus on Indian art, we can't obviously function in a vacuum. It's a small world and everything is connected, especially on the web. So, let's train our spotlight across the world map to see what's going on — from art trends to socio-political issues to everything that affects the great aesthetic global consciousness. Or, let's just travel the world and have some fun!
Chicago museum co-founder's art collection heads to auction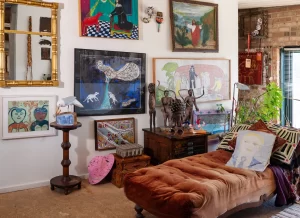 Artwork from the estate of late Chicago collector and Intuit museum founding member Susann Craig will go under the hammer in March at Hindman Chicago, with many of the more than 300 paintings and other works for sale reflecting the Outsider and self-taught art Craig championed during her life. Craig, who died at age 84 of breast cancer in 2021, was a prolific art collector and helped build Intuit: The Center for Intuitive and Outsider Art in Chicago. Intuit has been credited with promoting Outsider art, which the museum defines as work created by artists who faced marginalisation, overcame personal odds to create art or who did not follow a traditional artist's path. An Ohio native, Craig moved to Chicago after university and became a fixture of the city's art scene, where she served as a mentor to many local artists, says Zack Wirsum, a director and senior specialist of post-war and contemporary art at Hindman who knew her personally. Craig "was a big personality and a snazzy dresser and often had colourful hair and a bunch of jewellery. And I remember rings on every finger," Wirsum says. Details on Art Newspaper.
From poignant photographs to provocative textiles, showcased at The Zona Maco fair in Mexico city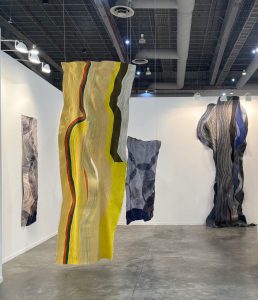 The biggest Latin American art fair, Zona Maco opened its 19th edition this week in Mexico City. It's a decidedly international affair, with galleries hailing from 29 countries. But with 51 percent of the 216 exhibitors coming from Mexico, there is an unmistakable regional flair. "You can feel that it has Latin American personality," said the fair's artistic director Juan Canela. "This is something we work for." In contrast to some other art fairs, this one was light on bombastic kookiness, metaverse hokum, and blatant selfie bait. Instead, the assemblage was more about slow-burning standouts—paintings that kept me coming back to them repeatedly as I wandered the aisles. Here are a few of the booths and artists that caught my eye. "I've been coming for the past four years," says Jean-David Malat, founder of London's JD Malat gallery. "The public is amazing, the collectors are educated, the culture is exciting. It's why I'm back every year." His booth, featuring new works by several of the gallery's artists, added magnetic gravitas to the mix. "There has been amazing feedback for the Turkish artist Zümrütoğlu," he noted. "We have had so many requests. He is very appreciated by Mexican and American collectors." Details on UK Daily.
Court to hear appeal over the dispute of $5 M. Van Gogh painting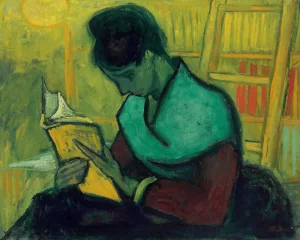 A federal appeals court has agreed to hear a dispute over control of an 1888 painting by Vincent van Gogh that was recently displayed for months at a Detroit museum. The court granted an injunction Monday and ordered the Detroit Institute of Arts to continue to hold onto the painting while the case is pending. A painting of a woman with a book, titled "The Novel Reader," was part of a rare U.S. exhibition of dozens of van Gogh's works lent by collectors around the world. As the show was nearing an end in January, Brokerarte Capital Partners LLC filed a lawsuit claiming to be the owner of the painting. It said it acquired it in 2017 for $3.7 million, gave temporary possession to a third party and hasn't seen the art since. The museum is not accused of wrongdoing. It has not publicly explained how it got the painting on loan, saying only that it came from a collection in Brazil. Brokerarte Capital's sole proprietor is Gustavo Soter, a Brazilian. Read more on AP News.