Madhvi Subramaniam
6 March 2020
Dear Diary,
My show opened today at the Thomas Hunter Project Space at Hunter College in NYC. I have been an artist-in residence here for several months and have been enjoying my exploration of the city and the grid.
The show is titled Walk and Chew Gum … As I was exploring the city's grid and responding to it in clay, video, paper and photo documentation, I became fascinated with the persistent gum marks on the pavements.  The marks tell a story of where people congregate, connect and depart, while disclosing the social structure of a neighbourhood. Having lived in Singapore, a country where chewing gum is banned, these marks became more evident to me, revealing the movements of people in the city and spaces where they take a break from its relentless energy.
The opening was fun. We had about seventy people there – many more than expected. I was a bit concerned that people wouldn't come to the opening as it was raining like crazy, plus there was some fear that the coronavirus may have entered NYC. Out of caution, I kept a hand sanitizer bottle out, served wine in disposable glasses and snacks that were individually packaged. People were cautious and refrained from giving hugs!

7–14 March 2020
Dear Diary,
A few people came by to see the show this week but many called saying they don't feel comfortable using the subway anymore and will come after a few weeks when this fear subsides. During the week, I managed to give presentations to Steve Montgomery, Matt Nolen and Sana Musama's class on my work and show. The students were very engaging.
16 March 2020
Dear Diary,
The city is beginning to empty out and today suddenly Hunter College shut its doors to students and staff. Jeff Mongrain, the head of the department, said we would just keep the show up – and as soon as this virus blows over people will get to see it.
30 March 2020
Dear Diary,
It's been two weeks since the doors to the gallery/college shut and things are getting worse. The news everyday is getting scarier. The pandemic has spread around the world and NYC is declared to be the coronavirus epicentre!! Direct flights to Singapore have been scrapped. We have been told to 'shelter in place'.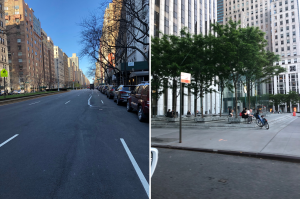 30 April 2020
Dear Diary,
This has been a horrific month. The city is nearly empty and has lost all its energy. We have been hearing depressing news everyday on rising Covid cases and accompanying deaths. There are constant ambulance sirens in the streets. Dr Fauci and Governor Cuomo are pleading with people to do the right thing. Wear masks, social distance and wash hands for 20 seconds! I am wiping down all the groceries with disinfectant that I bring from the grocery store – adding 30 minutes more to my shopping routine. There is a strange fear around and no one knows what exactly is going on.
On the other hand, spring is in the air and flowers are blooming everywhere. The air is crisp and nature seems to be thriving. Every evening we bang pots and pans at 7 p.m. making some noise to show our gratitude for the essential workers. The flowering, flourishing nature and the show of solidarity every evening has become our source of comfort.
1 May 2020
Dear Diary,
We are slowly learning to live with Covid. I have started thinking of the few kolam drawings I had made in Bushwick, Brooklyn before the pandemic. I really want to continue the kolam explorations, but am worried – will I get arrested for my drawings on the pavement in Manhattan?
4 May 2020
Dear Diary,
The city is empty and today I felt brave. I was determined, and in my mask and gloves I cautiously started a new series of kolam drawings around the gum marks on a pavement. Tracing around this residue left by people in busier times, I wondered when the street would get filled with the hustle and bustle and crazy energy that this city is known for.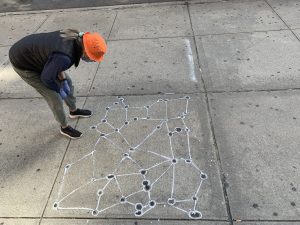 10 May 2020
Dear Diary,
Things are going well. I have been drawing kolams now around gum marks everyday and they seem to give the 'found object' a new meaning. Today a friend sent me an image from the New York Times, of circles laid down to mark social distancing. My rice flour drawings start with circles around the gum marks. From Paris to Pune the same white circles appear distancing one from the other. Could these mapping and constellation lines be a reflection on our times where we are connected while maintaining distance?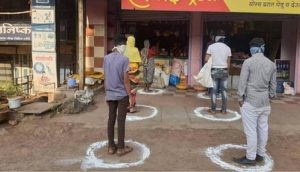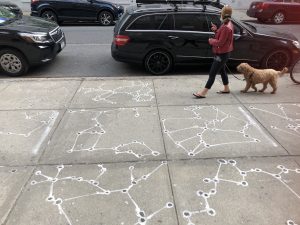 13 May 2020
Dear Diary,
I am enjoying using the city as my studio and pavement as my sketchbook. I have been working between the oscillating weather of sun, rain and snow (yes snow in May!). The weather erases the ephemeral rice flour drawings little by little everyday, while the gum marks remain stoic – prominent and permanent like historic markings.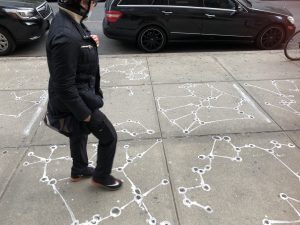 15 May 2020
Dear Diary,
Now passers-by have started commenting, conversing with me (at a social distance of course) on the drawings I am making. Some of them are disappointed that these drawings are ephemeral – they want them to stay there permanently. Most people see constellation patterns in my drawings. I am not aiming to represent anything specific, rather I am interested in connecting the marks people leave behind – points where they congregate, meet and separate. I have started looking at maps and layouts of places where people crisscross each other in daily life – like at bus depots or airport terminals – could it be that the systems we create on the ground are in the same pattern as the ones we see in the skies?
17 May 2020
Dear Diary,
Over 10 years ago, I photographed this lady making a kolam painting on the road in Pondicherry. What struck me is how she took the trouble, like many others, to clean the patch of the road in front of her home and draw the kolam every morning. Kolam is a ritualistic form of drawing using rice flour in south India, created at the entrance of a home to welcome the dawn of a new day or an auspicious occasion. By end of the day this drawing fades away or is washed away the next morning to make way for a fresh painting. I love the way public space in this case doubles as a spiritual space – where the private effortlessly stretches into the public realm.
I seem to have carried the image of this woman in my subconscious for all these years and now find myself connecting with her as I take over this public space on a NYC pavement. As I question the relevance or significance of my current exploration I am curious what happens when you layer the cultural code from one culture over another. When the ephemeral kolam from south India interacts with the popular American culture of chewing gum.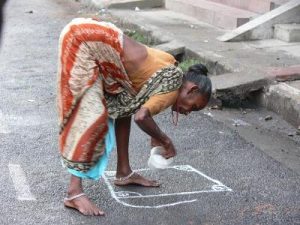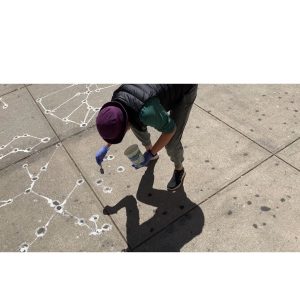 19 May 2020
Dear Diary,
A line is a dot going for a walk – Paul Klee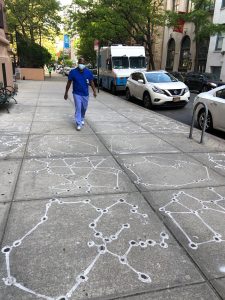 22 May 2020
Dear Diary,
We have decided to head back to Singapore. I can't take down my show at Hunter College and it will be up endlessly with no audience to see it. I feel quite grateful for the last few days of working on my kolam pavement. The pavement, full of gum marks, is located at a busy intersection between a hospital, a school and a small park. Kolams are traditionally done on the threshold or in transient spaces – my pavement is a thoroughfare, a transient space serving mostly health-care workers these days as they walk on 67th street between from 1st to 2nd avenue. I feel perhaps my daily drawings are like offerings to the health-care workers and a gesture to show my gratitude. They certainly serve as offerings to the pigeons as they seem happy to peck away at the drawings!!

25 May 2020
Dear Diary,
After three weeks of drawing kolams daily on the pavement and having covered over 50 pavement slabs, today I drew the last kolam around the gum marks. The older drawings are fading away with the sun and rain and soon all my kolams will vanish, leaving me only with the memory of the explorations.
I have really enjoyed making these drawings, passers-by have been generous; they have commented, conversed, engaged and encouraged me making my outdoor studio at times feel like a gallery space.
While the kolam is ephemeral, the energy of this city is not – it can be felt on the pavements even when the city is quiet and under a lockdown. I await the day the city lights up again and life comes pulsating back to these streets.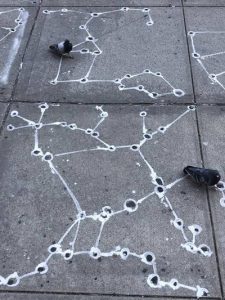 The article is published on 'MRIN- A Journal of Indian ceramic Art'
The digital copy is provided by Shampa Shah