Ved Prakash Bhardwaj
Covid 19 has been the biggest pandemic of this century which shook the whole world, and its tremors are being felt even today. In 2019-20, when life came to a standstill due to the lockdown all over the world, America did not implement such restrictions. So as an artist who immigrated from Africa, his experiences were no different from other artists in the world, but his expression was different. I am talking about Daniel Lind-Ramos, whose survey (exhibition) recently opened at the Museum of Modern Art PS1 in New York. Combining ambulances, patient chairs, African traditional crafts, modern and classic forms of fashion, and many disparate objects, the artist's creations push the boundaries between sculpture and installation art.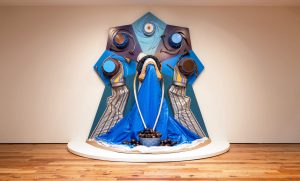 Remember the era of 2020 when is an ambulance passing by on the road suddenly blaring sirens used to make people shudder? An unknown bit was also present in the heart all the time. Not only in India but even in America in those days people were not able to bury the dead. Artist Daniel Lind-Ramos saw this and drew illustrations matching his state of mind with the situation. The same drawings are now in front of the world in the form of sculptures and installations.
These sculptures express the experience of a pandemic as well as the changing times and the feeling of returning to one's roots. Instead of direct narration, the artist has created such sculptures in a symbolic form, which opens up a wide world of meanings due to the art material. That is why his crafts and installations bring to the fore multiple dimensions, including environmental damage, changing human emotions, and their social consequences. Art materials that aid the artist in this work include found objects as well as objects gifted to them, videos, everyday tools, clothing, makeup items, beach or roadside debris, and old monumental sculptures. It has come in handy to give a shape. With this, each work encroaches on the possibility of any one meaning or context. The viewer can see and understand these crafts in many ways according to his experience and understanding.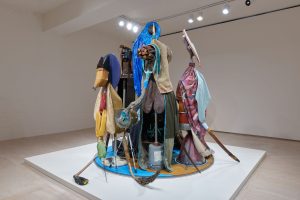 Daniel's art on one hand refers to a pandemic like Covid, while at the same time, it also questions the identity and existence of farmers, and fishermen and respect for the local culture. Interpreting the past and the present, his art transcends the boundaries of time. The abandoned old boat not only finds a new life by becoming a part of his work but also becomes a medium of expression for the local distress faced by fishermen like him.